Subscribe to the NWA Newsletter Here
---
And I'm gonna miss everybody…
And I'm gonna miss everybody….. and I'm gonna miss everybody…
See you at the crossroads, where you won't be lonely…
– Bone Thugs N' Harmony
---
Happy Friday, Coach J here from Anyman Fitness – and welcome to the latest edition of The N.W.A. Newsletter.
Today, I'm going to break a bit from the normal format.
Instead of the normal Nutrition, Weightlifting, and Attitude advice, I'd like to discuss something different – how to approach your fitness when a loved one dies.
As a coach, I've had countless clients go through trauma during their fitness programs with us.
Before recently, I would give a pretty standard answer on what to do in these situations — I would tell the client that training and eating right will help the grieving process, and they should do everything they can to stay in their normal routine.
I would tell them to be kind to themselves, and if they didn't stay on track, not to let it stress them out, but still do what they could to keep things reasonable.
I always thought this was decent advice.
I had no reason to think otherwise.
But then, on January 4th, I received a phone call that changed my life forever.
My best friend Matt had passed away unexpectedly in the middle of the night.
Matt was 44 years old, and he left behind a wife, 3 children, and a community that loved him dearly – Matt was a middle school teacher.
He wasn't just a teacher, he was "THAT teacher".
The kind of teacher where, when a student looks at their class schedule and it said "Garrison", the kid would run to their friends saying, "Awwww, yeah, I have Mr. Garrison! This year is going to be AWESOME!"
And that's a correct statement – if you were in Mr. Garrison's class, that year *was* going to be awesome, guaranteed.
He was the kind of teacher you would email the principal about, begging for your child to be in his class.
He made a boring topic (History) fun and interesting.
He never had any classroom management problems with his students.
He was the go-to teacher for all the "bad kids".
He thrived on teaching the kids who struggled with their own self-worth and self-identity.
Back when I was teaching myself, I lobbied hard for my school to hire Matt and he secured a long term substitute position across the hall from me.
The previous teacher was fired with one month to go in the school year.
The class was full of "trouble makers" and the class's former teacher had zero classroom management skills.
The class was a circus, and it was arguably the most difficult position a new teacher could be in.
Teaching a rowdy class as a brand new sub during the last month of the school year is a thankless job, no doubt.
I warned Matt about what he was in for, and Matt said "Oh dude, come on now, you know me, I got this."
Matt had extreme confidence in his teaching abilities.
And he was right, of course…
Within a week's time, every kid was locked into every lesson.
Matt's engaging personality and firm, yet fair classroom management methods whipped that class into shape in no time flat.
At the end of the school year, no less.
But he did it without yelling.
Without berating.
Without threatening punishments.
He just did it by being himself.
He did it by being interesting, intelligent, prepared, knowledgeable, humorous, and empathetic to the struggles the children faced.
It was just a beautiful thing to witness, even though it meant I was no longer the most popular teacher in that hallway.
But I was more than happy to relinquish that role to my friend, Matt.
He was so darn good at educating middle school kids; he deserved the notoriety much more than I did.
On January 4th, as I got out of the shower, I noticed a missed phone call on my cell.
I usually don't call back random numbers, but I recognized the area code as Matt's area code.
But it wasn't Matt, it was the pastor from his church, and he filled me in on the news.
I was in utter shock.
This sort of a thing doesn't normally happen to 44 year olds.
In a daze, I went and relayed the news to my wife.
I called our close group of friends and filled them in as well.
I woke my daughters up and told them, too.
Our family knew Matt well – our daughters loved him like a second father.
They were just as broken up about the situation as we were.
Our family is close with Matt's family.
I had been friends with Matt's wife for 20+ years – Matt and his wife started dating in college, while Matt was my roommate.
My wife is friends with his wife, and our children are friends with his children.
Matt and myself remained tight through the years after graduating college.
We played softball together, took countless road trips, we hung out regularly, and once I left teaching to start my own business, Matt was my #1 fan and supporter.
He became my lifting partner.
Matt took a few years off teaching when his kids were young and needed him at home.
With the whole day available and looking for something to keep the kids occupied, he would load everyone into his dad mini-van each morning and take them to our gym's child care center, and we would lift weights together.
If you've ever seen a video of me lifting at the gym on social media, Matt is the guy who's holding the camera.
If you're in our group coaching community, Matt is the guy filming every exercise tutorial on our new, custom app.
He never accepted payment for his work, either, even though I always attempted it.
We trained daily for years and I look back at those days fondly as some of the happiest days of my life.
Men often go at life alone.
Especially during the child raising days.
Sure, we have some buddies we might see every few months or so, but with work, careers, and family considerations, the vast amounts of time we used to spend with our close, true friends tend to dwindle.
As a result, men often end up keeping their true feelings locked up inside.
But with Matt and I working out daily, I had someone to confide in.
And Matt did as well.
He was my closest friend.
One of the few people I could be real with and let my guard down, knowing he wouldn't pass judgement.
We talked about anything and everything.
About our lives.
About our children.
About our spouses.
About our struggles.
About our stresses, our anxieties, and our deepest, darkest fears in life.
He was a real one.
He was the kind of guy who would joke with you and talk smack to your face, but he would defend you fiercely to strangers.
He just wanted to be there for you, and for you to be there for him – that was always good enough for Matt.
It's clear as day why his students, his friends, and his family loved him so unconditionally.
After I received the news, all that previous advice I had given to others in these situations vanished instantly.
I couldn't even fathom going to the gym and working out.
I felt physically ill, with an ice pit deep in my stomach, and a fire-like anxiety in my chest.
I didn't sleep at all for the next week.
My appetite was non-existent.
I didn't want to do anything.
I just wanted to lay on the couch and try to process the heartbreaking news I had just received.
I reached out to a colleague of mine, Bryan Krahn.
I had seen him make posts and write about traumatic experiences before, and how to handle them fitness wise.
He gave me some excellent advice, and I would like to relay that advice to you.
Bryan's advice was simple – don't train because you feel like you "need" to.
Wait until you want to train again.
Trauma is just that – trauma.
And routine, which is your best friend when it comes to fitness, gets tossed out the window when tragedy strikes.
You can feel lost and isolated.
You can feel alone in your own thoughts, even though you're surrounded by family.
You can feel empty – that's exactly how I felt after hearing the news… empty.
Like there was a big hole in my existence that would never be filled again.
And rightfully so.
Hearing Bryan's words helped me, and if you're ever in this situation, I hope they help you, too.
It was a small relief, but Bryan is a grizzled coach with over 25 years in the fitness game.
Just hearing him tell me to relax, take time for myself, and not worry about my own training took a burden off my shoulders.
I'm often obsessive with my workouts – I feel like a fraud or a failure if I don't train every day.
After all, it's my job to motivate and help others get great fitness results – if I'm not on top of my game, it makes me feel like an imposter at times.
As far as nutrition goes, I did my best not to turn to junk food.
There's emerging evidence that highly processed food can cause gut issues which can turn into anxiety, which I didn't need any more of.
I stayed away from alcohol and marijuana as well.
Those things may seem like good options during these times, but they're horrible in reality.
They may numb the pain short term, but they only multiply it once the numbness wears off, and you're faced with the facts once again.
I found myself drinking lots of protein shakes.
I had zero appetite, and ready made protein shakes allowed me to get calories and protein into my system even though I didn't feel like eating.
I lost 6 pounds in the week following the news.
But maybe that was a net positive, since the news occurred post holidays when I had some additional water weight on me.
A silver lining, I guess, if that's possible.
Matt's visitation was held on January 8th, and his funeral and burial were the following day on the 9th.
I've never been to a visitation like Matt's.
The line was out the church door for 4+ hours with friends, family, and students filing in to pay their respects and say goodbye to their good friend, family member, and teacher, Matt.
I'm not sure Matt realized how many people loved him so dearly.
He touched so many lives it's hard to comprehend.
I know he was surprised to look down from heaven and see over 800 men, women, and students so heartbroken and distraught.
His wife Susie stood by his casket and hugged each and every person for the entire 4 hours.
Her strength was remarkable.
Flanked by her children and immediate family, she showed courage and resiliency far beyond what anyone can comprehend.
I feel better knowing her children have such a strong and powerful mother in their life to carry on Matt's legacy.
I'm still broken up by the situation, but it's slowly getting better.
I've gotten back to the gym by now, and back into a normal routine.
Not a minute goes by where I don't think of my best friend, Matt, though.
Matt's passing won't be real for me until the next time our friend group plans a road trip, and we all realize there's a big piece missing from the roster.
Or the next time I see a famous comedian lined up to play Fox Theater in Detroit, and I have to find someone other than Matt to attend the show with me.
There will be no more text messages about Michigan Football wins.
No more stupid (but hilarious) TikTok videos sent to me on the weekend evenings.
It's going to take awhile to get used to this new normal.
Matt's passing is a reminder to never take the good times for granted, as you never know when they might end.
But if there's one things I know for certain, it's that Matt wouldn't have wanted to cause anyone to suffer.
He would have wanted me to get over it, and keep kicking ass both in business, and in my personal life.
He would have wanted me to be a strong support system for my wife and children, and guide them through this tragedy with courage.
He would have wanted me to not let my emotions get the best of me.
Matt had plenty of emotions, but he firmly felt you should control your emotions if you can, and not let them control you.
But trust me… Matt is still with us…
One, small story…
I've had some issues with my anxiety in the past – and Matt knew that well.
They tend to spring up when I have a lack of sleep, which Matt also knew.
This past summer, I bought a FitBit to start tracking my sleep.
I've had the FitBit since early July, and each morning, I would synch it to my phone and see how much sleep I got the previous night, and what the sleep quality was.
This was my daily routine – wake up, come downstairs, synch my phone and watch, and see the statistics.
It never failed me for 6 straight months.
On the morning after Matt's passing, I didn't sleep a wink.
And I came downstairs, tried to synch my watch and phone like I always do… and I got an error message.
The watch and phone didn't synch properly for the first time since I had purchased it.
I disconnected the watch from my phone's Bluetooth and tried to reconnect it.
No bueno.
Nothing.
It just said "contact customer support"…
I tried it again the next day after another sleepless night.
Nothing.
And the next day.
Still nothing.
Same old error message…
I didn't want to deal with customer support while I was grieving, so I decided to wait until after I felt better to take care of it.
The night after Matt's funeral, I took my daughter to her weekly ice skating lesson.
I was sitting there watching her, and I looked down at my FitBit.
I jokingly said to Matt, "Well, thanks for looking out for me, but your funeral is over, let's see if this thing works now…"
And I tried to synch it back to my phone.
And just like that, it reconnected easily.
I smiled.
Of course it did…
At that moment, I was filled with a feeling that can only be described as Matt's presence.
I felt like he knew I was going to be stressed out about my lack of sleep, and he didn't want me to worry.
I also think he was messing with me a little bit…
If anyone would want to mess with someone from beyond the grave, trust me, that's got "Matt" written all over it.
That night, I fell asleep quickly and got a full 8 hours of rest for the first time in a week.
Perhaps I'm looking too much into it.
Perhaps it was just a big coincidence.
Or maybe… just maybe… Matt's spirit and kind, infectious personality will be with us all forever, in some capacity.
Rest in peace, my best friend, Matt.
We will meet again one day, I'm sure.
You will be missed, but you will never be forgotten.
I love you, bro.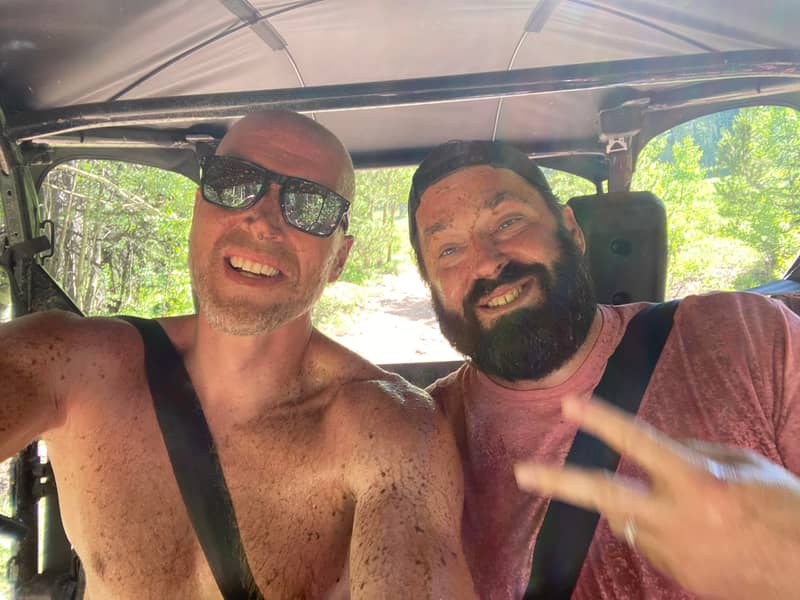 .
.
Best,
Coach J
Anyman Fitness
Read the N.W.A. Newsletter Archives

Client Testimonials and Results
---
A fitting tribute to my good friend, Matt… (this one is safe for work)