The clients on the following page have done some serious work. All have been clients of Anyman Fitness, LLC.
We hope their pictures are as inspirational to you as they are to us.
To apply for online coaching, follow this link.
-Jason
Scott, 52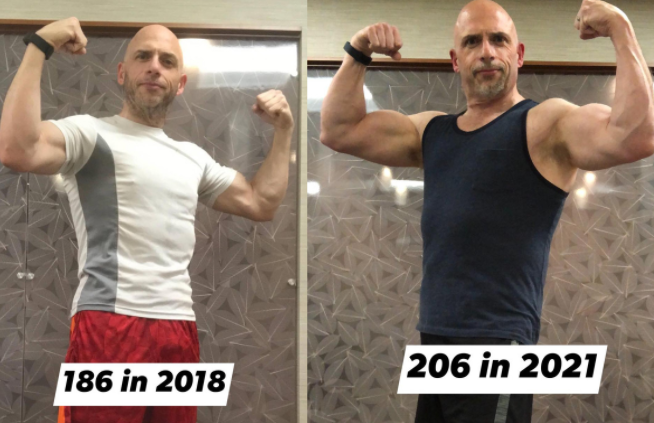 Scott joined Anyman Fitness to gain muscle.
He's gained 20 solid pounds of lean body mass with us.
Incredible job, Scott! 
Clare, 42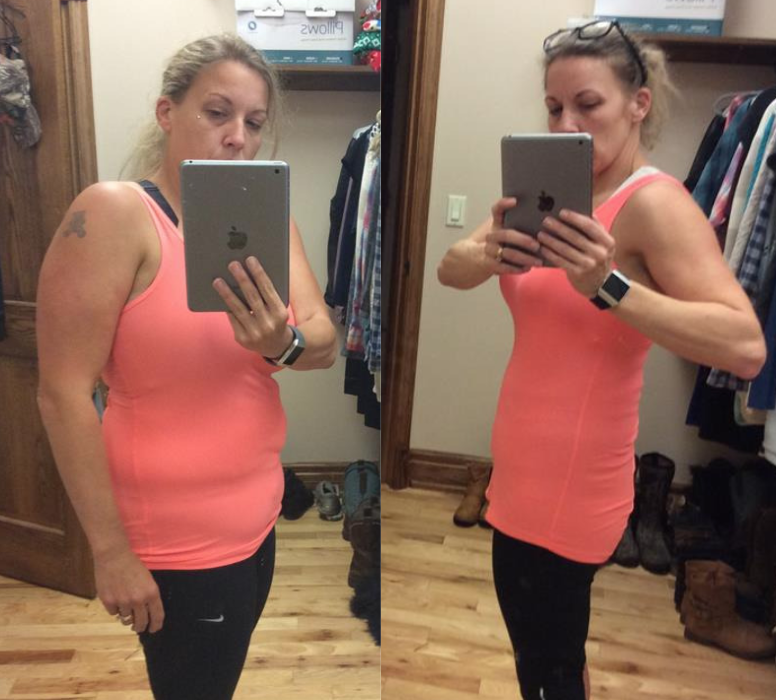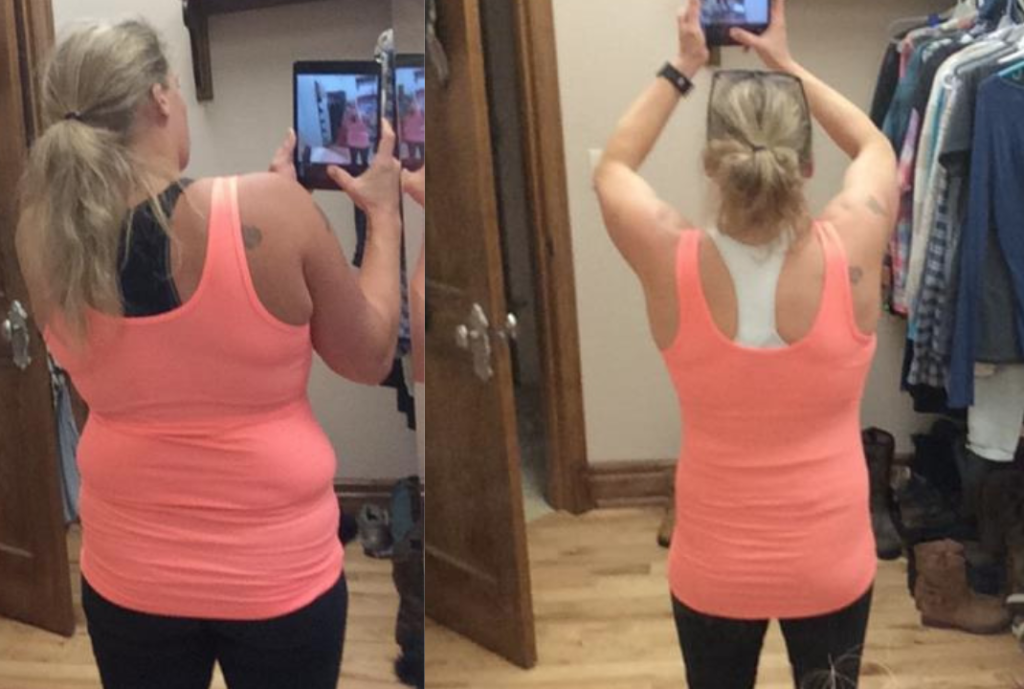 Clare shows off her lean, toned look courtesy
of lifting weights and flexible dieting.
Sandi, 46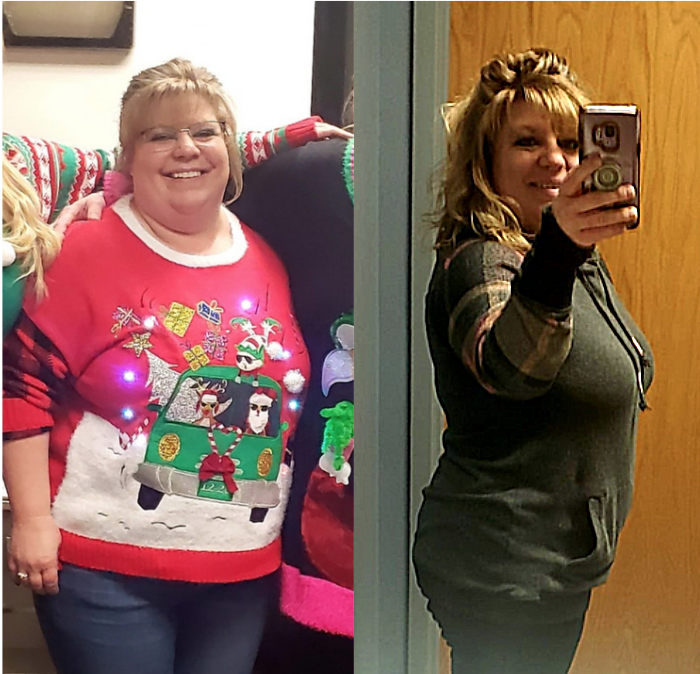 Sandi lost 70+ pounds with Anyman Fitness
and came improved her health dramatically.
Peter, 39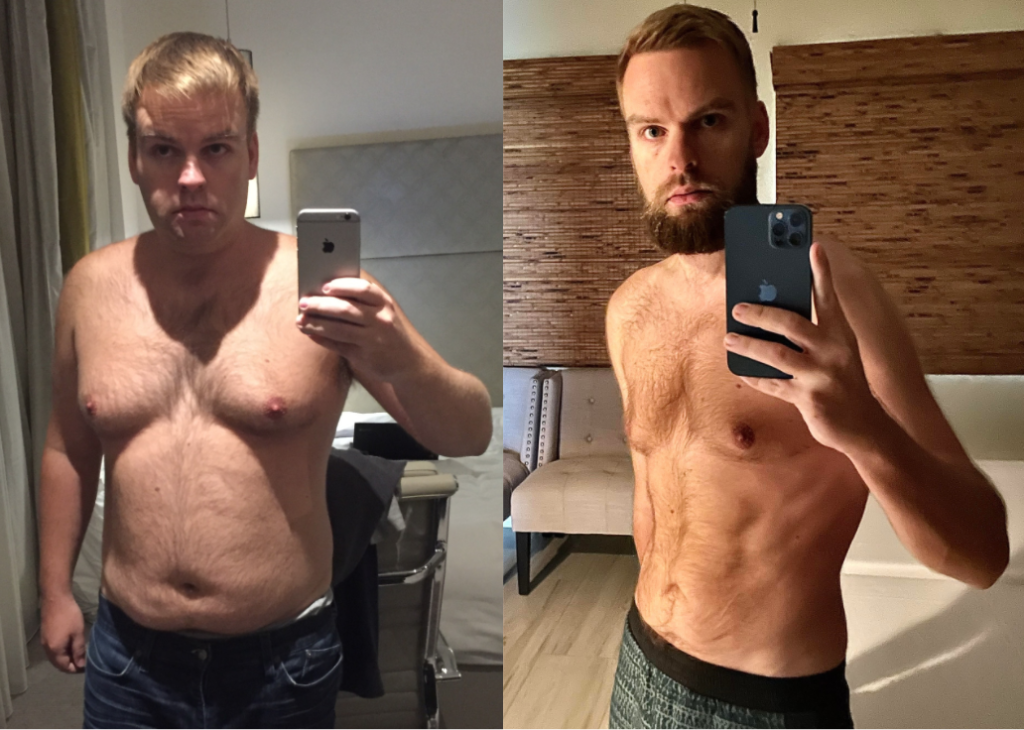 Peter lost over 70 pounds with Anyman Fitness
and looks like a brand new man.
Jason, 46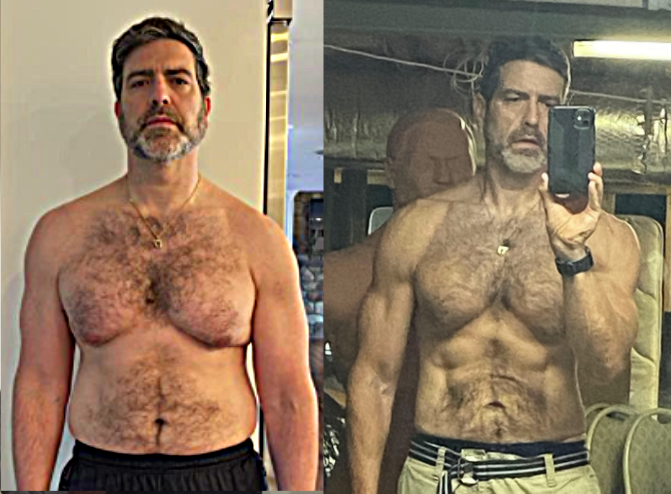 Jason lost 6 inches off his waist and 30 pounds
in 6 months with Anyman Fitness.
Tanya, 40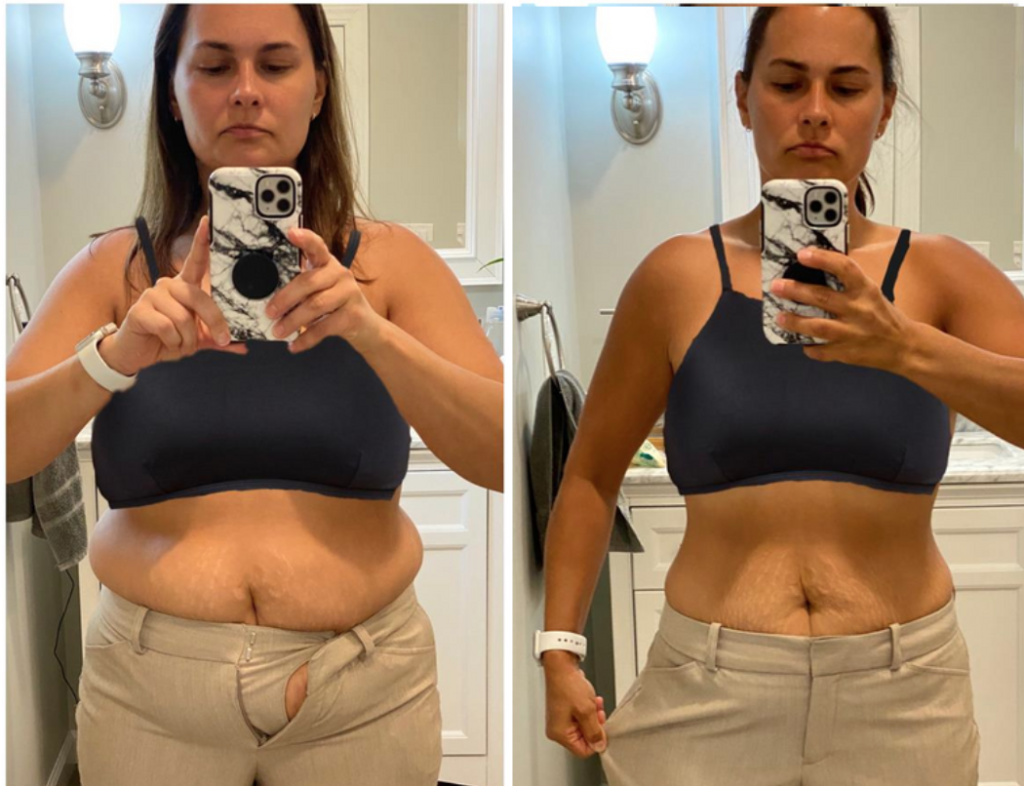 Client Tanya showing off her 28 pound
loss by easily sliding into her once-too-tight pants.
Incredible job!
Jeff, 41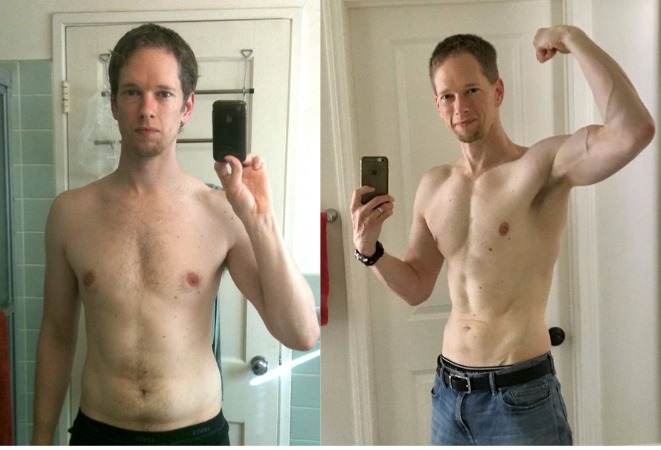 No gym? No problem.
Jeff showing off his new, lean, and muscled
physique, 100% from Anyman Fitness
Bodyweight Routines.
Brent, 38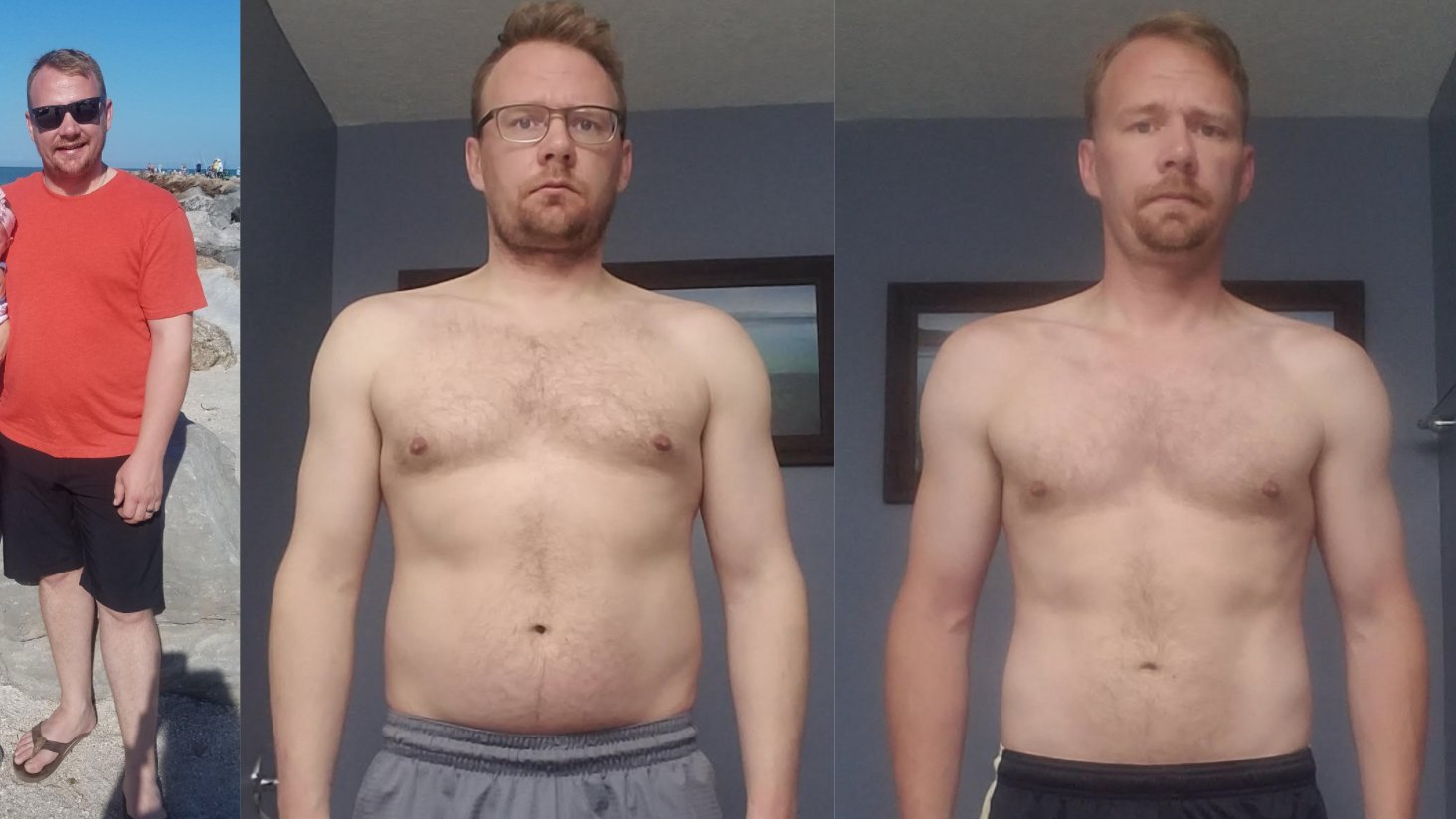 Brent lost 50 pounds with Anyman Fitness
in 1 year – going from 205 to 155 pounds.
Kimberly, 54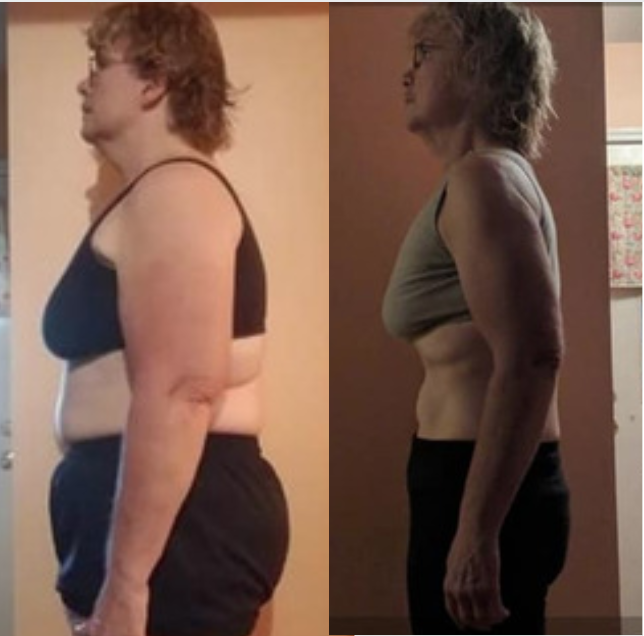 In 1 year with Anyman Fitness,
Kim has lost 70 pounds, 7 inches off her waist,
and 9 inches off her hips.
Dustin, 38
Dustin torched 25 pounds of body fat in 4 months
of working with Anyman Fitness.
Nik, 37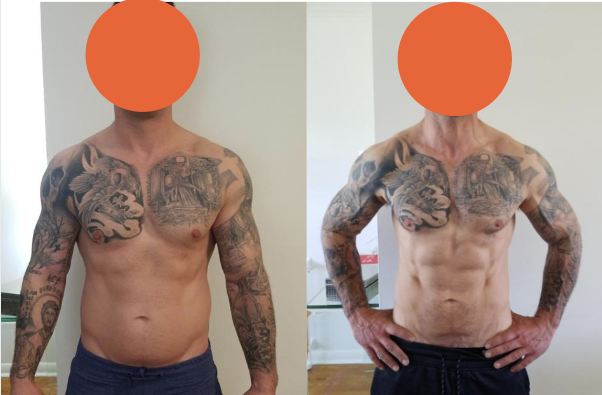 Nik lost 15 pounds and 3 inches off
his waist in 6 weeks with us.
Diana, 50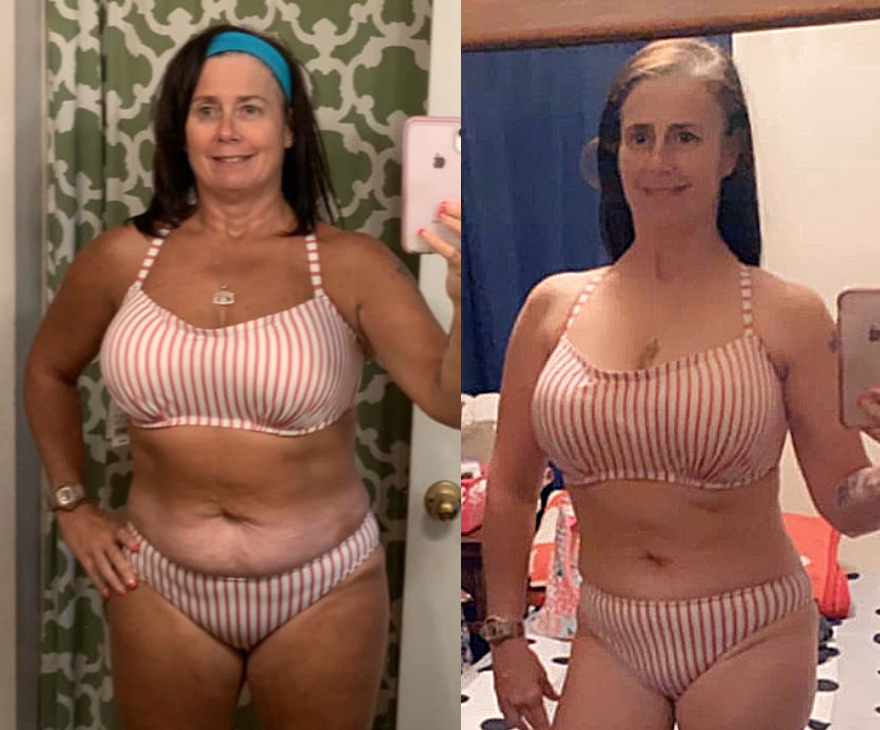 Diana's body has changed drastically
since joining Anyman Fitness.
Incredible work here!
Christine, 46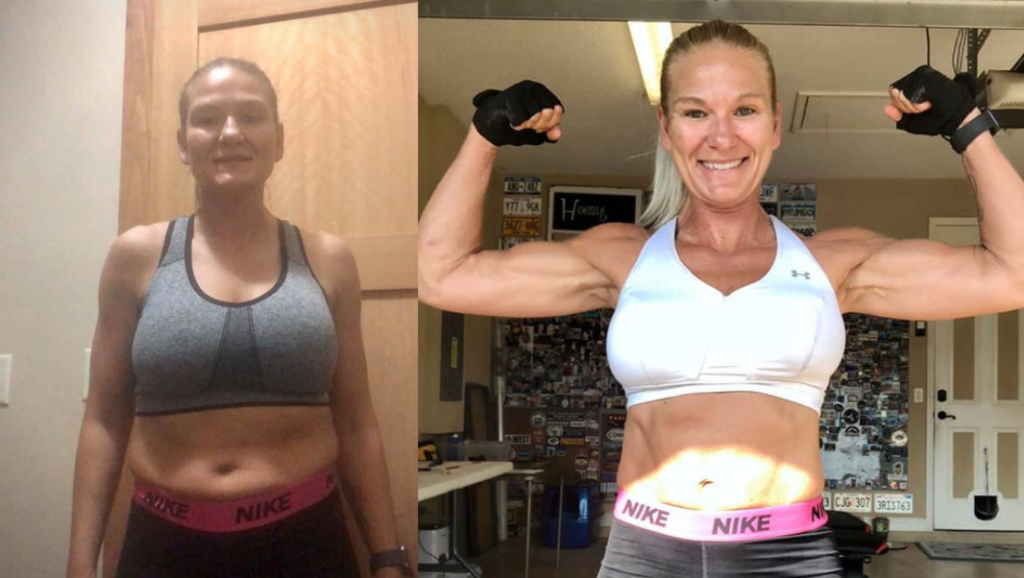 Christine, showing off 5 months of work
and completely destroying the myth of
"lifting wieghts makes you bulky".
Incredible results here!
Patrick, 39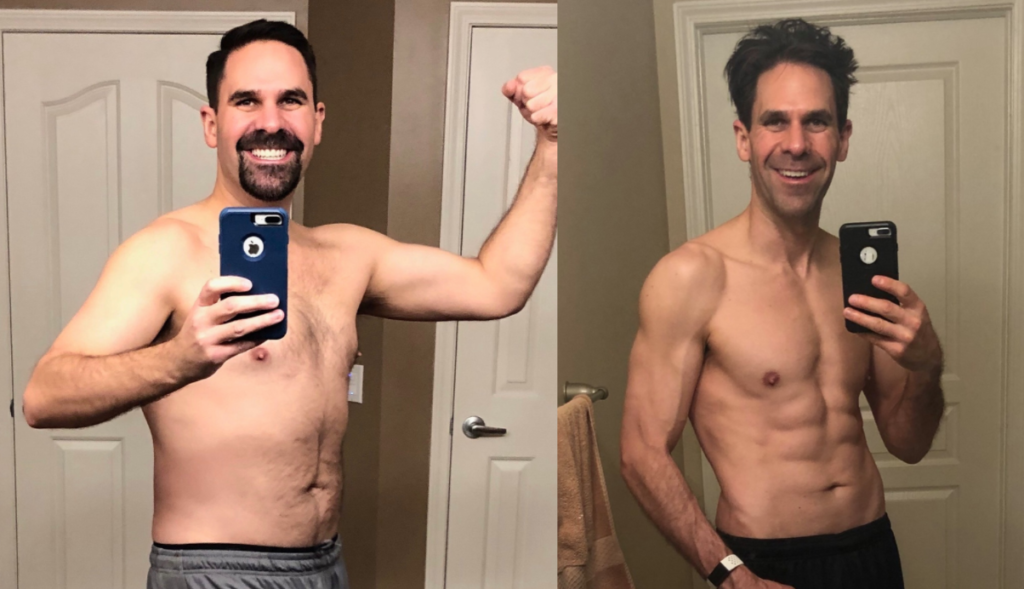 In 12 weeks, Patrick lost 31 pounds and 5 inches off his waist.
He went from a 38″ trouser to a 32″.
This is what Patrick had to say about
his first 3 months with us:
===================
"It was the week of Thanksgiving and I told myself I needed to focus on my fitness.

But things kept getting in the way…

In fact, when I teamed up with Jason, I definitely wasn't "ready".

I was going through a divorce, working full time, raising 2 daughters, and my house was on the market.

I was just trying to keep myself emotionally together…

I saw a post about a free 5-Day Challenge Jason was holding, so I hopped on board.

I didn't think I was "ready", but I figured "what the heck" and did it anyways.

Two clicks was all it took, and after Jason's 5 Day Challenge, I was hooked and went all in.

I didn't do anything spectacular to get these results.

I merely followed Jason's simple program and set it on autopilot.

He literally has put fitness on a silver platter for us all and I simply pulled up a seat at the table.

From my perspective, his fitness model is designed to easily fit into all of our very busy lives and is simple and easy to implement.

You will find Jason to be caring, compassionate, and very thoughtful when it comes to his continued support and guidance.

Plus everything is online and molds perfectly into our connected lifestyles.

Deciding I would never be "ready" and just doing it anyways was the best thing I ever did."
Stratton, 27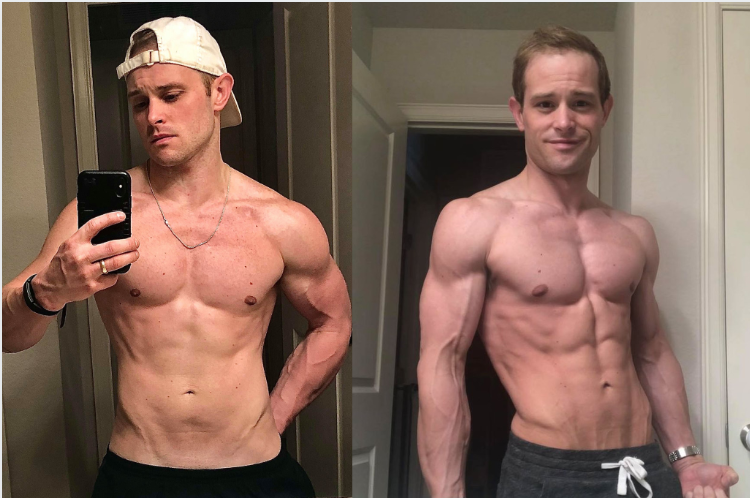 Stratton was already lean, but he
really wanted to get abs badly.
In 9 weeks, he lost 10 pounds and
he accomplished his goal with ease.
Jim, 53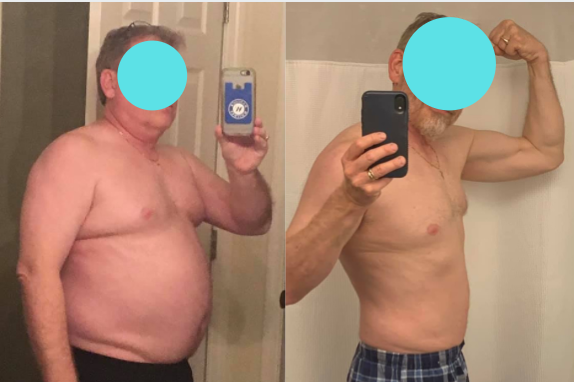 Jim lost 80 pounds
with Anyman Fitness.
Incredible job, Jim!
Debra, 56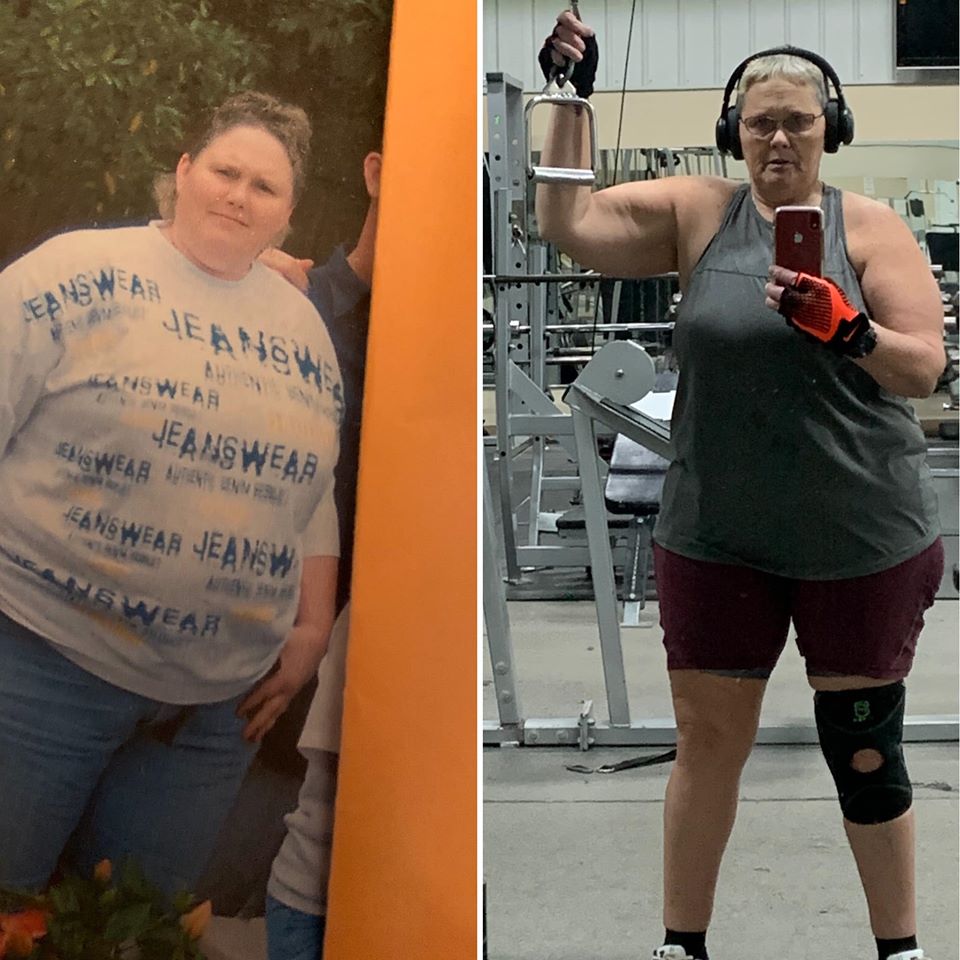 Debra has lost 214 pounds with Anyman Fitness.
She went from 400 pounds to 186 pounds with us,
and continues to amaze us every day.
Tremendous job, Debra!
Brett, 36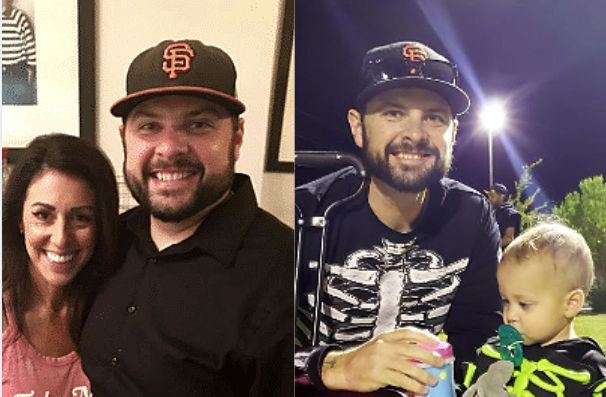 Brett has lost over 50 pounds with us and
his face has changed dramatically.
Sara, 28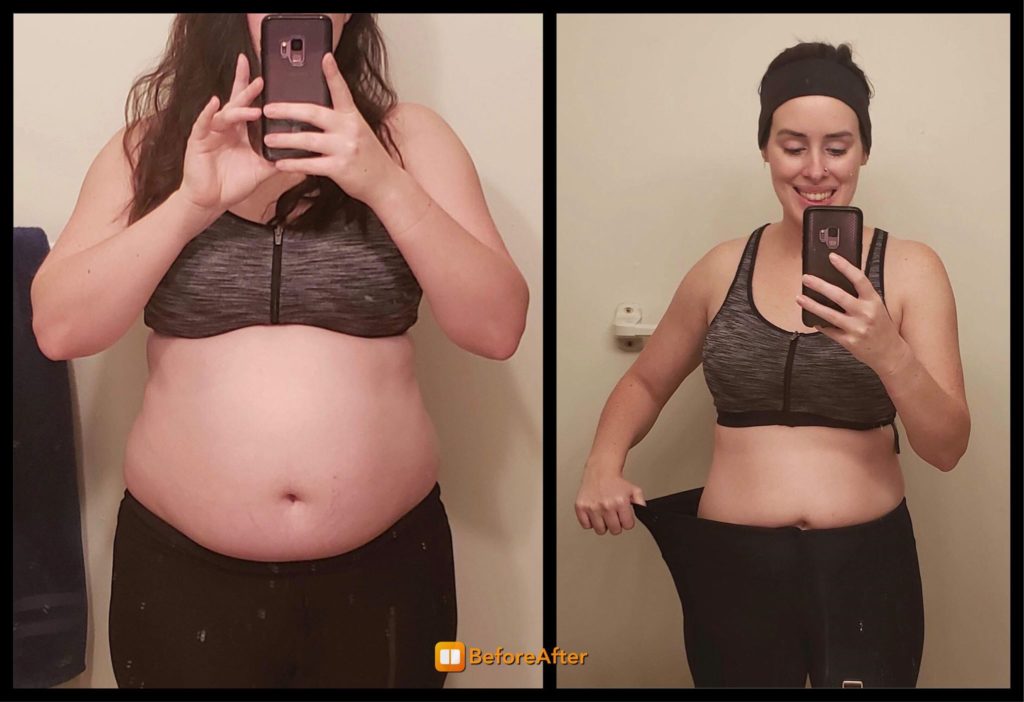 Sara has lost 40 pounds of pure fat
and improved her health tremendously.
Mike, 30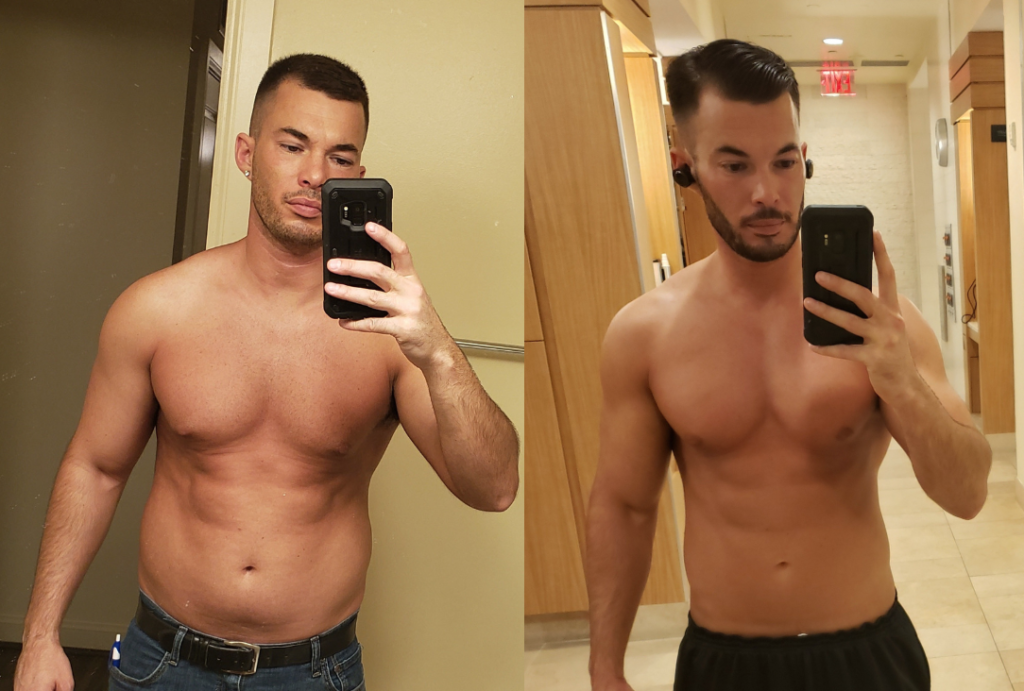 Mike lost 38 pounds of fat and
got into tip-top shape with us.
Linda, 58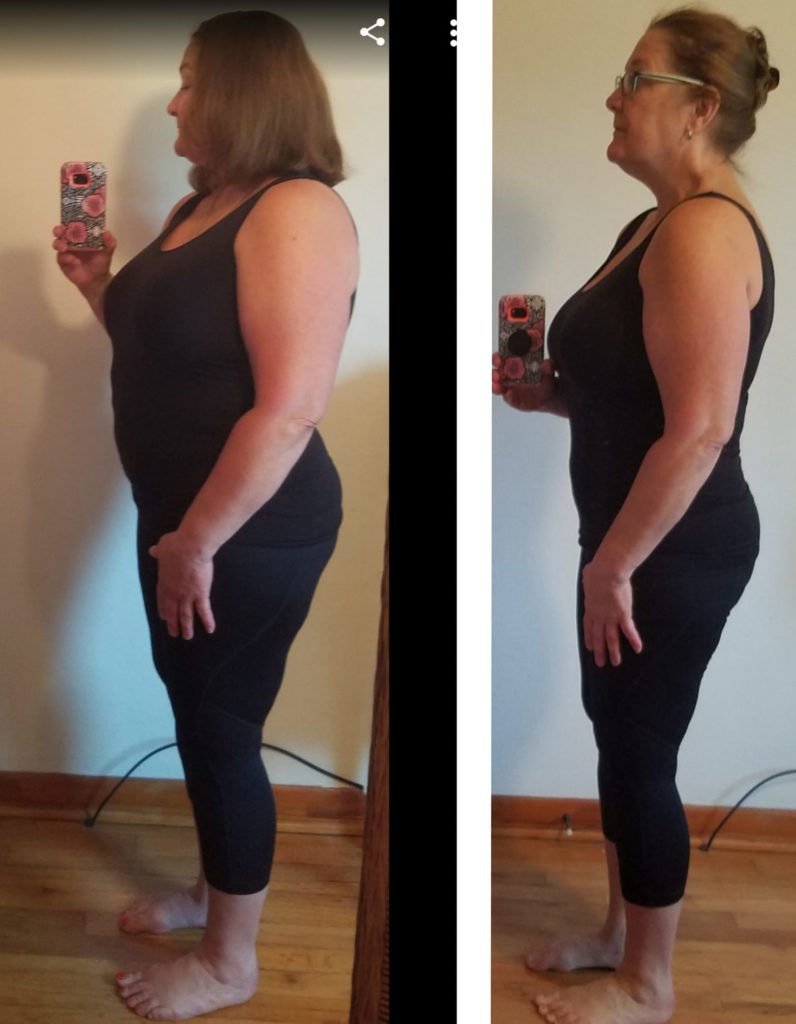 Thyroid issues and being nearly 60 didn't stop
Linda from losing 30 pounds and 4″ off her waist.
Mike, 23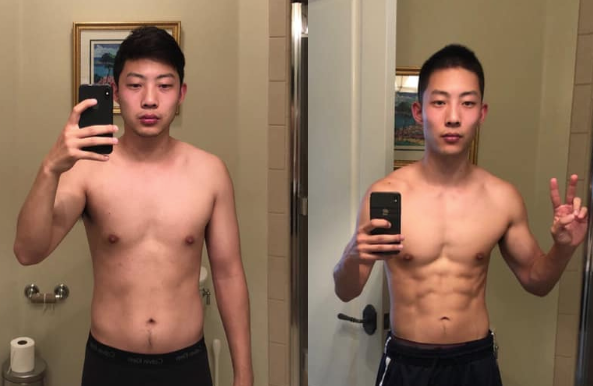 Mike shows off his new, chiseled midsection
from working with us.
Simon, 41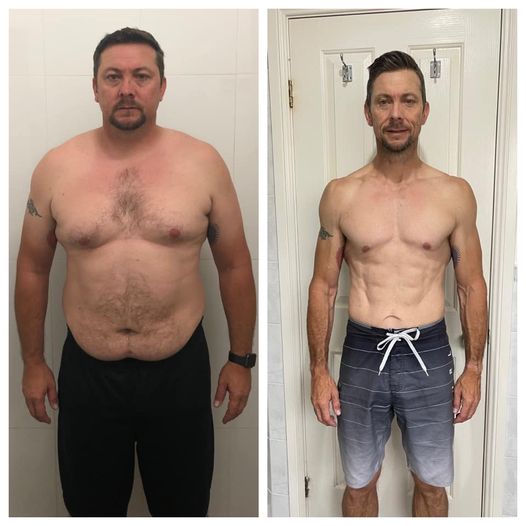 Simon lost an astonishing 75 pounds
in 11 months with us and looks like a superhero.
John, 39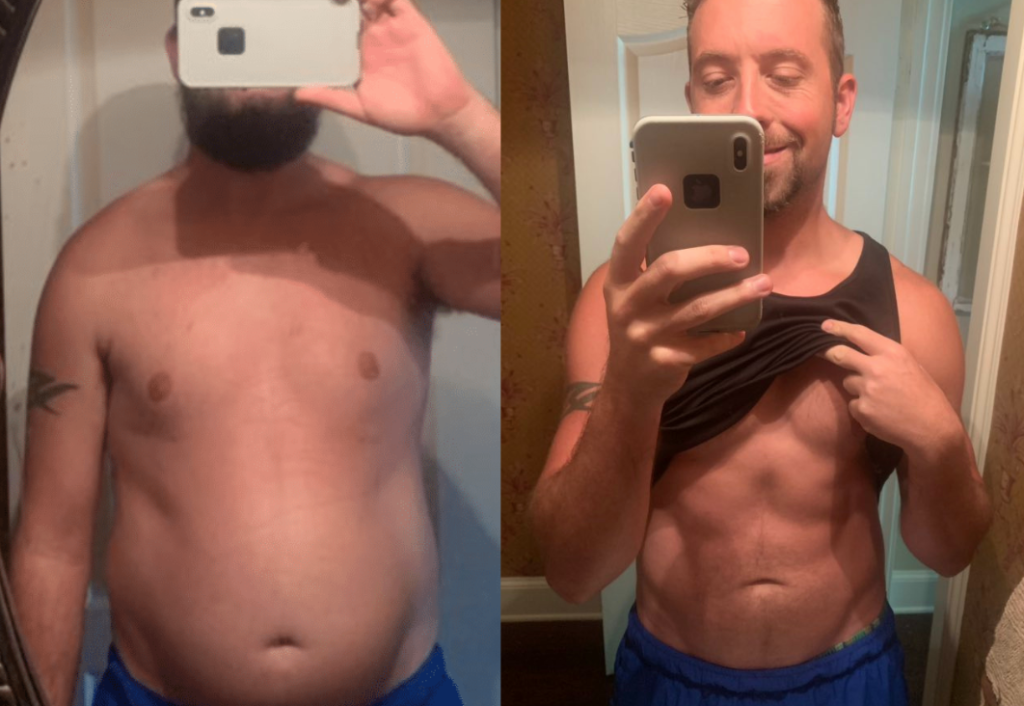 John lost 37 pounds in 4 months
and ended up with abs.
Sherry, 48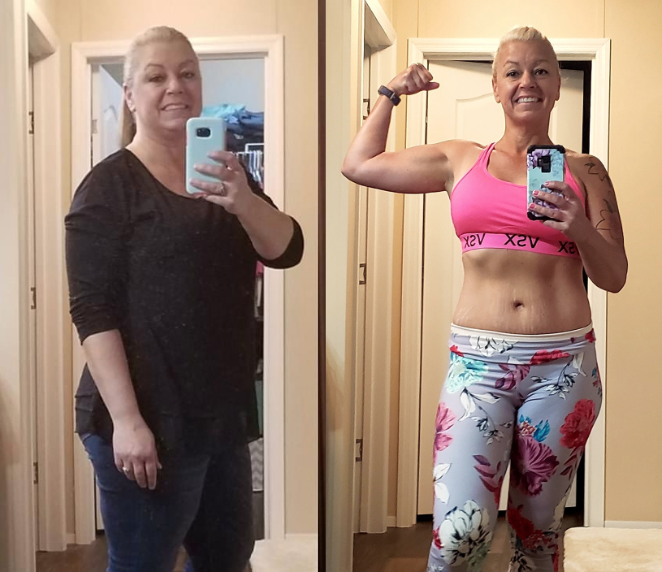 Client Sherry shows off her rockin' new bod
after losing 40 pounds with us.
Danielle, 38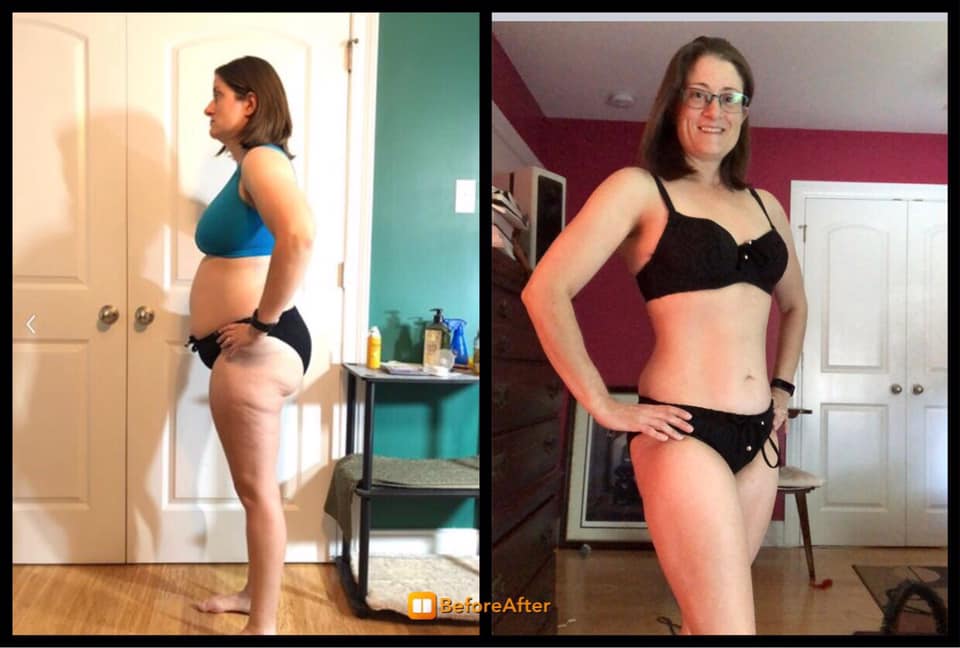 Danielle lost 30 pounds on the scale
and 6 inches off her waist with us.
Thomas, 43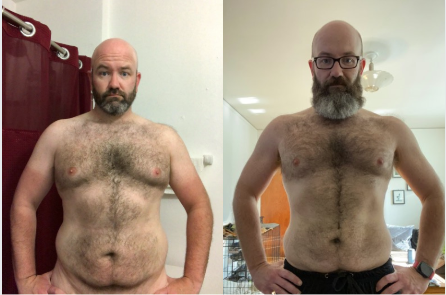 Thomas has lost 70 pounds with us
and looks a full, 10 years younger in the face.
Melisa, 35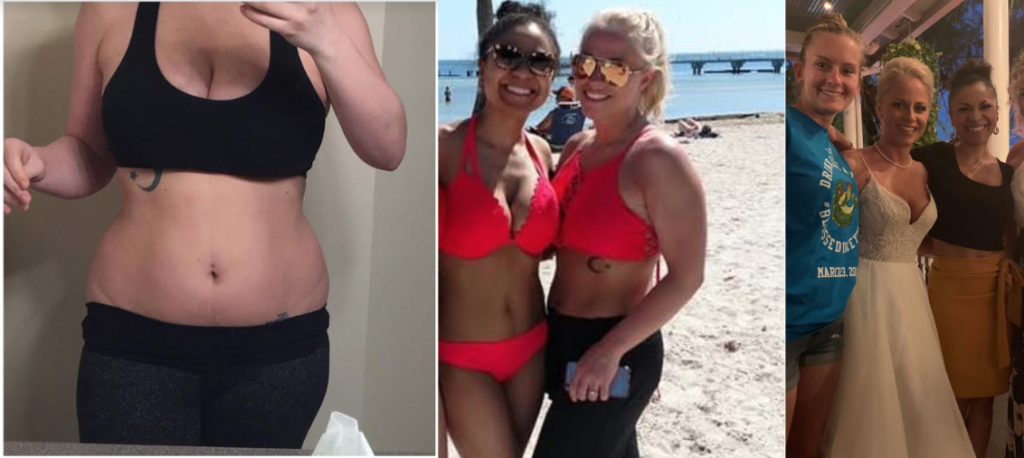 Melisa wanted to get in shape post-partum.
The picture on the left was 8 weeks after giving birth.
She lost 30 pounds and got into phenomenal
shape for her honeymoon and wedding.
Brian, 51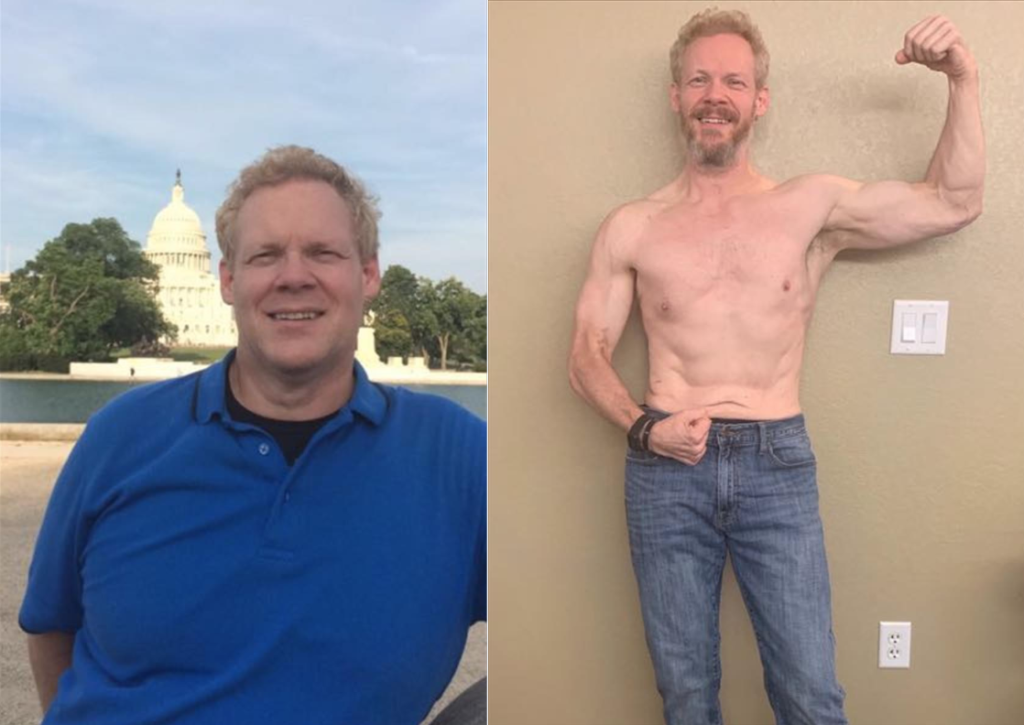 Brian has had 2 knee replacements, but he didn't let that
stop him from losing 71 pounds (from 256 to 185),
and – quite literally – changing his life forever.
Here is what he had to say about his experience
(screenshot from our Clients' Only app):



Christina, 28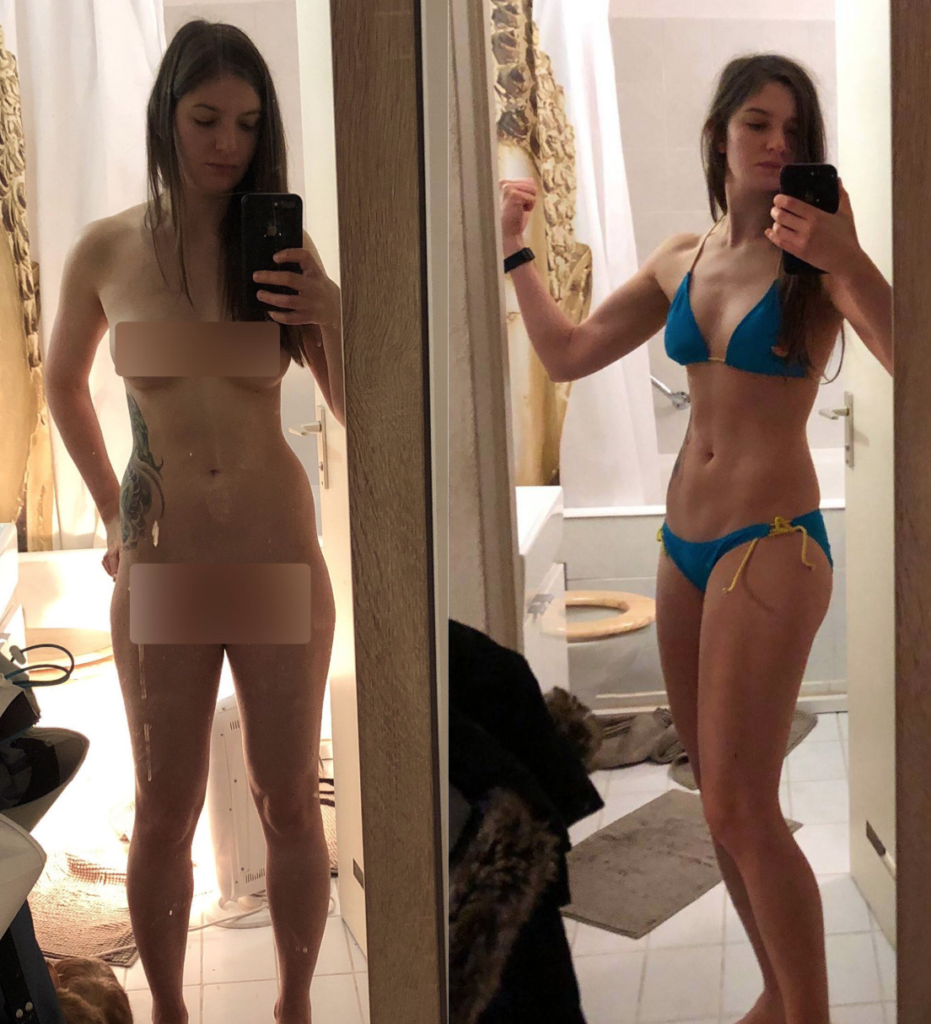 Christina shows off her results, which are
an excellent example of what "toning" truly is.
A few inches off the hips, thighs, and glutes and
10 pounds of fat loss equals one, seriously fit body.
This "toning" didn't come from bodyweight exercises –
To truly "tone" you need to lift hard and heavy
and get your nutrition in order, as Christina did here.
Jennifer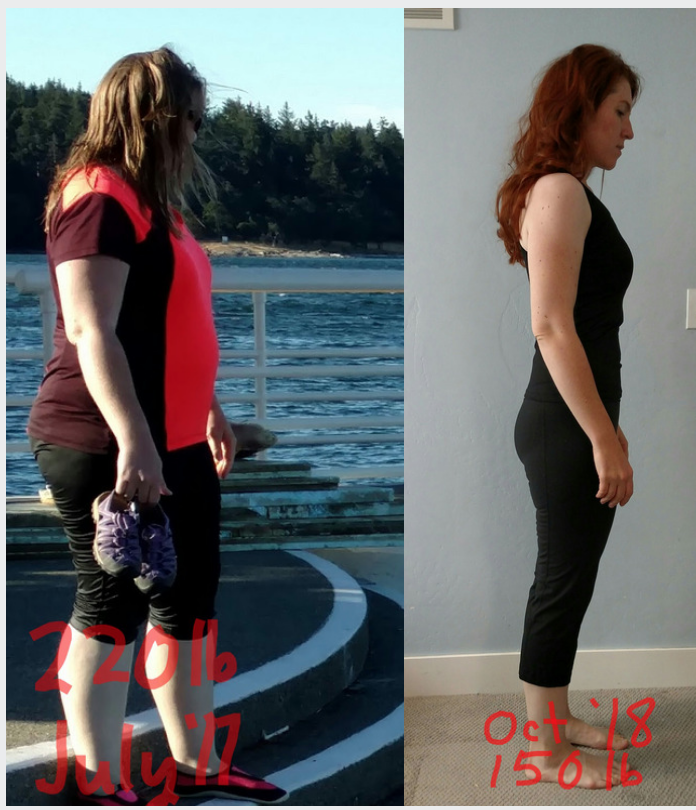 In 16 months with us, Jennifer has lost In those 16 months,
Jennifer has lost 83 pounds and 16 inches off her waist.
She went from 233 to 150 pounds and
her BMI went from 37.6 to 24.3.
Dustin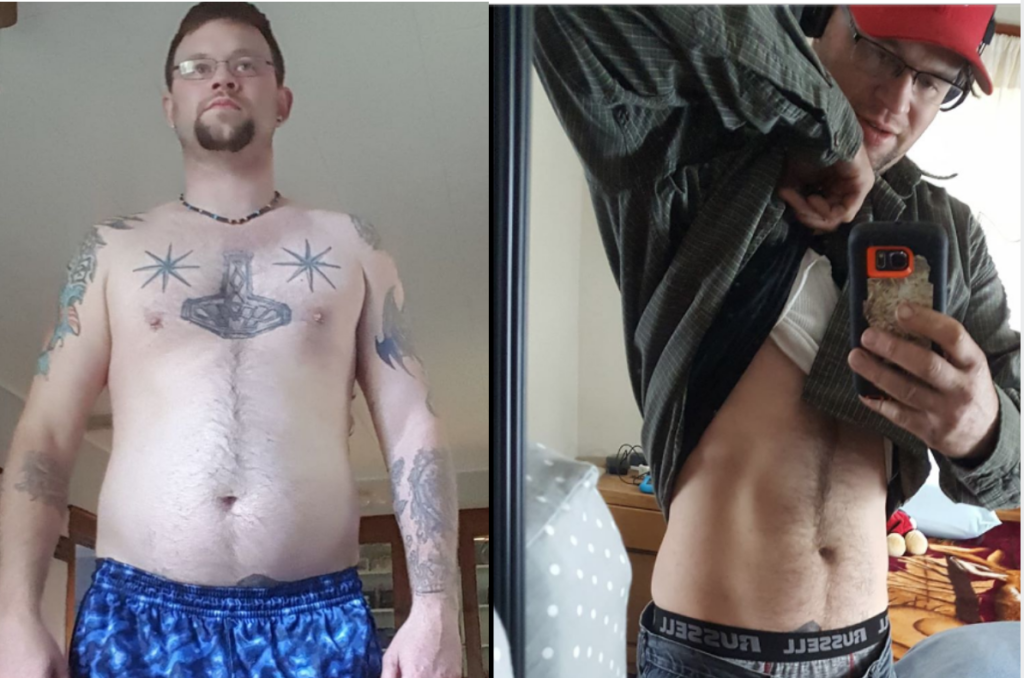 Client Dustin put in some serious work.
In 6 months, he went from 203 to 169, losing 34 pounds
and revealing his abs – incredible job!
Andrea, 27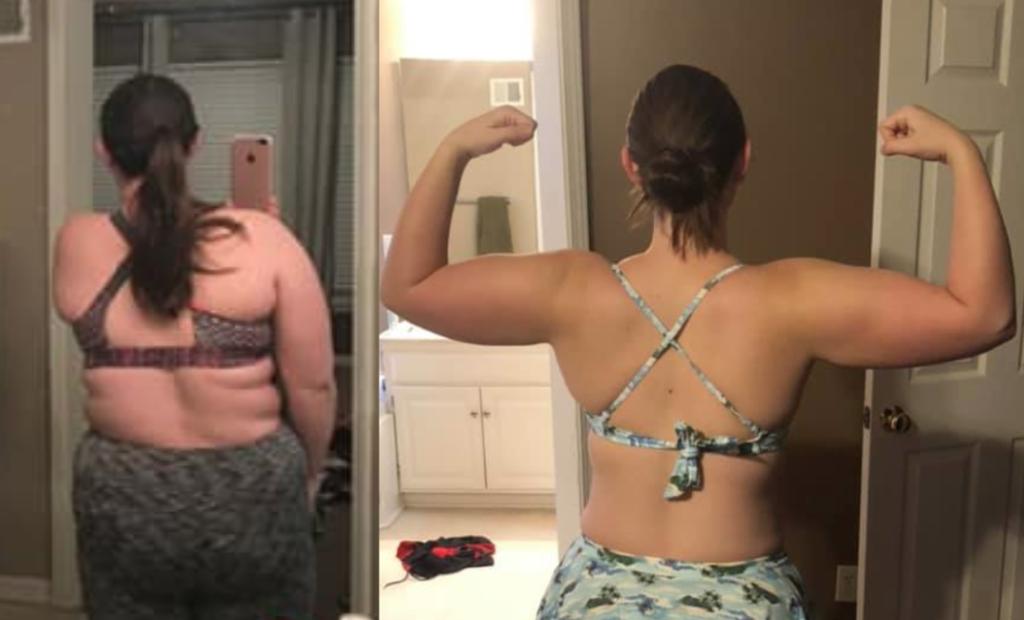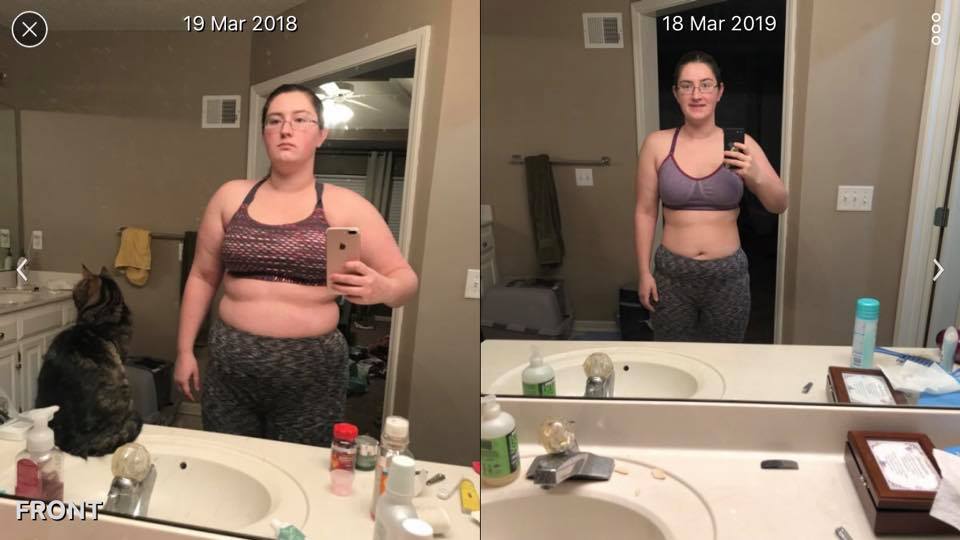 Andrea shows off her new, lean look,
courtesy of weight lifting and flexible dieting.
She lost 40 pounds and 7 inches off her waist
in 1 year.
Andrew, 37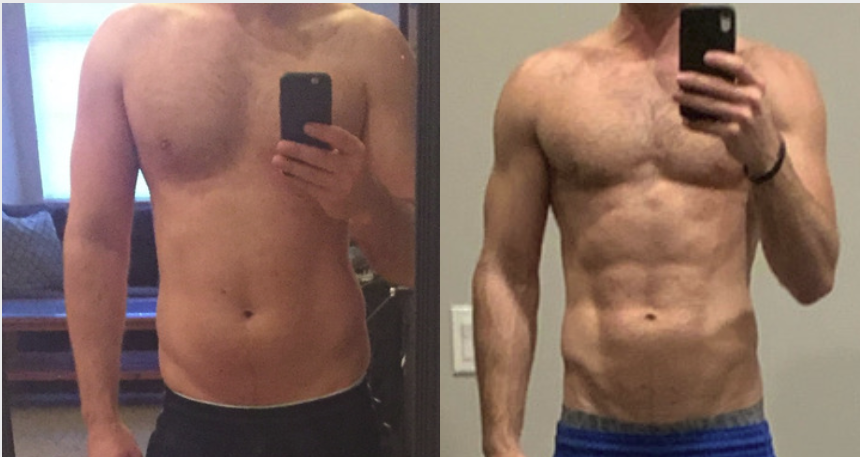 Andrew is a former college baseball player
who had let the pounds creep on over the years
Using our strategies, he shred 25 pounds of body fat
and 4 inches off his stomach,
and has the body of his Glory Days back in full force.
Jennifer, 44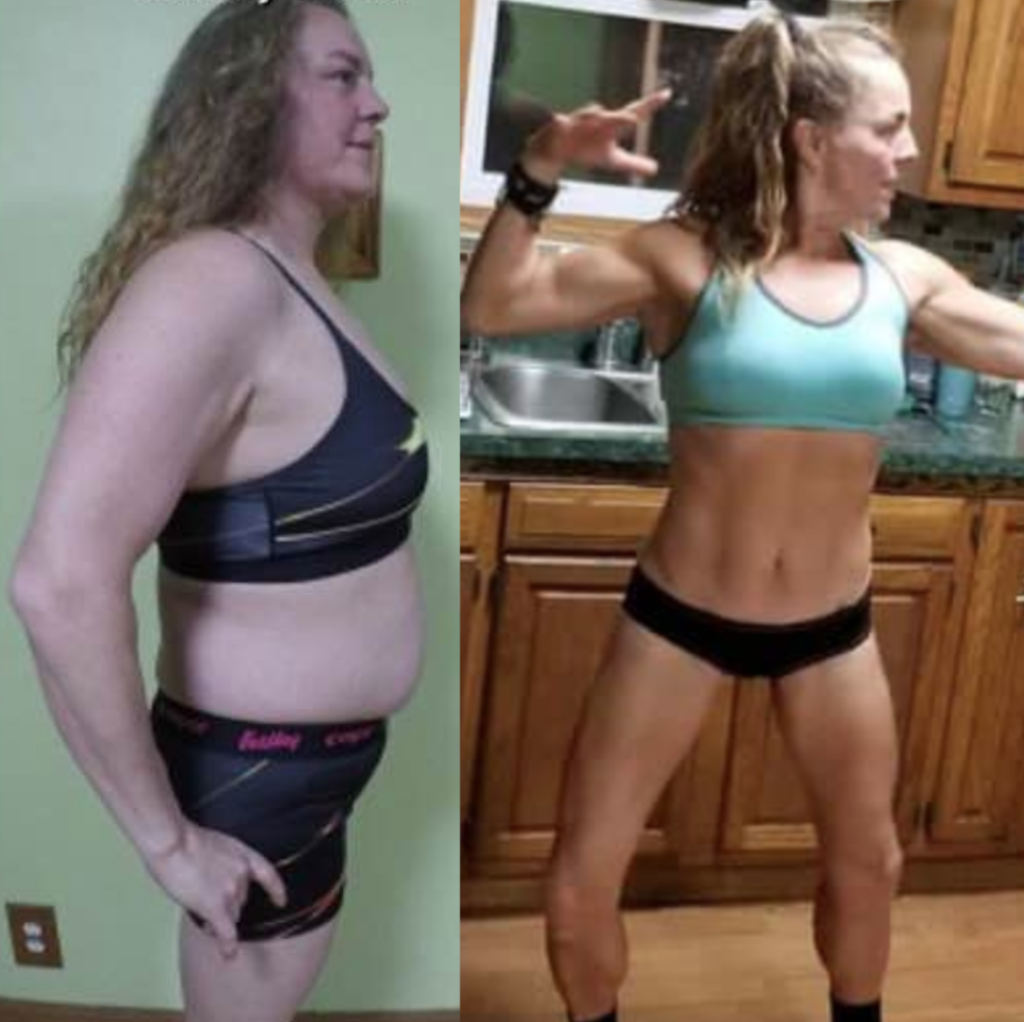 Jennifer has lost an eye-popping 15 pounds and 4 inches off of her waist with us.
All while eating plenty of carbs, and doing no required cardio.
Incredible job here.
Judi, 53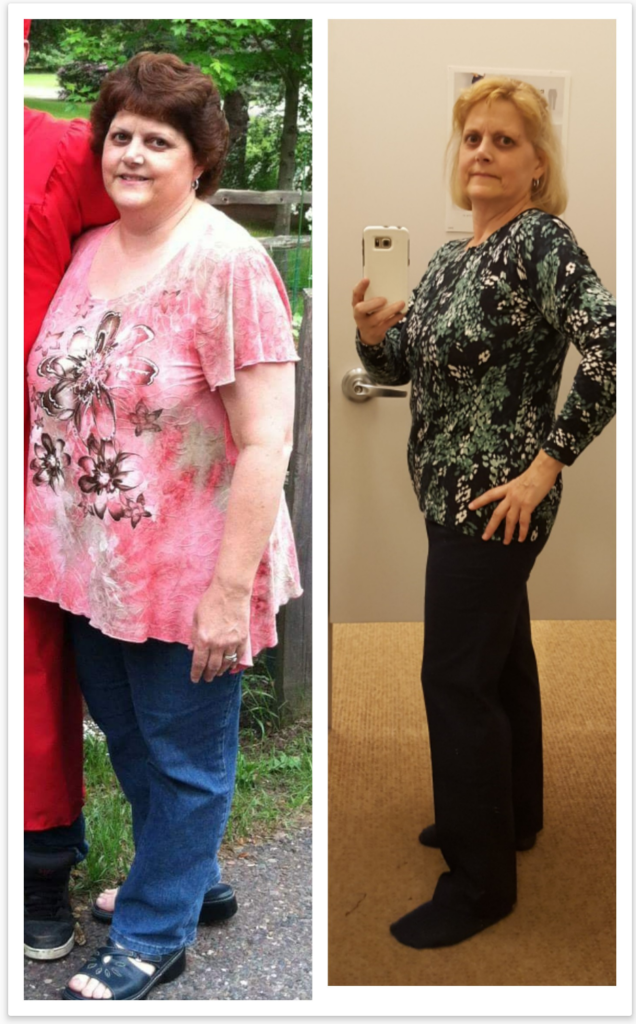 Judi has lost 35 pounds and has gone from
a size 18 to a size 10.
Incredible job!
Lauren, 27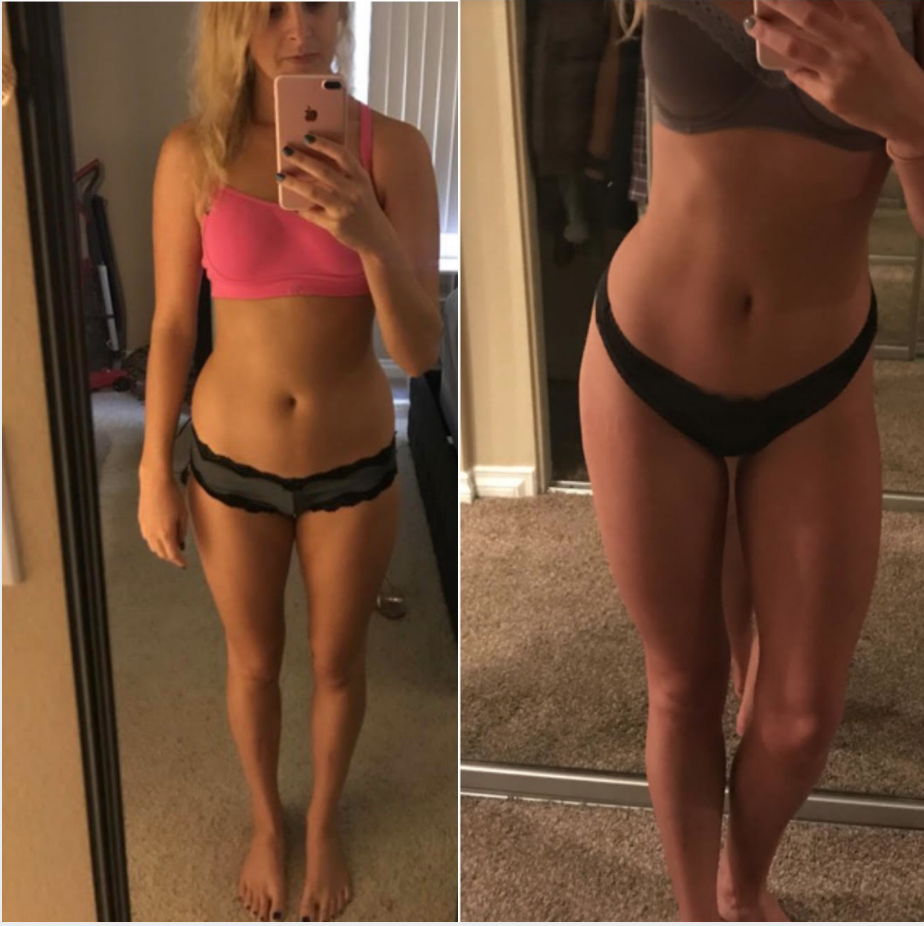 Lauren came to us to tone up for her wedding.
She was prescribed a solid dose of weight training + proper nutrition.
She went from over 20% body fat to 15% body fat, losing 11 pounds in the process.
Here's what she had to say about her experience:
Before I started with you I was so shy of the weight room.

I would just stick to the machines.

I had no clue what to do when it came to free weights.

Now, I am confident in what I am doing and it feels great.

You not only helped me in the gym, but also with my macros.

I was just starting off with counting macros and I was a little confused, but with your help I became a pro.

Before I started counting macros or weight lifting, I was eating maybe 1000 calories a day and not giving my body what it needed.

You were able to give me the confidence that eating more will NOT make you fat or buff.

I am so happy to have met you and work with you.

I have lost 11 pounds and I am down to 15% body fat.

It has been an incredible adventure, thank you for a life time of knowledge.
Ashleigh, 39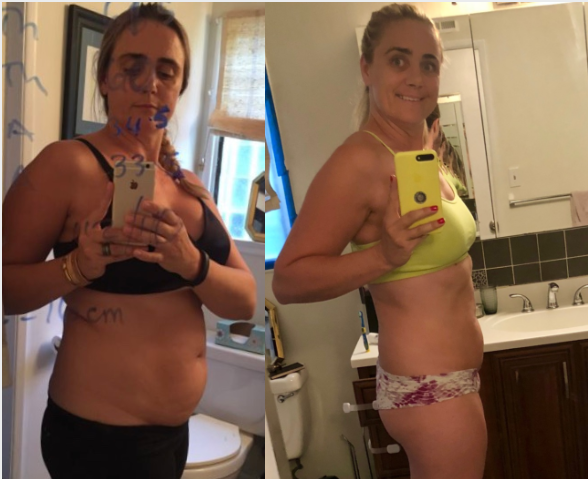 Ashleigh is a new Mom who wanted to get her old body back.
In a few months' time, she had lost over 5 inches off of her waist and 20 pounds on the scale.
Incredible work!
Liddy, 43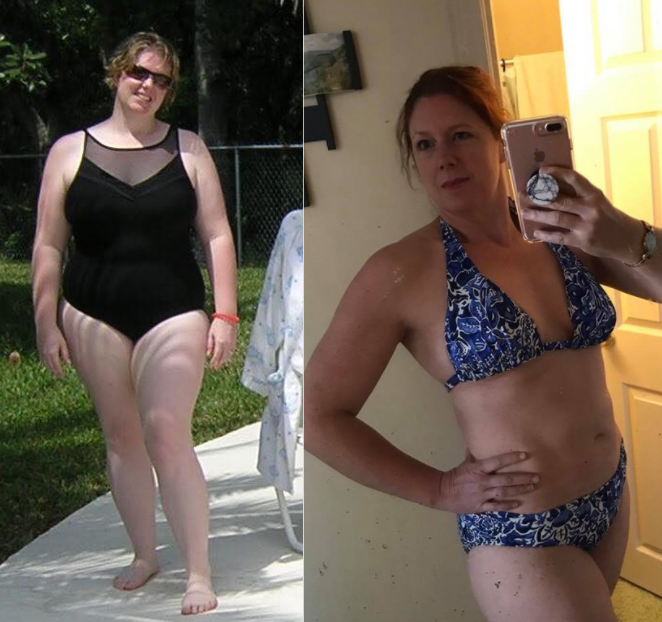 "I am forever grateful for having found Jason and Anyman Fitness.
Between his no-nonsense approach and the AOG (The Army of Greatness), I finally have the knowledge AND peer support to help me lose fat and stay the course.
I reached my initial fat loss goals and then surpassed them.
Total game changer. I have No Regrets.
I used to watch Biggest Loser and bemoan the fact I couldn't pause my life for a similar fat loss bootcamp, complete with dietitian, personal trainer, and beautiful gym/equipment.
But deep down, I also suspected that such results might be hard to sustain once I returned to my everyday life.
That's why I love the AOG.
It's about real people making real transformations, in real time, while also dealing with all the other life stuff: parenting, job stress, school, illnesses and injuries, traveling and vacations, parties and holidays.
Amazing things happen.
I never thought I would be excited for swimsuit season, but now it can't get here soon enough."
Lisa, 40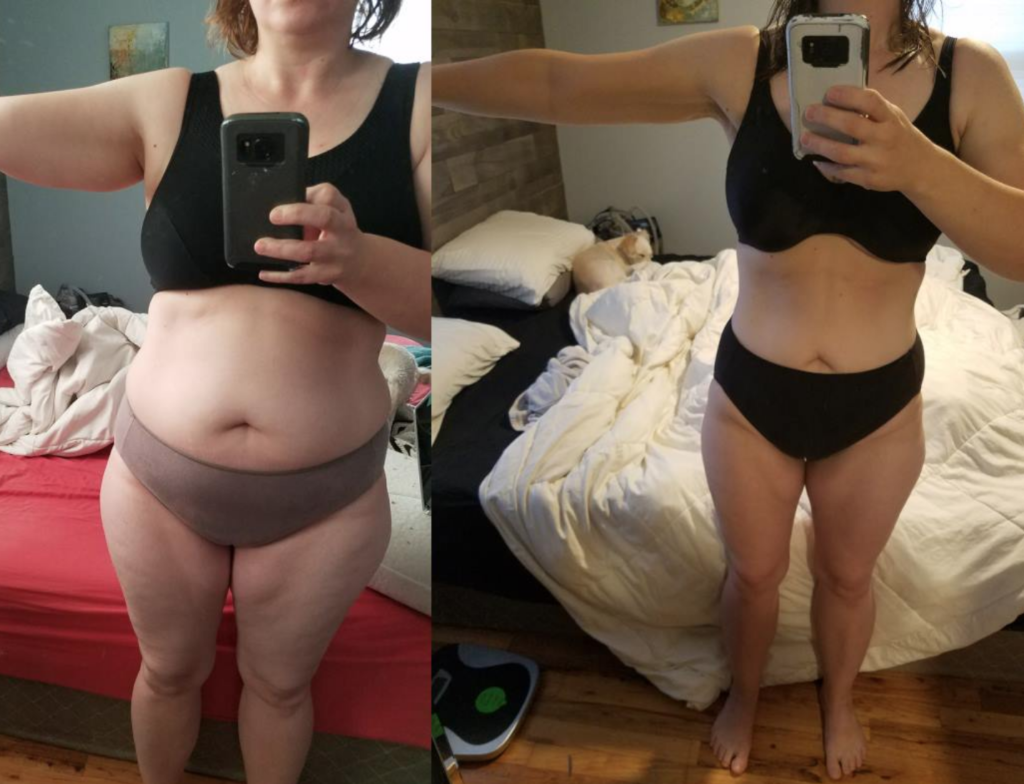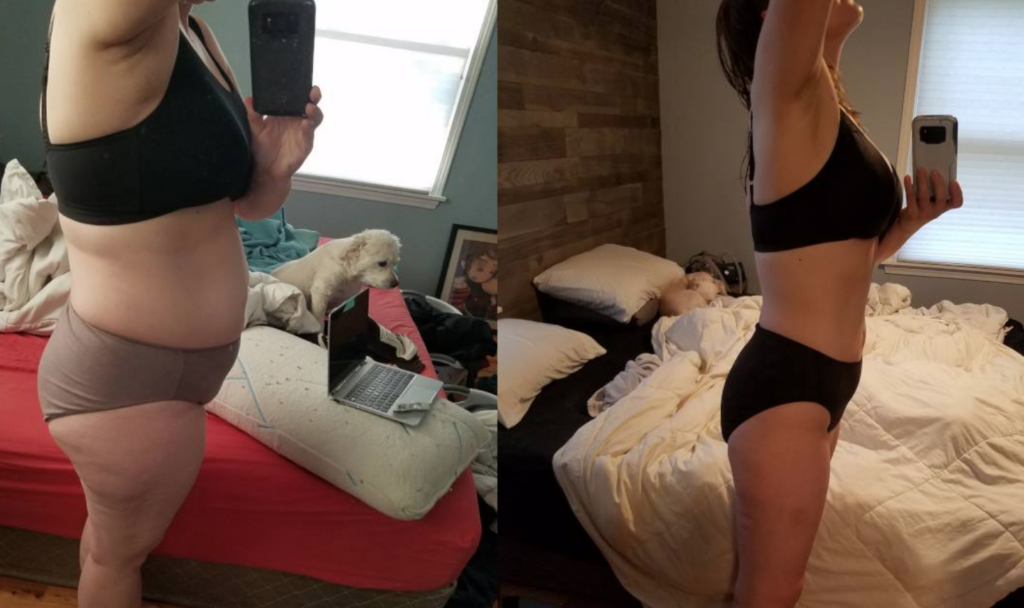 In 10 months with us,
Lisa lost 50 pounds and went from
a size 16 to a size 8.
All while eating a varied, enjoyable diet (even carbs!)
and without killing herself with cardio.
Chuck, 44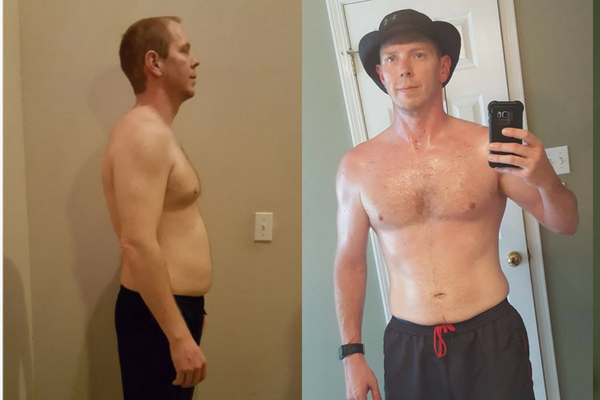 Chuck used our No Cardio Fat Shredding protocol
to lose 19 pounds and 2 inches off his waist in 6 weeks' time.
He only worked out 40 minutes, 3 days per week,
did zero cardio, and ate all of his favorite foods.
Annie, 31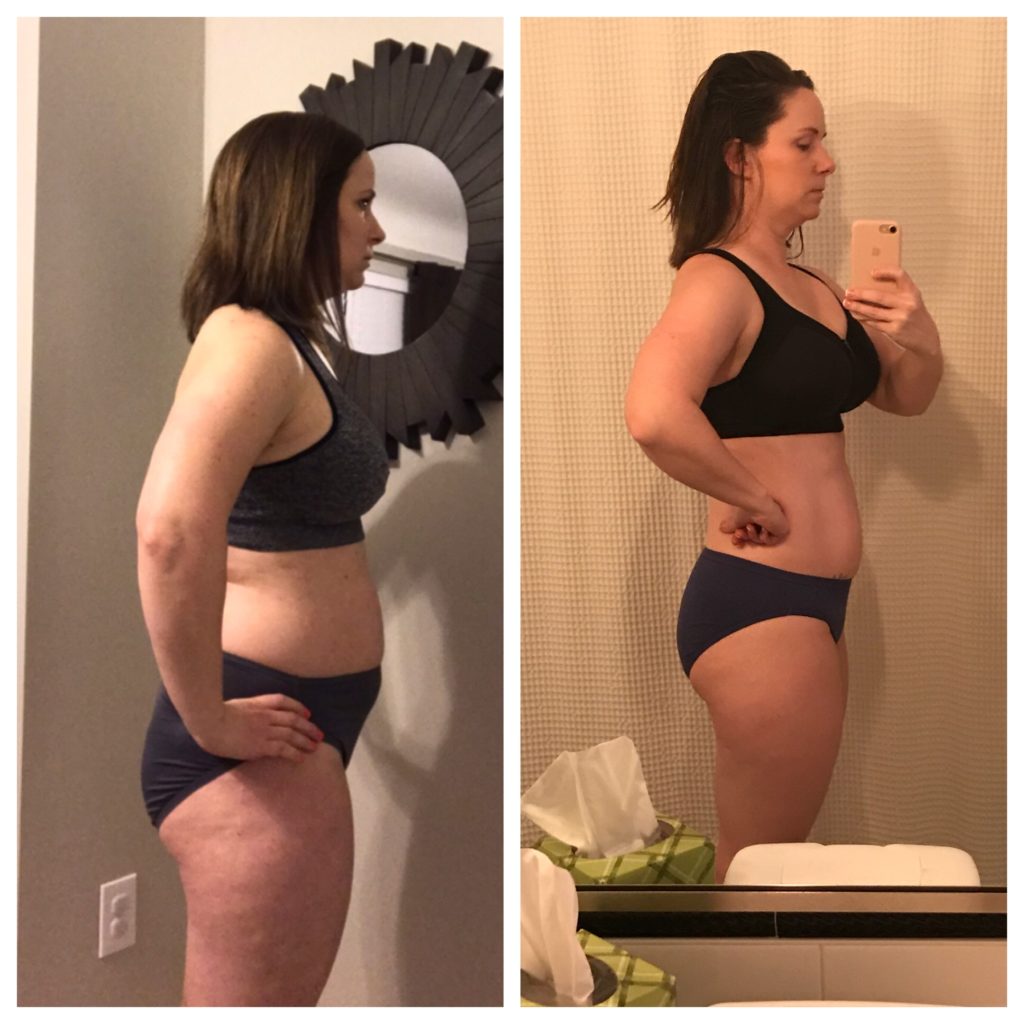 Annie here took our No Cardio Fat Shredding course.
She worked out a Grand Total of 2 hours per week, at the most.
No cardio and no forbidden foods.
She lost 7.5 pounds and 3 inches off of her waist
in 6, short weeks.
Becka, 37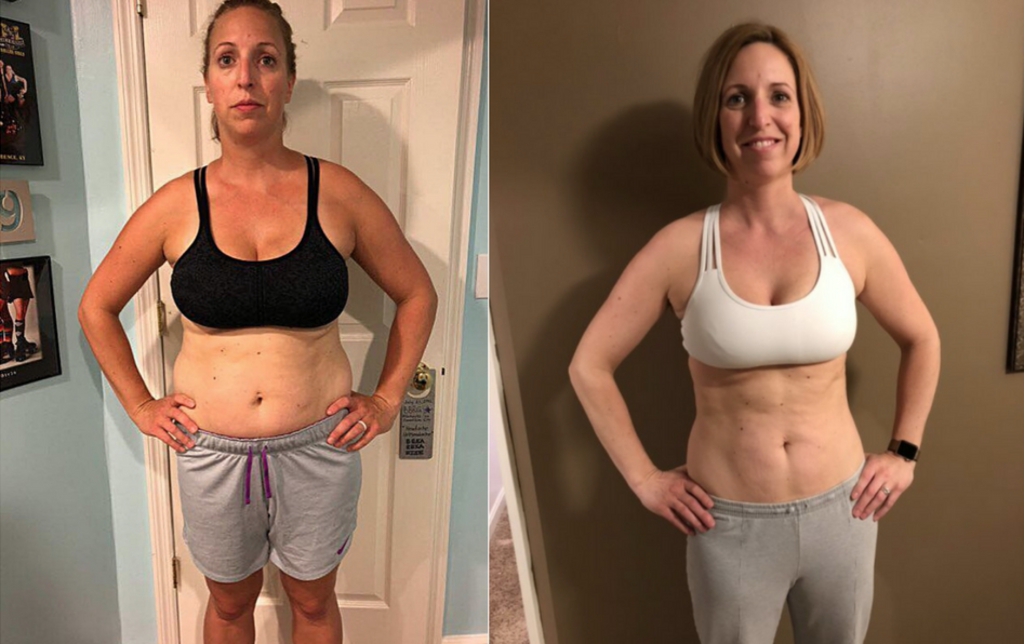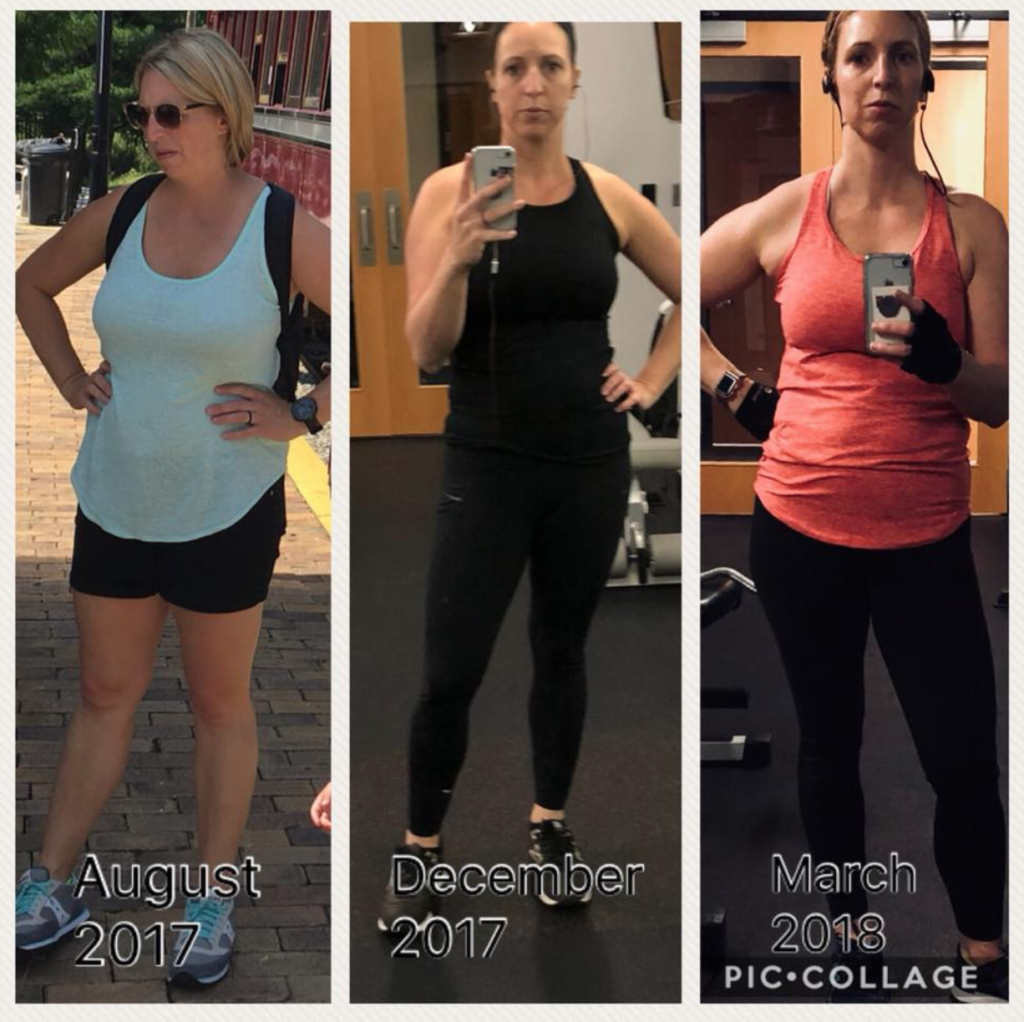 Becka is a new mom to a 4-year old and 9-month old.
She came to us to get her pre-pregnancy body back,
and lost 9 inches off her waist and 23 pounds in 6 months' time.
Phyllis, 36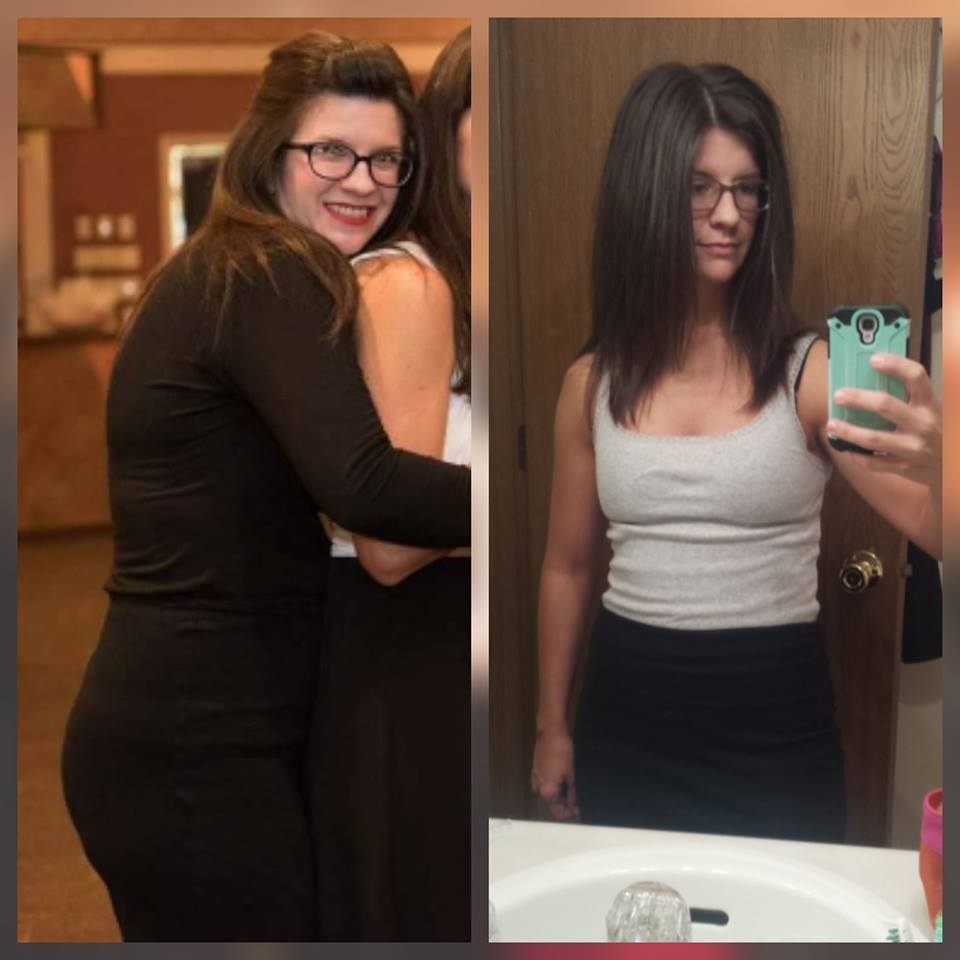 Phyllis is a Mother of 3 who had never lifted a single weight before coming to us.
With a healthy dose of weight lifting and proper dieting,
She's looking leaner and trimmer than ever.
Phyllis lost 13 pounds and 5 inches off of her waist, without cardio.
Maria, 33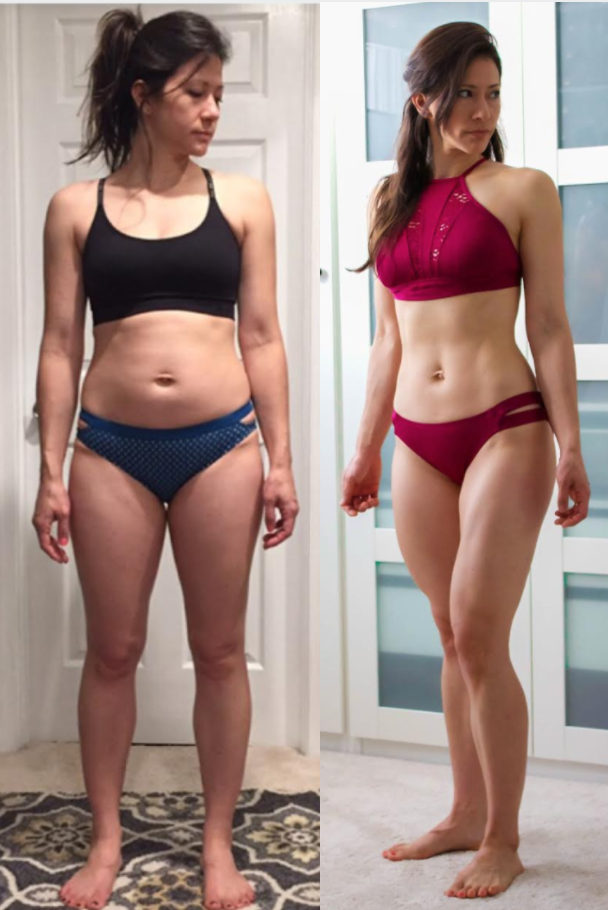 Maria lost 5″ off her waist and walked away with a lean, toned physique.
This is what she had to say about her experience:
"This was the best money I've ever spent because throughout these past few months
I learned so many invaluable pearls of fitness that I will refer to for the rest of my life.
All the confusion I had before about how to eat and train
has all been dispelled by simple and easy principles that you provided."
Vic, 52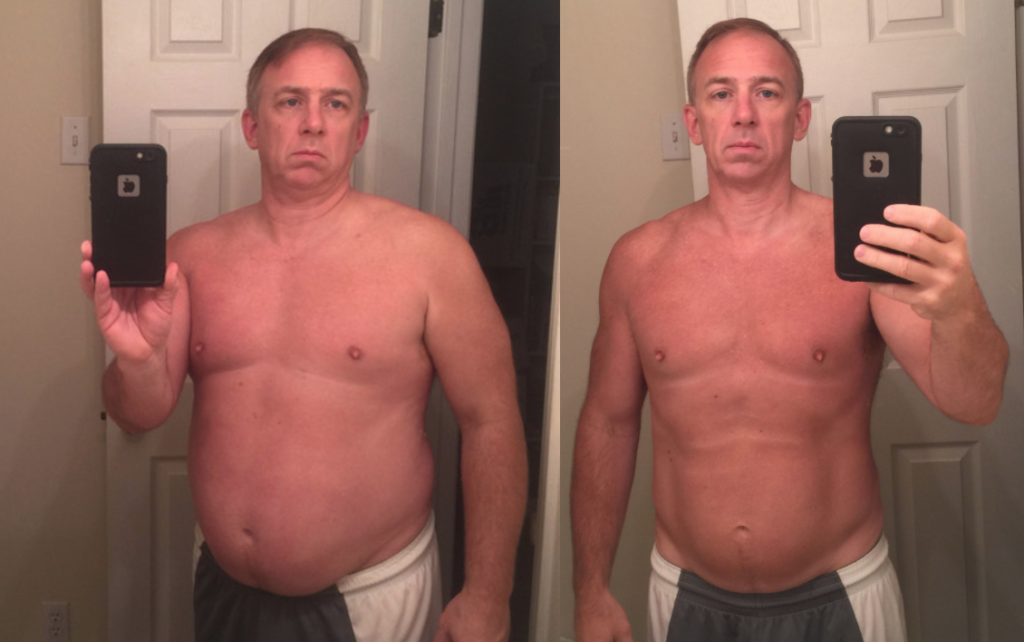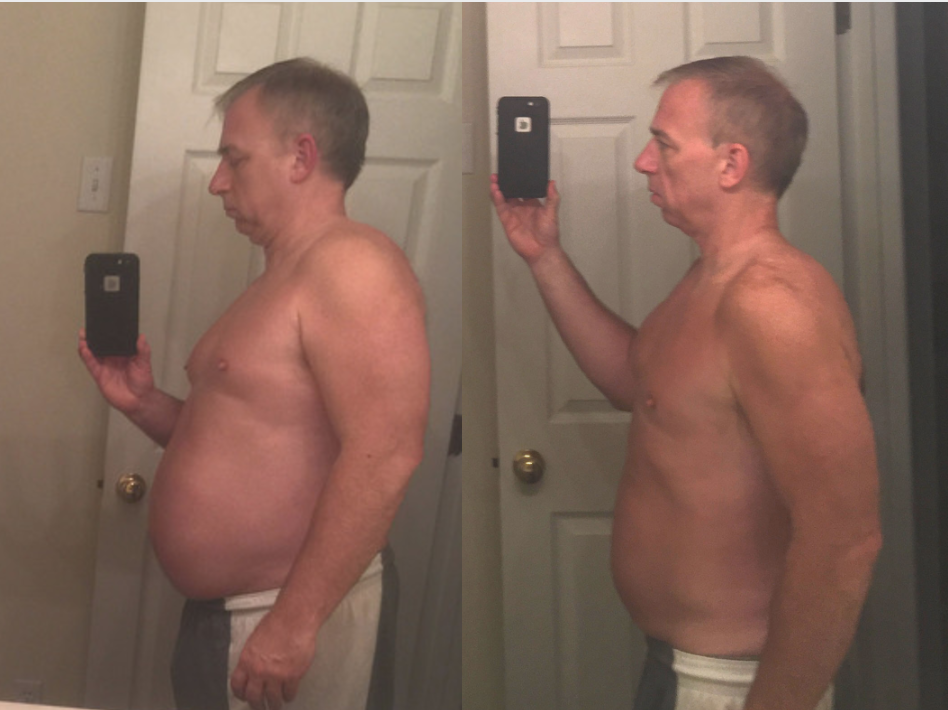 Vic has lost 40 pounds and 8 inches off his waist with us.
He lifts weights 3 times per week for about an hour and does no cardio.
Brian, 42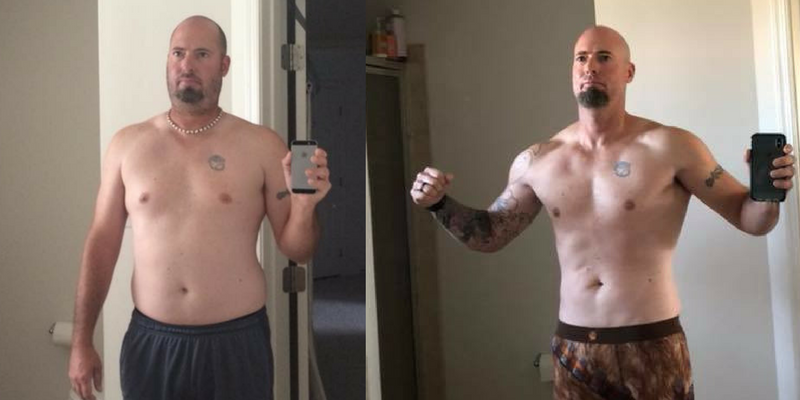 Brian is a travelling businessman, and he struggled to mix fitness with his on the road lifestyle.
We showed him exactly how to get lean and strong,
and he's made an incredible transformation.
Casey, 54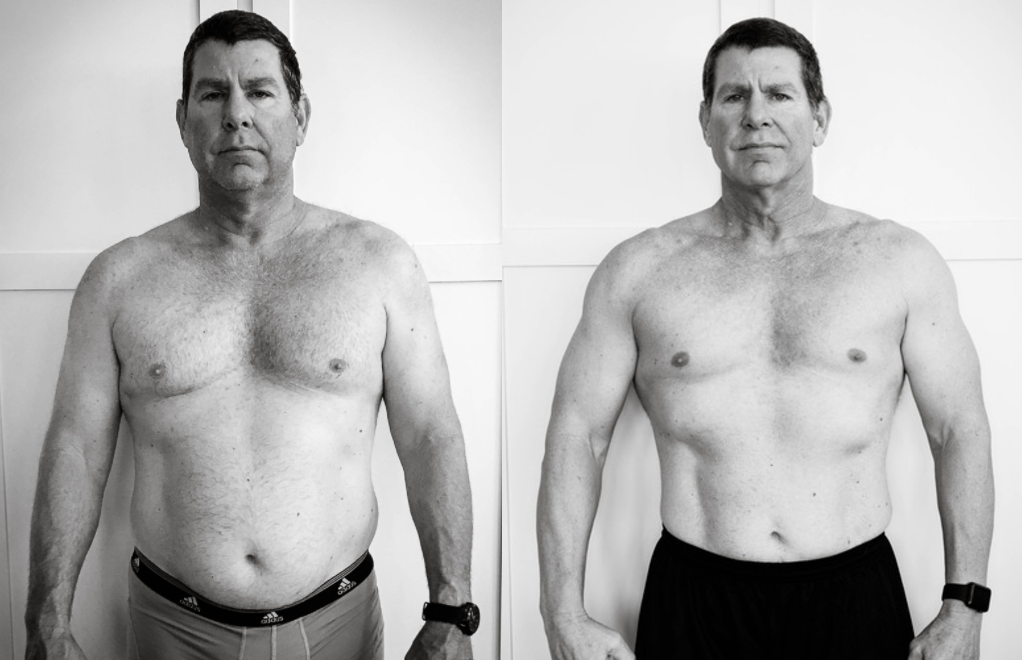 Casey did an extremely impressive job with us, losing 6 inches off his waist in 3 months' time.
Tracy, 38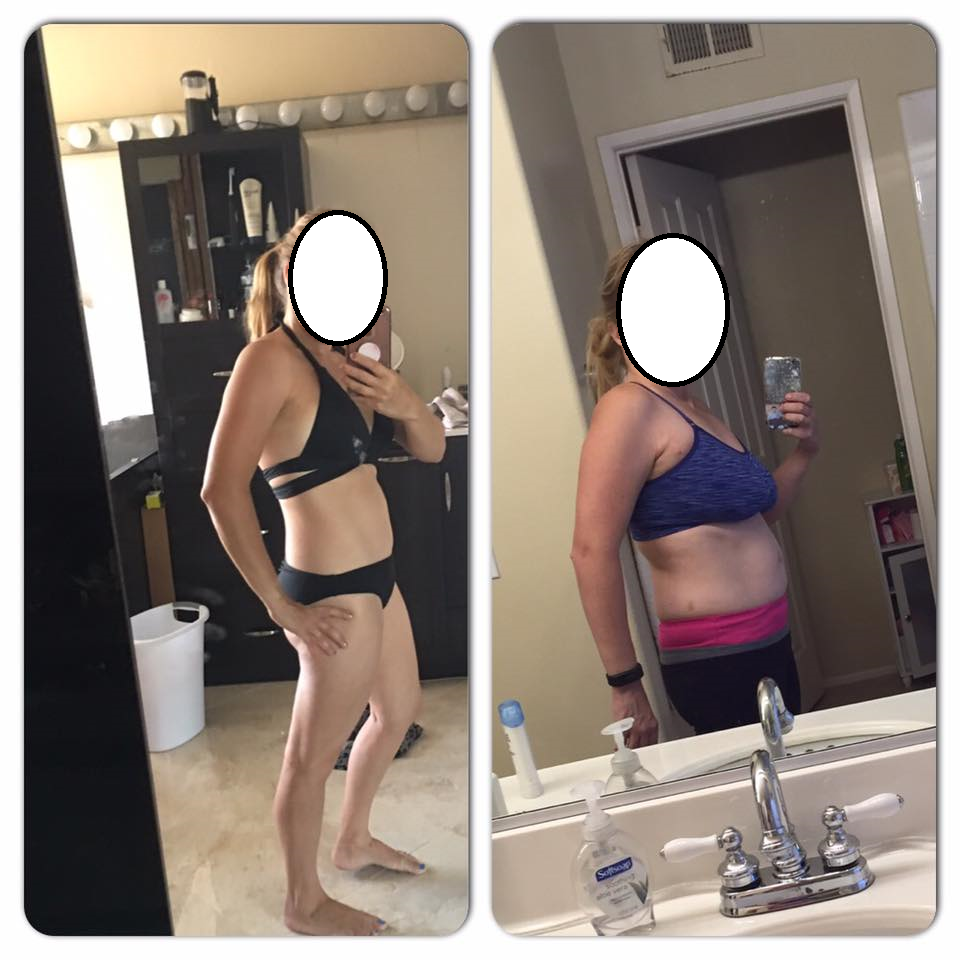 Tracy showing off her new body after losing 20 inches off of it………
…………and only 9 pounds on the scale!
Proving once again that you should throw that stupid thing away.  🙂
Deven, 24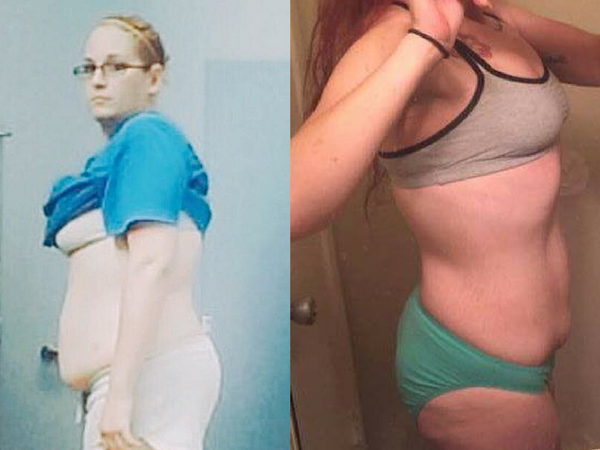 Deven is a single mother who came to us to get rid of the post-baby weight.
She lost 30 pounds and a whopping 10 inches off of her waist.
She's a true testament to strong women everywhere.
Amazing job, Deven!
Maureen, 41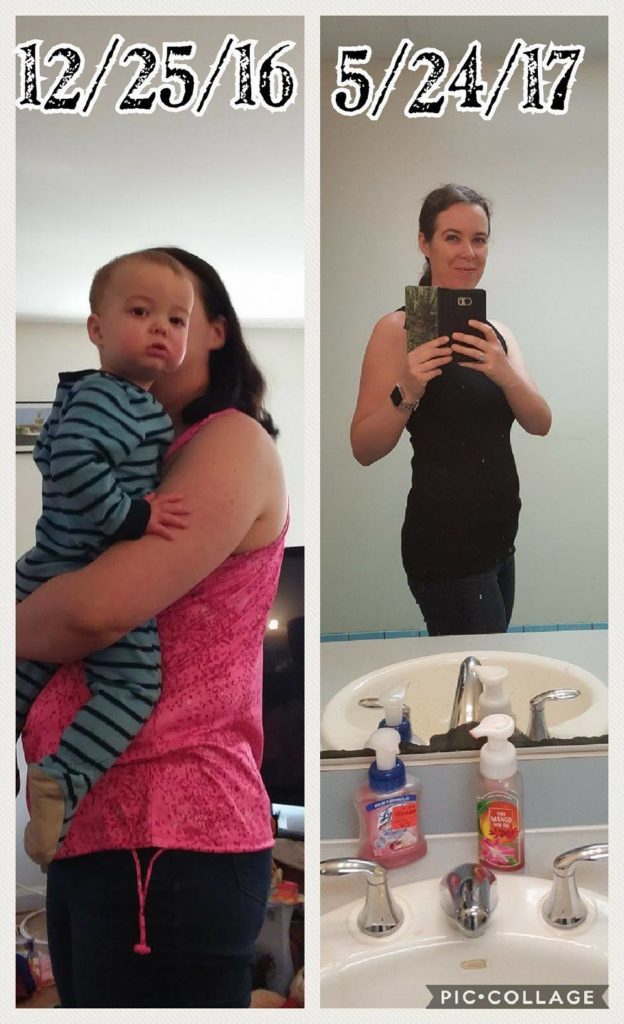 Maureen is a busy single mother,
And she was tired of the nonsense fitness programs that didn't work.
After teaming up with us, she lost 20 pounds on the scale
And 5 inches off her waistline in 4 months.
Charles, 43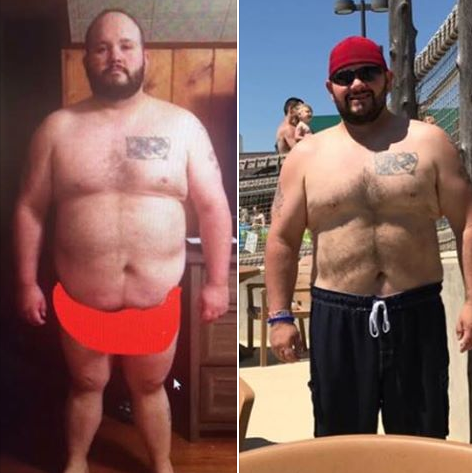 Charles has lost an incredible 81 pounds and 195 inches with us.
And he's still at it – utilizing flexible dieting and an intelligent training plan.
Incredible job, Charles!
Ross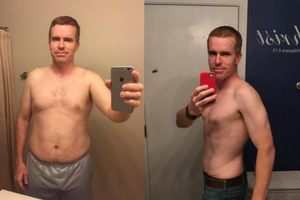 Ross cut significant weight and inches off of his midsection with us.
Blaze, 22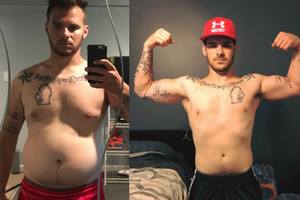 Blaze combined flexible dieting with strength training and made this remarkable transformation.
He trained about 3 hours per week, and took 4 days off completely.
He lost 18 pounds on the scale and 6 inches off of his waist as a result.
Susan, 43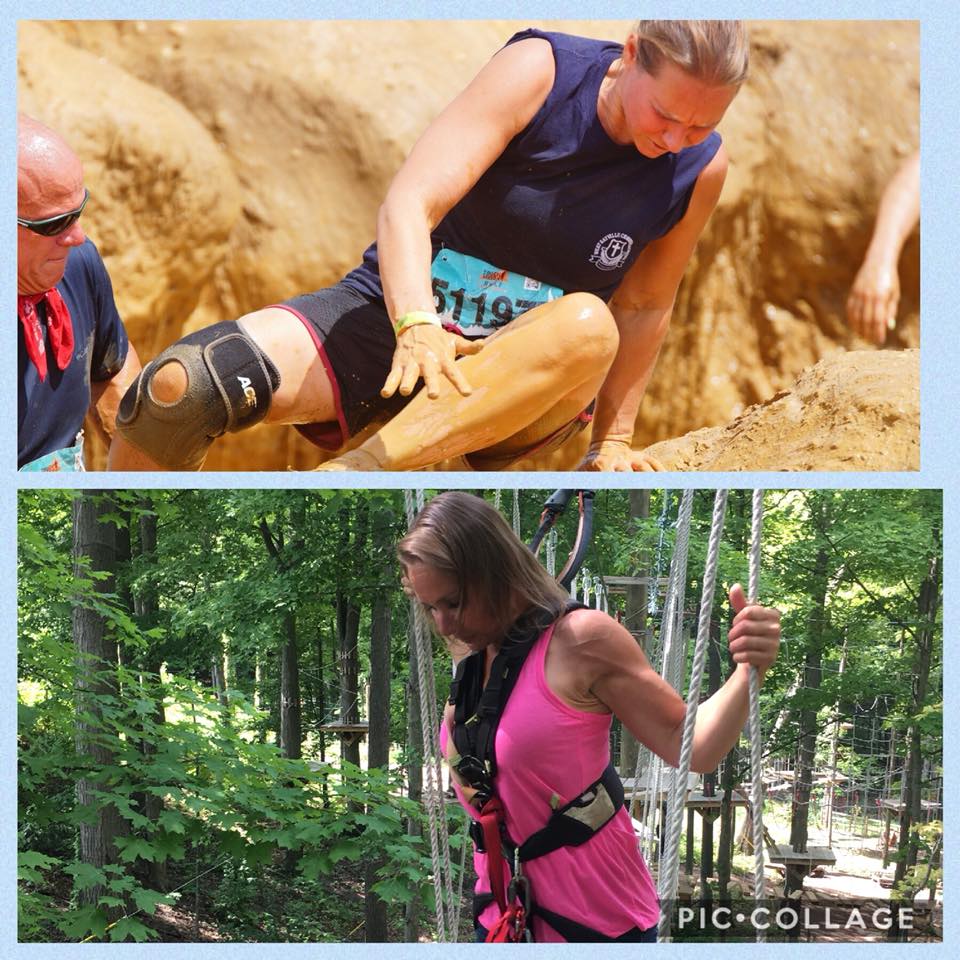 Susan had always been athletic, but she just didn't have the "look" she wanted.
Yes, she was lean, but she also wanted to be toned and strong.
After a few months of working with us, her arms are nothing short of inspiring.
Todd, 46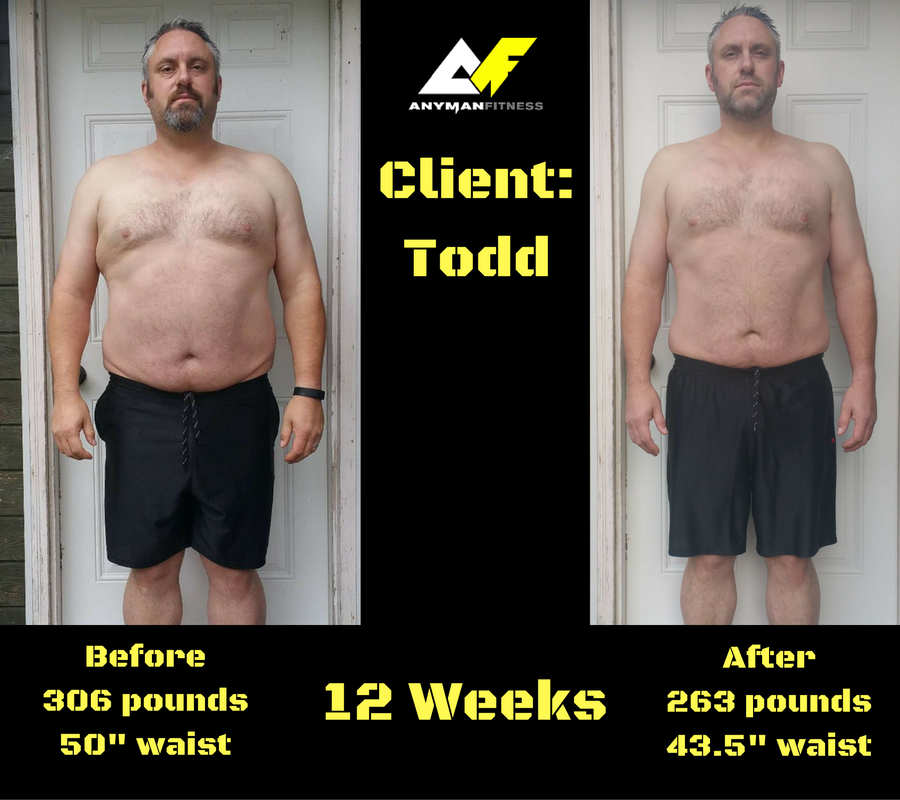 Todd did some insane work with us in 12 weeks.
He lost an unreal 6.5″ off his waist and 43 pounds with us.
He's a true testament to hard work and dedication.
Freaking unreal job, Todd!
Cory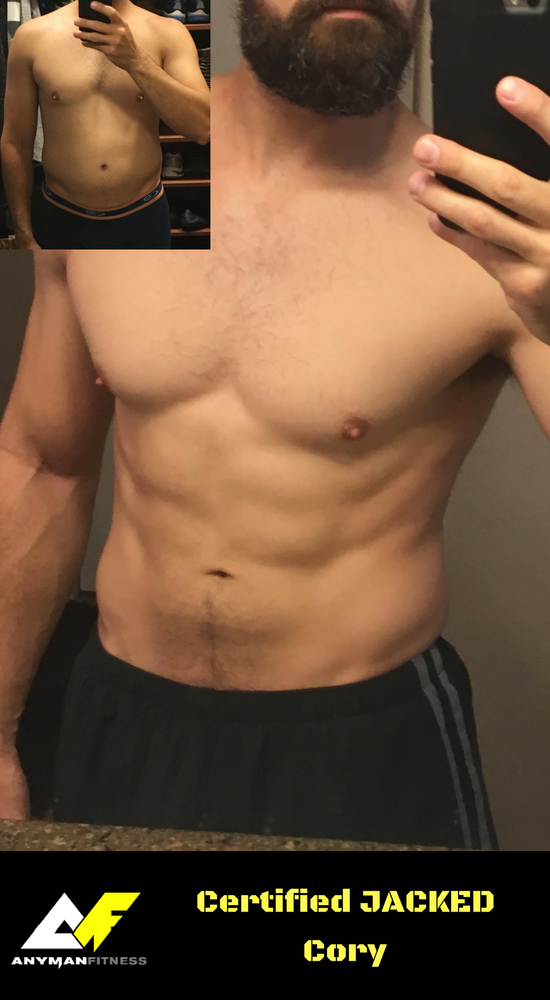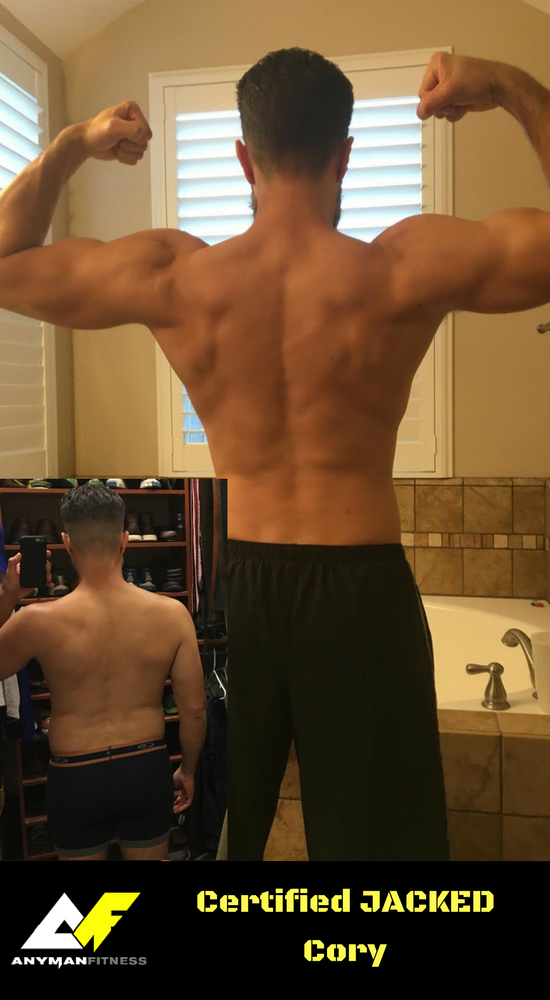 Cory was a bit hesitant about online training when he contacted us.
He wasn't quite sure how it would work when compared to in person training.
Cory decided to go "all in", and he crushed his time with us, and had some jaw-dropping results.
Phenomenal job, Cory – keep up the amazing work!
Jim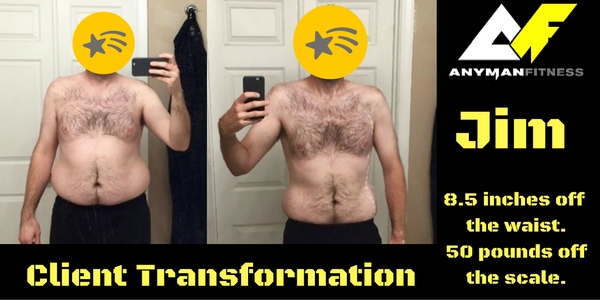 Jim was frustrated when he came to us.
He was used to doing grueling bodyweight workouts which
were leaving his body in tatters.
We set him up with a minimalist routine – 45 minutes per day, 3 days per week.
The incredible results speak for themselves.
Insane job, Jim – keep up the good work!
Nadia, 37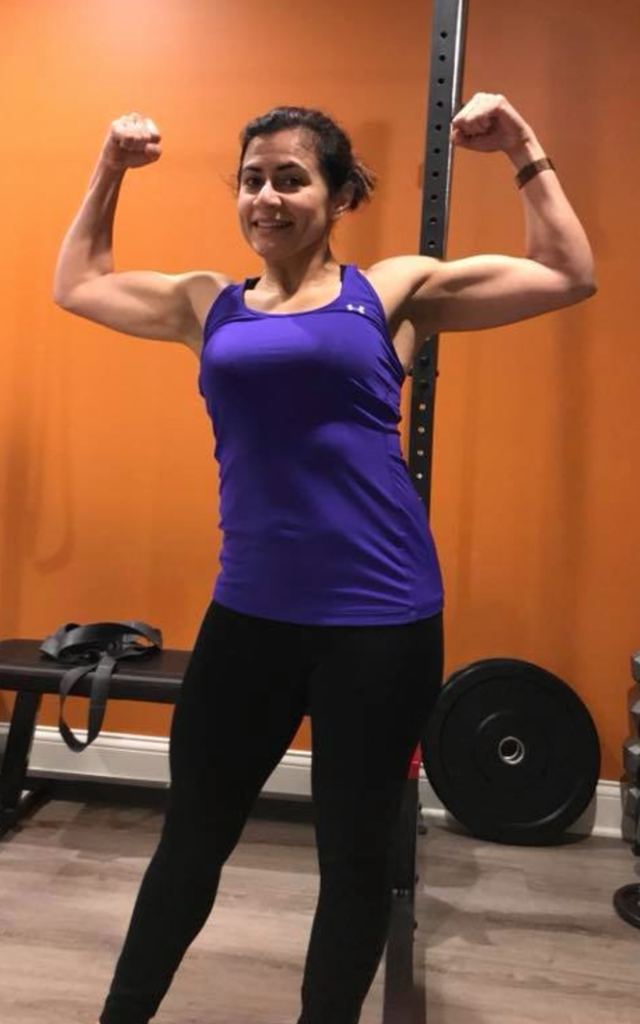 Nadia is a long term client who has been working
on her strength to improve her martial arts conditioning.
This is what she had to say about her coaching experience:
At the tournament this past weekend one of the ladies in my division came up to me, hugged me and said,

 

"Nadia your confidence and your form has improved so much since the last time I saw you & I am so proud of you.

 

It is amazing to see the improvement in your self confidence and your form!

 

I love seeing you compete".

 

Now, this lady is a a fifth degree black belt.

 

So, something like this coming from her meant A LOT!

 

Her compliment triggered something in my mind and made me reflect back on my journey.

 

I have been competing for about 4 years now…

 

At first, I was a runner.

 

I thought I was "healthy" because I was 110 lbs.
 

Were my kicks awesome? No, there were not, I usually blamed it on age and not being flexible.

 

Were my punches strong? No, there were not, I usually blamed it on being old and not being able to move as fast.

 

Once I got my black belt, the running stopped as the karate training got harder.

Then I hit 140+ lbs….

I decided I needed to do something about it. I started strength training with one of my friends. I started lifting (an hour), 40 min cardio, every other day.

I was hungry all the time, I was eating but was still feeling weak.

I was sick all the time. I was frustrated.

I couldn't even bench press a 45 lb barbell bar. It was pathetic!

 

I was conscious of myself, lost the self confidence that I had, started doubting my skills to compete, settled to be an OK competitor and not being as good as I used to be, blamed it on "oh the competition is really tough", "This is just a hobby", "I am getting old".

 

The self doubt showed in my competition at the tournaments.

 

The ironic part of all this was that, I was working at a world renowned health institution. Specifically I was working for their Employee fitness center.

 

Did I try their resources? Yes, I did.

 

Were their programs sustainable? They weren't for me.  Maybe for others they worked, but they didn't work for me.

 

As part of my … "jeeze, I gotta do something about this.. " mission, I signed up for your program.

 

I was skeptical about this whole online coaching thing.

 

BUT THEN, I started seeing results, I met a "community" of people who were on the same journey as I was.

 

Did I mention I started seeing RESULTS?  I was HOOKED.

 

Kicks started to improve, health started to improve.

 

And here we are today.

 

2017, 125 lbs & strong.

 

Have the kicks improved? Yes.

 

Have the punches improved? Yes.

 

The way I approach nutrition, has that changed? YES!

 

Has my performance in karate improved? YES!!!!

 

Can I do a crazy headstand? YES, well almost 😛

 

Can I do routines on the rings? YES

 

Most importantly…. Has it made me confident?

 

Has it made me more resilient? YES, YES, YES, YES!

 

The change is not just physical and nutrition… it is also mental for me.

 

What you have created here is something amazing….

 

Your approach, your coaching.

 

You are not just some "online", invisible coach.

 

You have put in the effort to get to know everyone, personally.

 

You are present.

 

You have effected individuals, their families and how they approach their health.

 

You have created a community who has connected with each other, made new friends, created a support network.

 

The point is that, being healthy is not just about one aspect of life. It is multiple aspects of one's life.

 

AND you have hit all of them.

 

Eat healthy + Physical  Activity + Community + Community Support + Effective Coaching = a mentally, physically healthy person & a sustainable way of healthy living

 

WOW…… just WOW…..

 

I know you say you only show the road…. but the road that you show takes one to a whole new level of taking care of one's health which, one can only experience to understand the value of.

 

So wrap this all up… I could only respond with a simple thank you to my fellow martial artist… who was so flabbergasted by my progress.

 

But in my mind, all these thoughts came rushing.

 

In my mind what she was witnessing was only the tip of the ice berg.

 

Underneath it all was all Anyman's Fitness magic.

 

So thank you Jason.

Thank you for creating what you have created!

 
Fran, 40, UK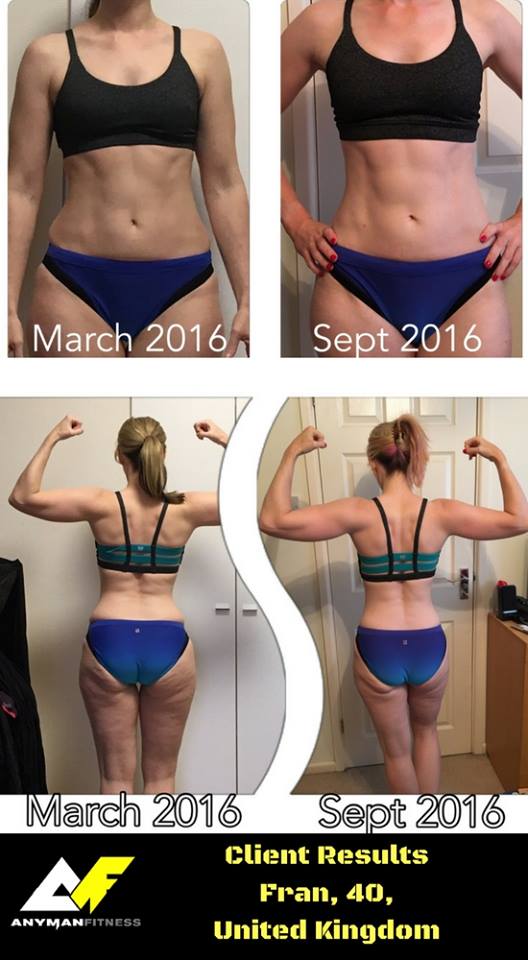 Fran has done an incredible job with us!
She had a specific area she wanted to target – her glutes.
She has made incredible progress, focusing all of her attention on a sustainable, enjoyable diet
and strength training 3 times per week.
Sophia Walker, 20, Maine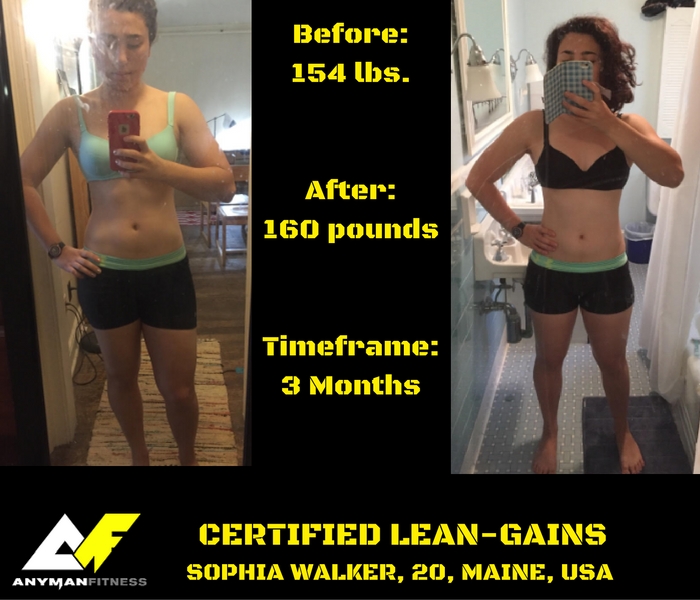 Sophia gives us a true-to-life example of a recomposition.
Notice her weight change – she actually GAINED 6 pounds in 3 months.
You would never tell it by how much she leaned out, though.
Sophia (who is a college swimmer) had this to say about her experience:
As a swimmer, especially a sprinter, strength is so important to building and maintaining speed in the water.

Overall strength is crucial to maintaining body position and staying streamlined.

Working with Jason has been incredible – I am stronger than I've ever been in my life, and that strength goes toward power in every pull and off every wall and start.

I fully expect to take bunches of time off my personal bests this season!
Fantastic, Sophia – go crush it!
Marc-Andre, 38, Canada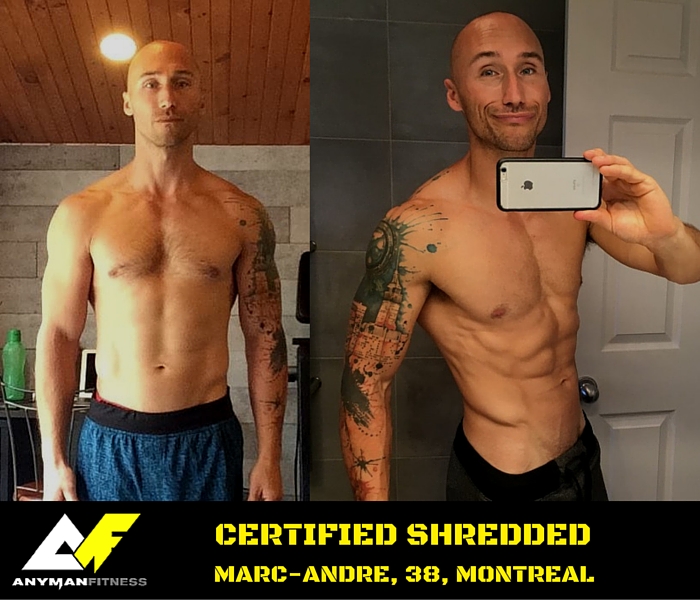 Marc-Andre got down to super-low body fat levels – 8% in the second picture.
Looking peeled, my man!
Ted, 31, Virginia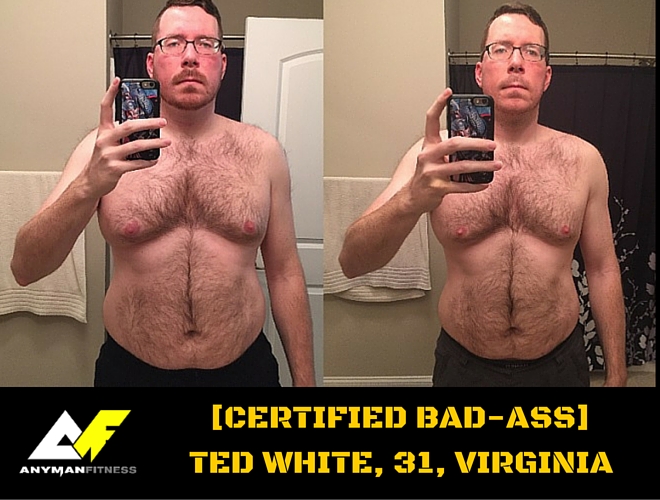 Ted lost an unreal 20 pounds and 5″ off of his waist.
He gave us a wonderful testimonial of what his experience meant to him:
Let me tell you a bit of a story on how your program has changed my outlook on things, Jason.
Three weeks ago was a bit of a low point with the diet.

I all but had two binge days as I worked nearly 30 hours over the course of two days.

Normally — historically — this results in a full-scale crash for me; fully breaking the diet for sake of convenience has, in every prior case, resulted in a cascading dietary failure as I wallow in self-loathing and internalized disappointment.

Except that didn't happen.

Sure, I was bummed about it; I woke up the following Saturday, realized I'd blown apart my macros over the last two days, and gave myself a disapproving shake of the head in the mirror.

And that was that.

So thank you, Jason.  For everything.

I still have much to do, much work to finish and many obstacles yet to overcome, but you've taught me so much; in the battle of life, you've sharpened my wits, hardened my will, taught me footwork where previously I tripped and stumbled and fell.

And the greatest gratitude I can give you for it is to live well and live passionately.
Amen, Ted – Godspeed to you!
Cheryl, 38, Canada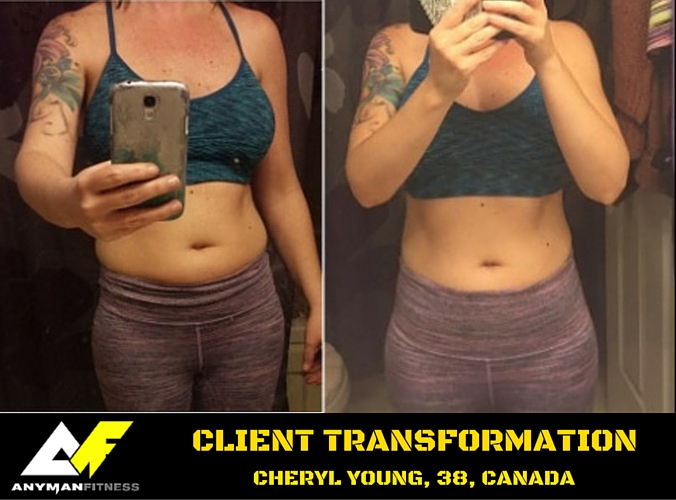 Cheryl shows off just how "bulky" lifting makes women.
Leaned out, and ready to kick butt,
Awesome job, Cheryl!
D.J., 34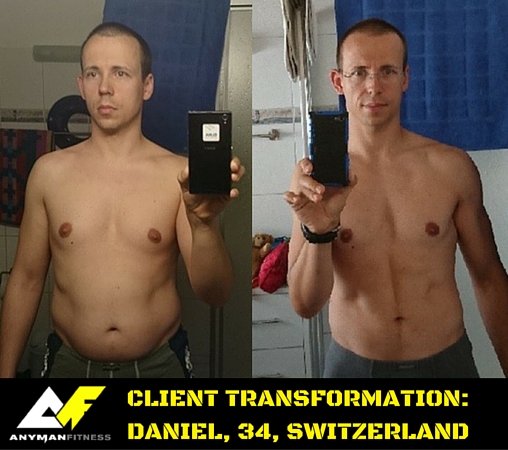 Client D.J. shred gobs of fat,
losing 5 inches off of his waistline!
Brian, 43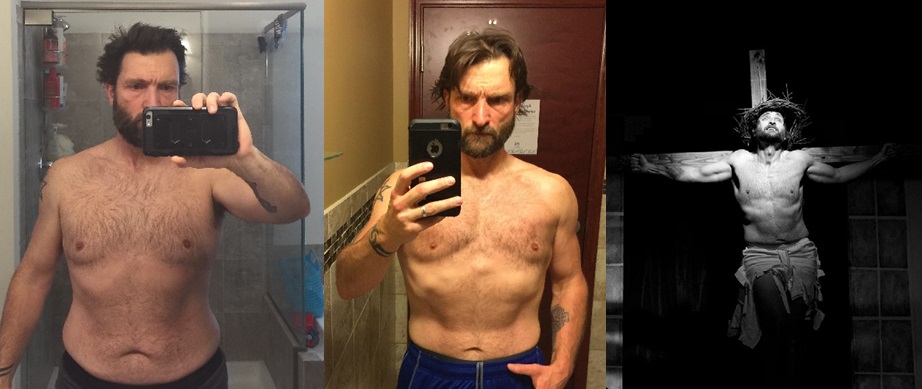 Client Brian came to us to get him ready to be on stage – shirtless – as Jesus Christ in Jesus Christ, Superstar!
Brian did some phenomenal work – we didn't know Jesus was jacked!
Nicely done, Brian!
 Meghan, 25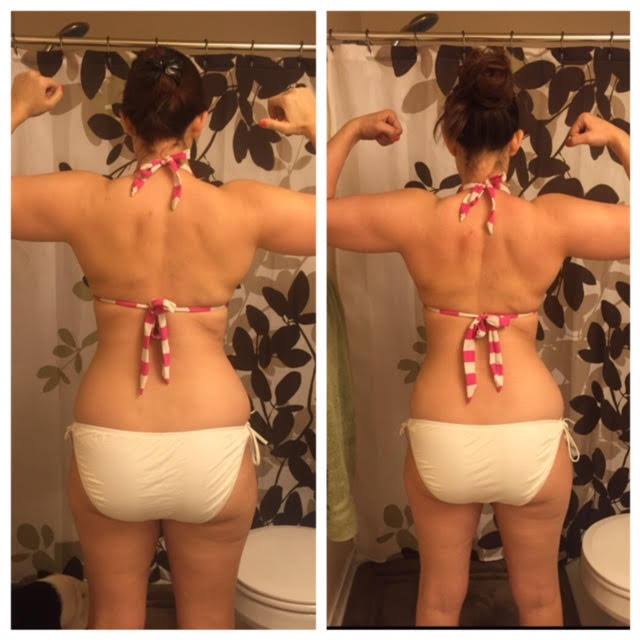 Meghan dropped almost 20 pounds on the scale
and 5 inches off her waist with us!
Incredible job, Meghan!
Kierran, 28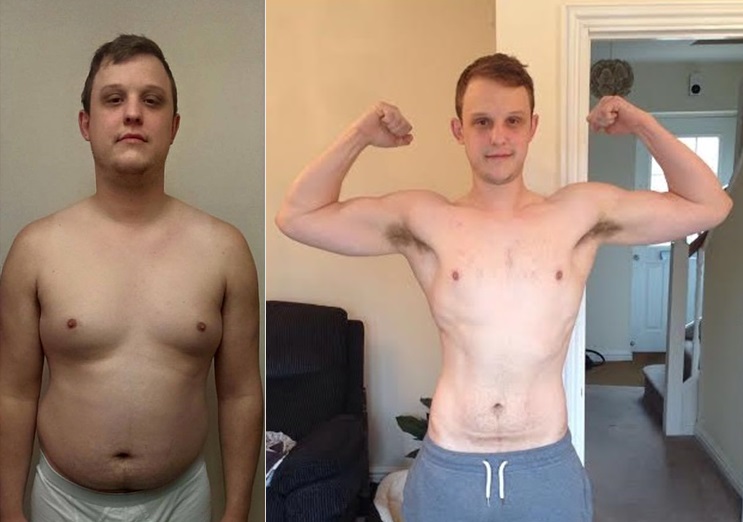 Kierran has made some amazing progress in his journey.
We are happy to help him on his last leg.
His final 14 pounds and 4 inches off his belly came with us,
as he had a difficult time shedding the last few pounds.
Nice job here, Kierran!
Richie, 43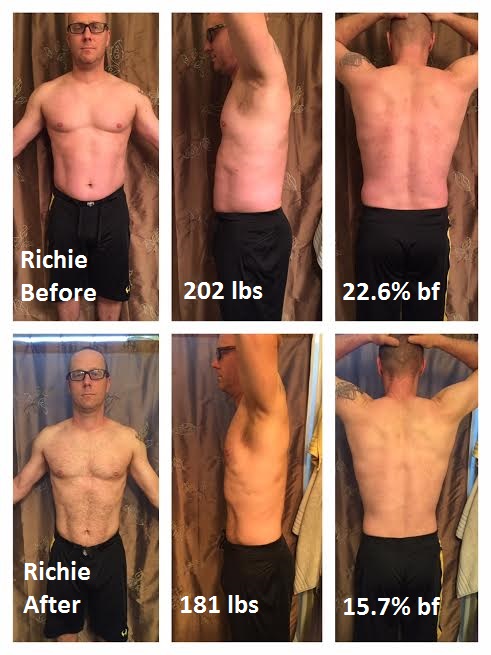 Richie did a fantastic job with us, dropping almost 7% body fat and 20 pounds.
Nice work, Richie!
Matt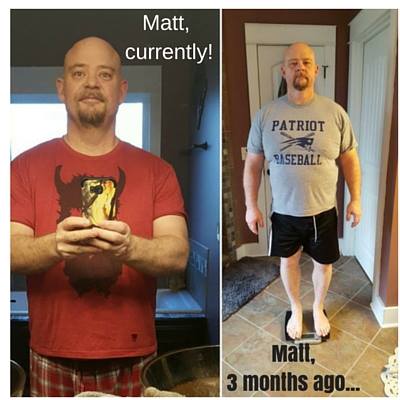 In Matt's first 6 weeks with us, he lost 20 pounds
and 4 inches on his waist!
Nathan, 35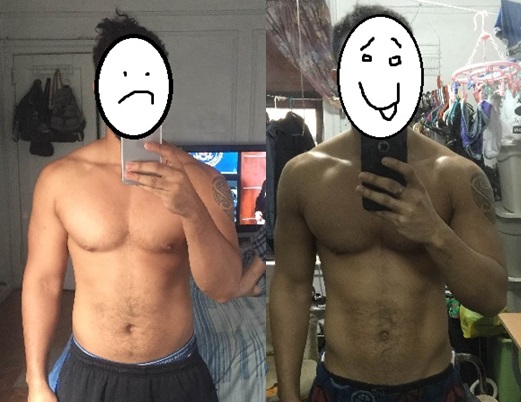 Nathan lost 20 pounds of goo and got his 6-pack ready for the summer.
Lookin' aesthetic, my man! Nice job!
Michael, 35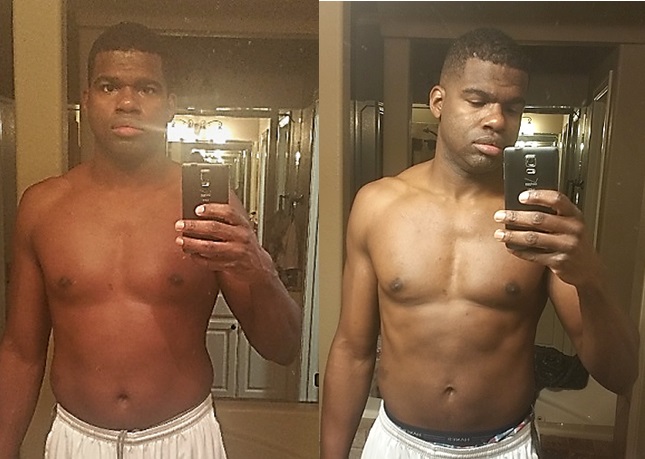 Client Mike wanted to trim the fat from a recent bulk.
He lost 4″ off his waist and 21 pounds in 3 months.
Tony, 35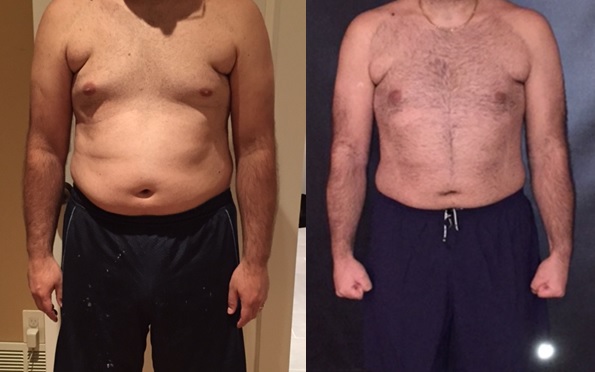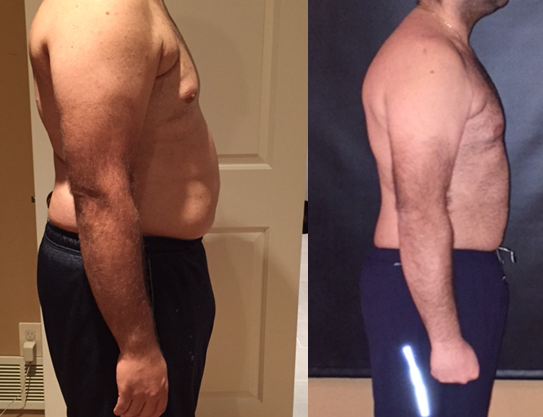 Client Tony crushed his time with us.
It resulted in a 30 pound scale loss
and over 6 inches off his waist.
Kenedy, 25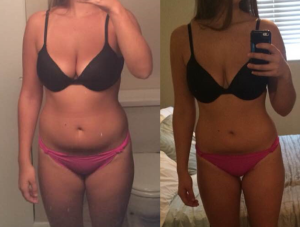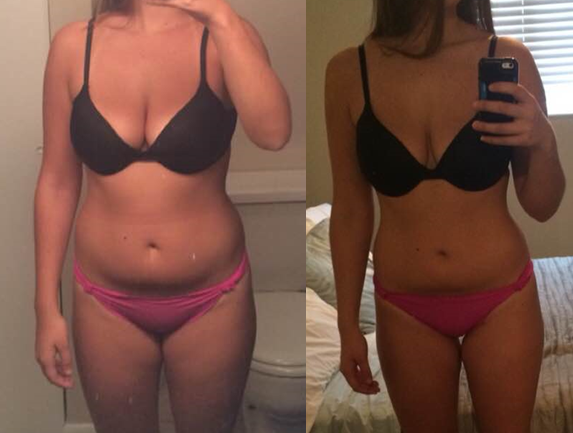 Kenedy lost 5 inches off of her waistline and
almost 20 pounds on the scale in just 6 weeks!
Amazing job, Kenedy!
Jason, 40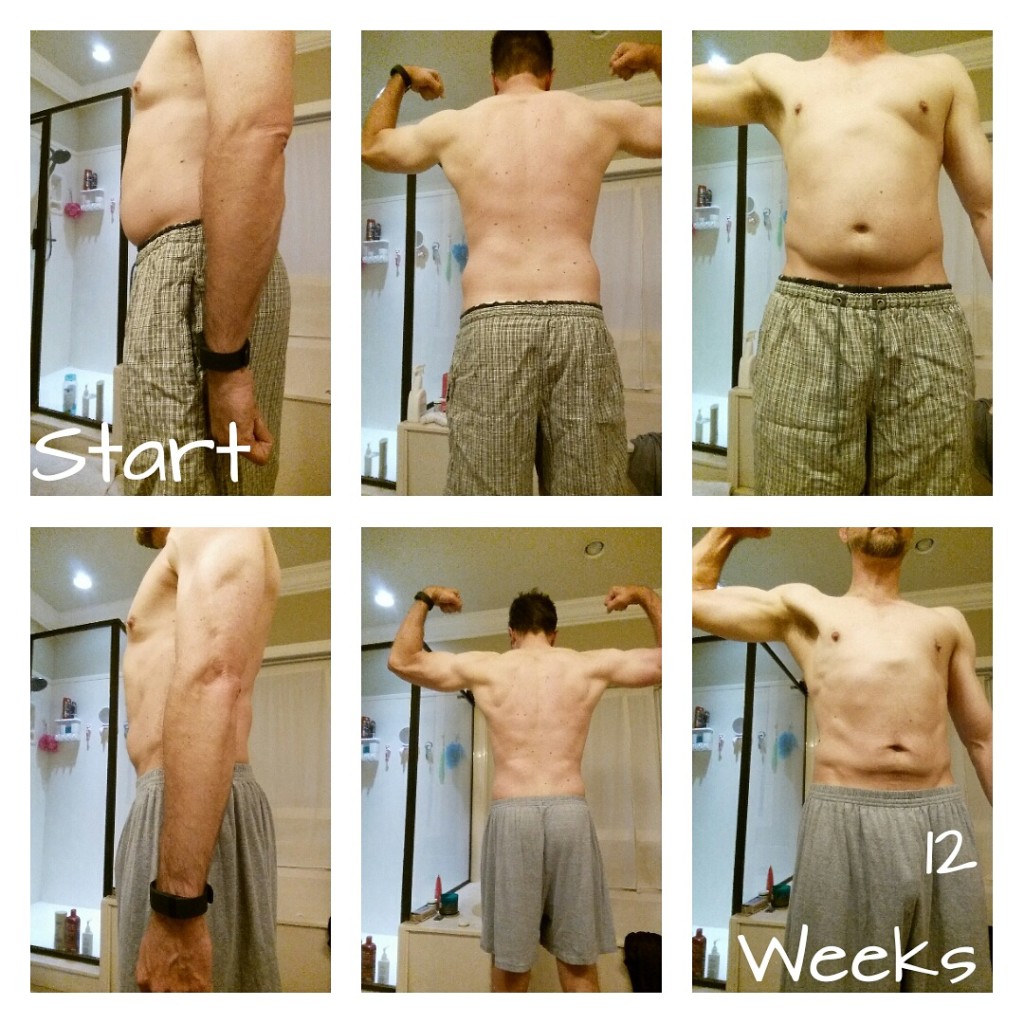 In 12 weeks, Jason lost 20 pounds and 5% of his body fat.
An exceptional job and significant visual progress!
Amit, 31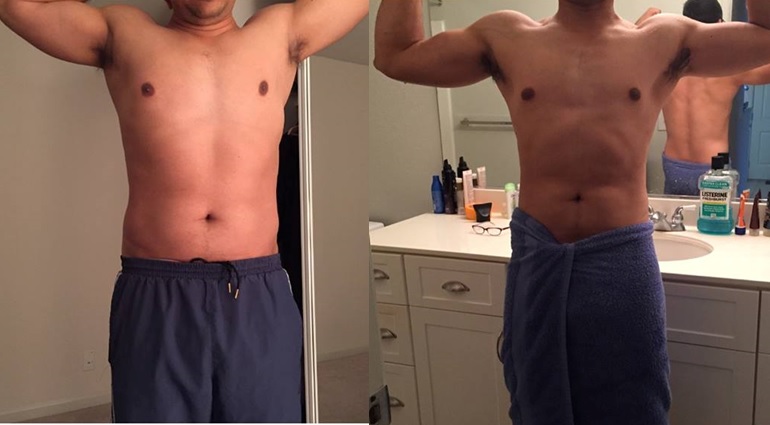 Client Amit lost 4 inches off his waistline and 16 pounds!
Fantastic job, Amit – nice guns, bro!
Maggie, 40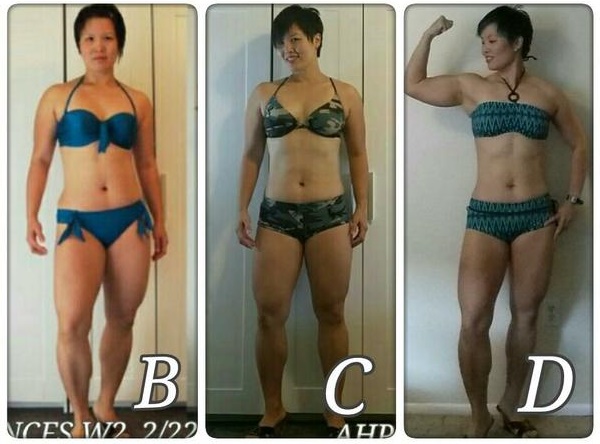 Client Maggie shows her long-term progress with us.
Maggie has lost 18 pounds of fat and gained 7 pounds of muscle. This was confirmed by x-ray.
An outstanding job and a true body recomposition.
To apply for online coaching, follow this link.
Bo, 41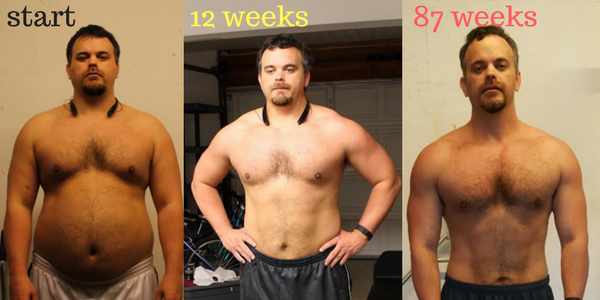 Bo lost 20 pounds on the scale
and 6 full inches off of his waist in his first 12 weeks.
Since then, he's kept the weight off, continued his program
and he's lost over 70 pounds in his journey.
Nice job, Bo!
Anabelle, 49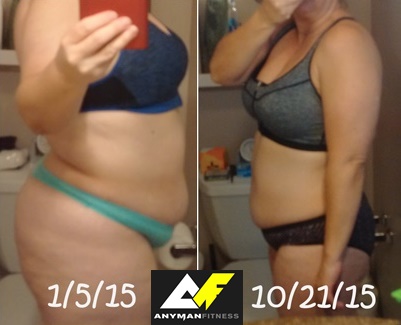 During her time with us, Anabelle did some amazing work.
She was consistent hard working, and made gradual, solid progress.
She lost 28 pounds on the scale and 7, full inches off of her midsection.
A true testament to perseverance and dedication!
To apply for online coaching, follow this link.
Ian, 35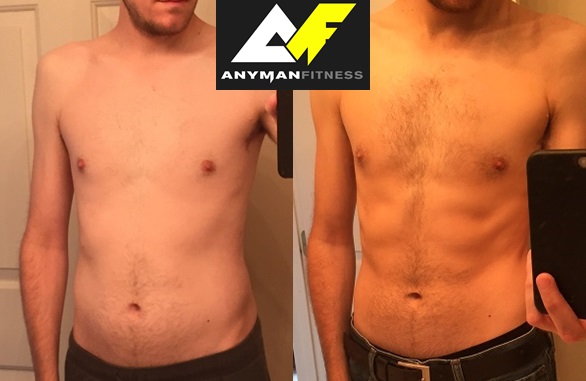 Client Ian did a fantastic job in his initial cut.
He lost 3 inches off his waist and was rewarded
with abdominal definition.
We are now working together on filling out his frame.
Nice job, Ian – job well done!
To apply for online coaching, follow this link.
Zoya, 52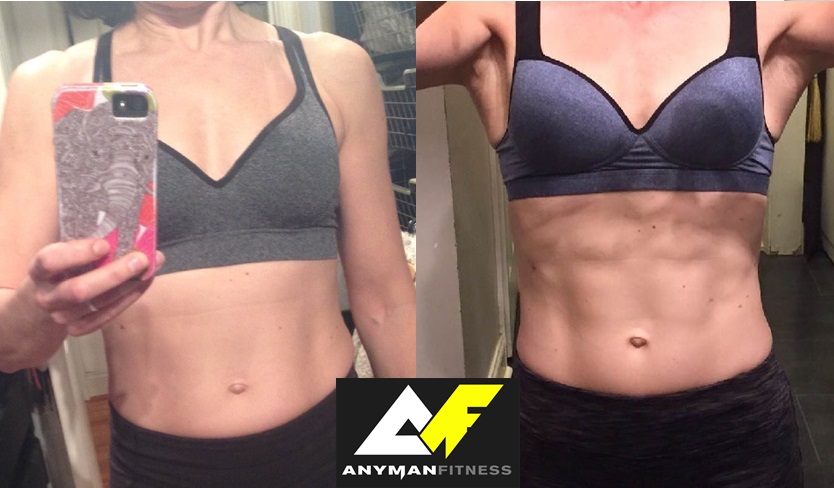 Zoya did an outstanding job with us.
She came to us already rather lean, but wanted to take things even further.
She did just that – and ended up shredded!
Pretty impressive at any age, let alone 52!
Congrats, Zoya – excellent job!
Kate, 31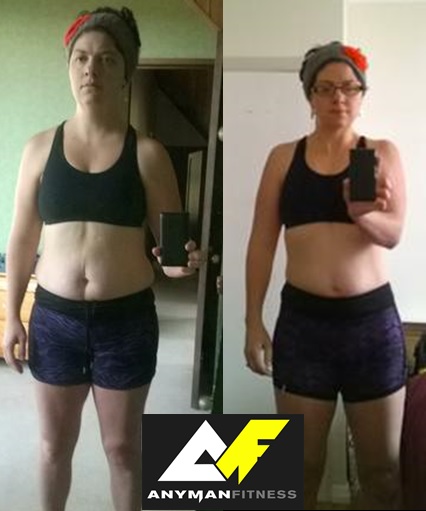 Kate did an amazing job during our 12 weeks together.
Kate's progress is a true testament to the power of the tape measure – and hard lifting.
Kate lost about 3 pounds on the scale – but almost 5, full inches off her waistline!
The proof is in the pudding – Kate is much trimmer and healthier – job well done.
To apply for online coaching, follow this link.
Jen, 28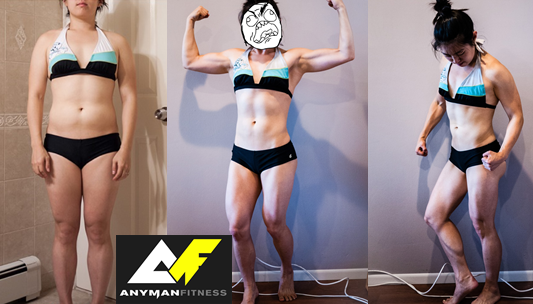 Jen increased her strength tremendously during her time with us.
She's currently stronger than she's ever been and
leaner than she was in high school – at the age of 27.
Her lifting statistics:
Deadlifts:  155 –> 275
Squats:  125 –> 254
Bench Press:  65 –> 135
Here is a graph of her body measurements during her time with us: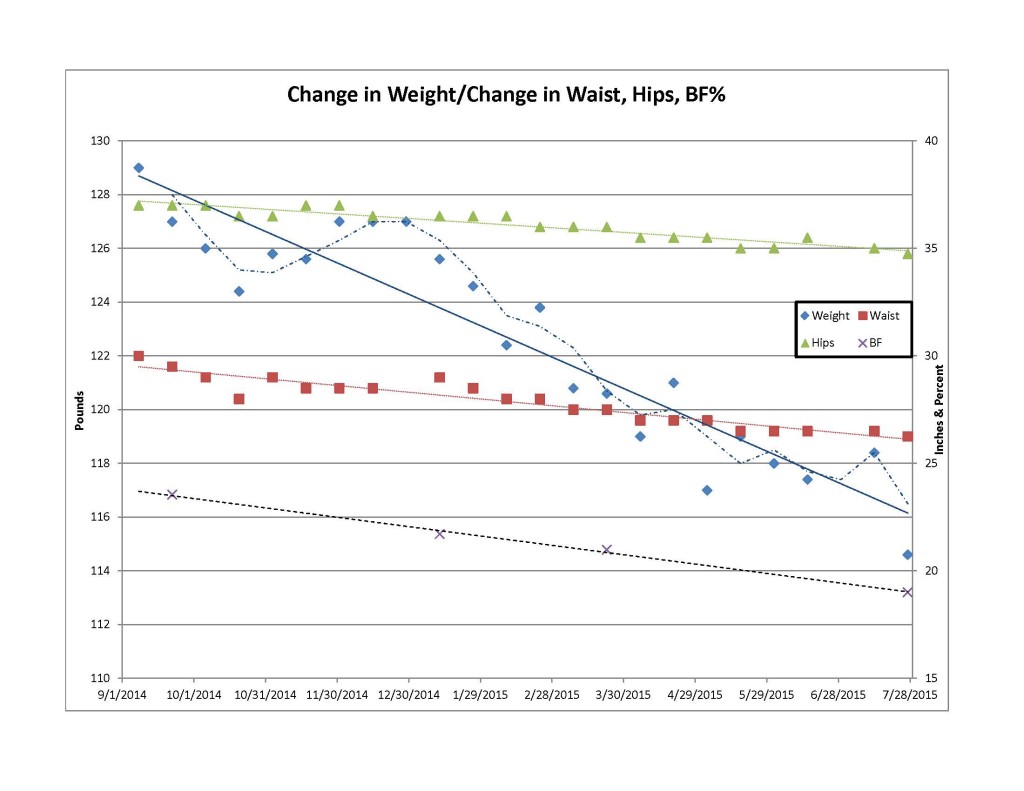 Very impressive, Jen!
Here is what she had to say about the experience:
I've lost 15 pounds and gone from 23% BF to 19%. I look and feel the best I ever have in my adult life.

This progress was largely attributed to the kind of community you foster and the encouragement provided throughout the process. You are the real deal. No BS. If you put the work into it, you WILL reap results.
Chris did an amazing job in her 12 weeks with us.
Her reward?
Visible abdominal definition and significant all-over leaning out.
Job well done, Chris!
To apply for online coaching, follow this link.
Kari, 27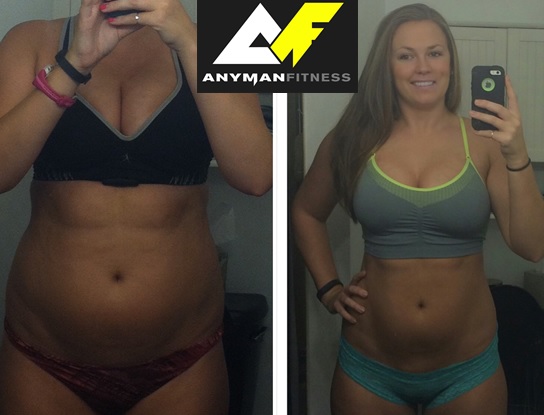 Kari ditched her cardio regimen and low caloric intake
which was leaving her metabolically damaged
and started lifting heavy with us.
Fantastic results – more on Kari's story <here>.
Terri, 40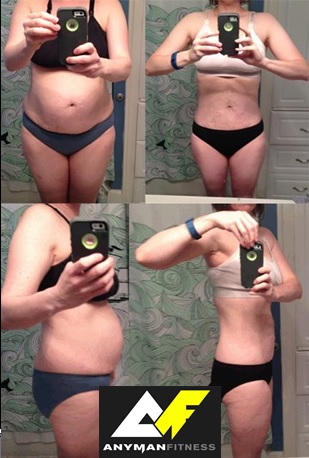 Terri recently finished
up her 12 weeks with us.
She lost an astonishing
26 pounds and 7 inches
off of her waist!
Fantastic work, Terri!
Keep up the amazing progress.
Here is what she had to say about her experience:
Deciding to train with you was the best decision I have ever made. I lost 26 lbs, almost 19 inches and 7 of those inches came straight off my waist. All of that was without cardio, without supplements and without voodoo.

Not only am I leaner and healthier, but I am actually stronger now too! You're a great coach, very down to earth and you are amazing at explaining everything.

Thanks, Jason!
To apply for online coaching, follow this link.
Kevin, 56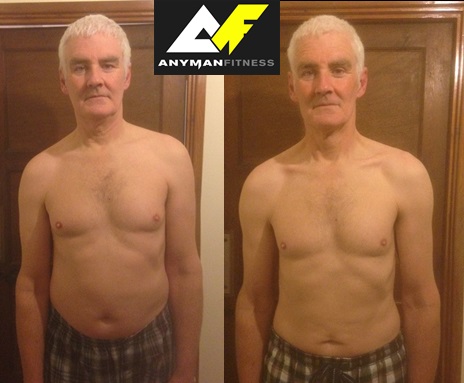 Kevin recently finished
up his 12 weeks with us.
He lost 20 pounds and
an unreal 7 inches off his waist.
Here are his results.
Here is what Kevin had to say about his experience:
Lost 20 lbs over the 12 weeks – but most if not all was fat. Lost 7 inches from my waist, but kept muscle and inceased strength. Very impressed. Jason was supportive, informative, and there to help and encourage me. Brilliant result and highly recommended.
An amazing job, Kevin!
Fantastic work!
Andy, 33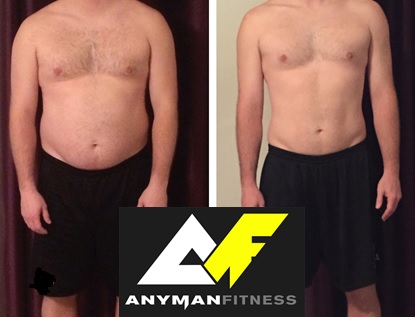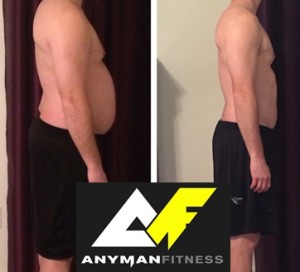 Andy lost 6.5 inches off his belly
and 33 pounds.
Here he is showing off
his new look.
Amazing job, Andy!
Keep up the good work!
Kymmi, 31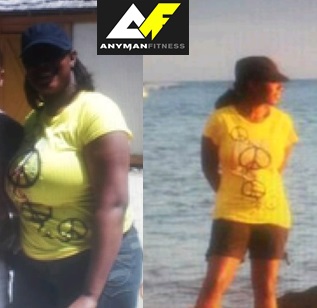 Kymmi has done an
amazing job during her
time with us.
She was prescribed "cardio"
by her doctor to lose weight
and instead tried our approach
Check her out – she's an
entirely different person!
Unreal job, Kymmi!
To apply for online coaching, follow this link.
John, 28, TX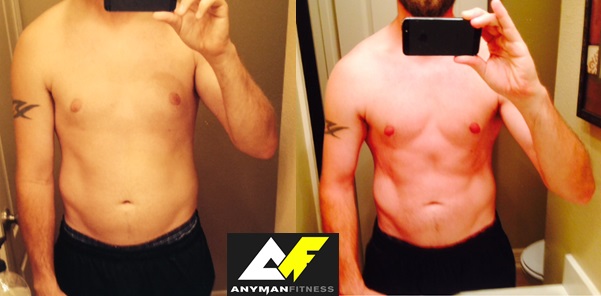 John sent us a note after he was completed with his 90-day program. This is what it said: 
Jason,What's up buddy, here are my pics from the cut that I completed in 90 days!!

I did not take any supplements, ZERO protein powder, no fish oil or multivitamin, no creatine or BCAA powder!!!

I wanted to see what would happen if I did it all natural and I believe if I would have used supplements you wouldn't be able to tell a difference and the plus side I saved some good money from not buying supplements!!

Thanks for your help,

John

 
Fantastic work, my friend!
Martin, 42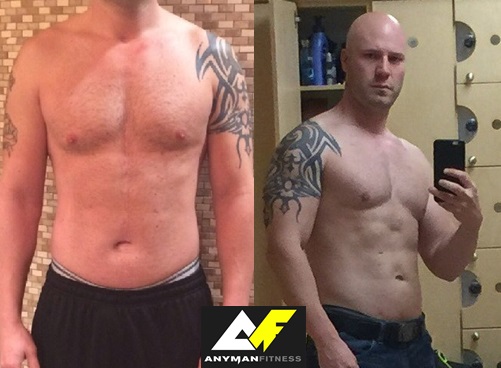 Martin lost 20 pounds
and ended up looking
aesthetic and jacked!
Nice job here.
Ted, 33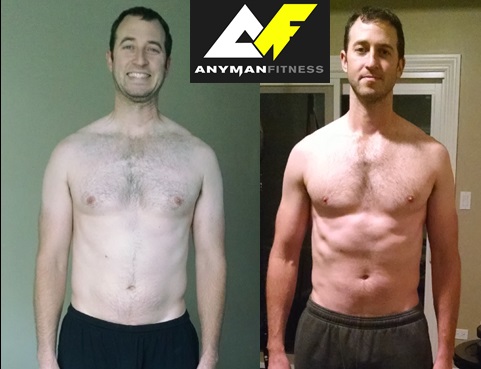 Ted gained size,
strength and leanness,
all in 12 weeks.
Over 20 pounds lost and
4 inches lost off the belly!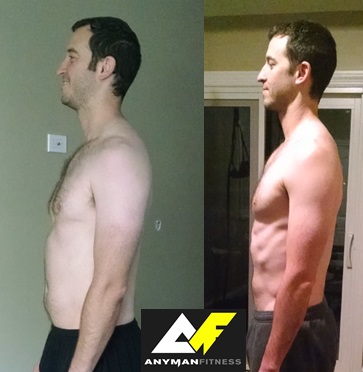 Nice job, Ted!
Emil, 28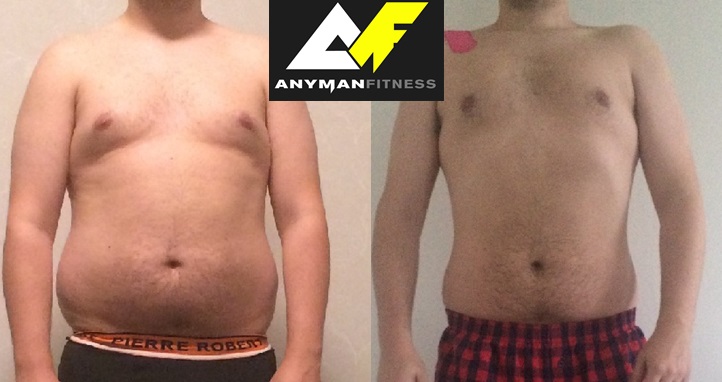 10 pounds and an astonishing
5 inches off of Emil.
Nice job!
Dave, 47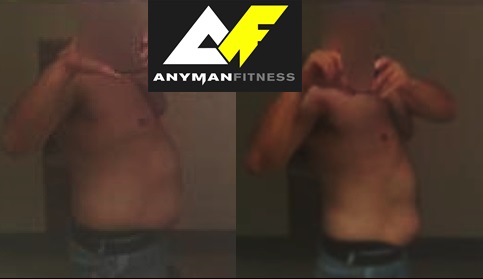 Dave lost 8.5 inches off his midsection
and 20+ pounds in 12 weeks!
Josh, Cincinnati, OH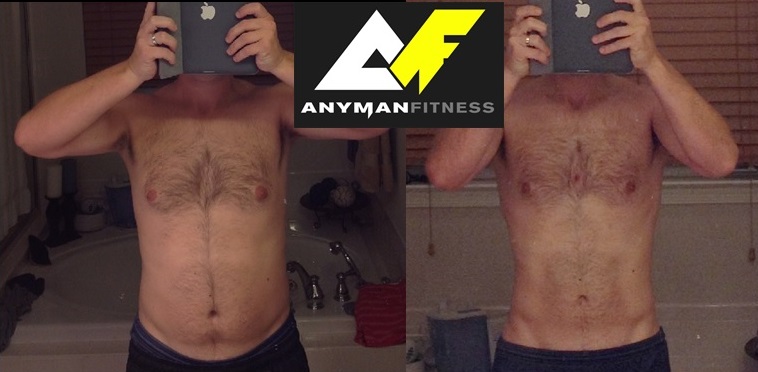 Before and After, 12 Weeks, Front View
Total Weight Lost:  16 pounds
Total Stomach Measurement Change:  – 4 inches
Josh did a phenomenal job and
we are excited to see what the
future holds for him.
 Allison, Livonia, MI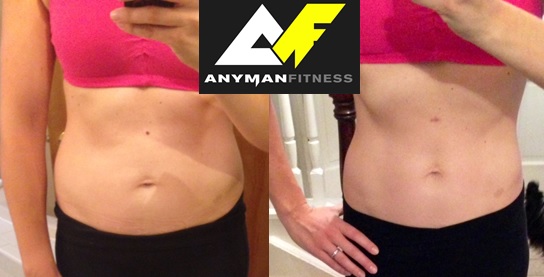 Before and After, 3 Months, Front View
Total Weight Lost:  8 pounds
Total Stomach Measurement Change:  – 5 inches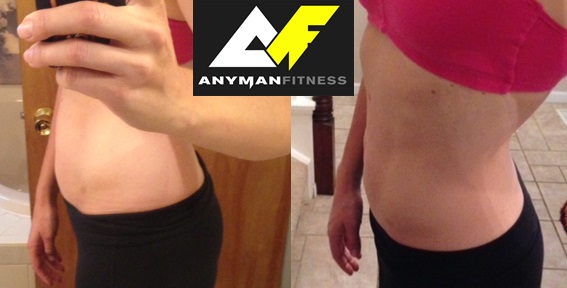 Before and After, 3 Months, Side View
Here is what Allison had to say about her experience:
I'm actually in tears as I write this. I just took my measurements and cried, literally, cried real crocodile tears! The results are UNBELIEVABLE! This program works and it works so well, I'm  speechless.

I was not prepared for was not only looking better at 35 than at 25, but feeling so much better too. Mentally, physically, spiritually, emotionally – I've evolved to a new level.

I'm blown away at the results. I can't ever thank you enough.

Almost 5 years ago I was diagnosed with a rare type of uterine cancer after a miscarriage.

As I was preparing for the nearly 6 months of chemo and tests,  the Docs said exercise was not going to be an option. I was used to tons of cardio and minimal weight lifting at the time but had to give it up during treatments.

I got through it and was so happy to know I could still conceive and carry a child to term after all of that.   Almost 2 years after treatment I got pregnant with my daughter and gained nearly 40 pounds!

So the before pic is 2 years after having my daughter, and the after is just 12 weeks later.  This has really helped me get rid of that last bit of baby weight quickly and easily.

Thanks again for all your help.

 
Absolutely fantastic job, Allison!
Keep up the amazing work.
Stephanie, 31, Ann Arbor, MI

Before and After, 3 Months, Front View
Total weight lost:  9 pounds
Stomach Measurement Change:  -6 inches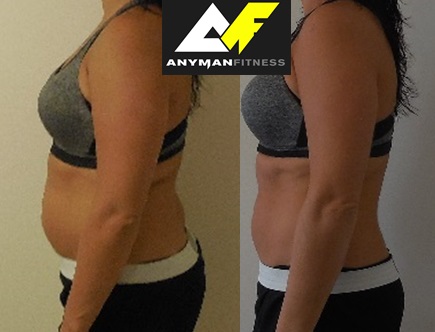 Before and After, 3 Months, Side View
Here is what Stephanie had to say about her experience:
I first was introduced to Jason through a work colleague.

When she first explained that she would be lifting and counting macros and not doing ANY cardio, I have to admit I was a non-believer.  I mean who loses fat without doing cardio???

I will tell you who does……those who follow a lifestyle change – guided by Jason!!

Before I started with you, I watched my colleague's success and I also did a lot of research.  I read through the entire website.  I was definitely apprehensive to take this program on, but also felt that the theory behind the program made a lot of sense.

I have always been active.  I have run marathons.  I have taken just about every cardio class out there.  I have spent more time and money on weight loss videos and shakes than I care to admit.  And I am so glad that I joined up with Jason.

I've lost 6 inches off my waist in 3 months.

Not once did I feel deprived or hungry.  I didn't have to spend endless hours at the gym.  As a matter of fact, I felt guilty that I was only going to the gym 3x/week!  Plus, I eat more food than I ever thought possible without beating myself up over it!!

I feel great and love being able to put on my favorite jeans that had been in the back of my closet!  And most importantly I love feeling strong and having muscle definition! Thank you sooooo much, Jason!
Insanely impressive, Stephanie!
Keep up the good work!
Matt, Oregon City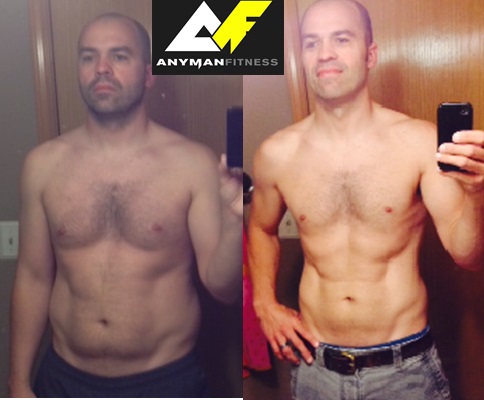 Before and After, 3 months
Total weight lost:  22 pounds
Stomach measurement change:  -4 inches
Matt also wrote us a testimonial of his experience:
 Sending you this email to thank you for all you've done for  me and for all the knowledge I've gleaned from you.  I've made the decision to stop my current cut and move to a fall/winter bulk in conjunction with a power lifting program centered around the Big 3.
The money I spent on this program was the best money I've ever spent.  You have opened my eyes to so many things and has given me the knowledge to take charge of my health and be able to intelligently wade through all the fitness and diet bullshit that litters the internet.

With the information you so freely give on your site I feel confident I can put together a bulking program and tweak it where necessary.  If you would've told me six months ago that I would be getting into powerlifting I would've told you you were nuts.  I'm at the point where I just want to get strong as hell and, as you stated in your latest article, the six pack will eventually happen as a result of getting as strong as hell – it's a journey, not a race right?  I do know that I will never go back to P90X 🙂

Thanks again brother.
An absolutely phenomenal job, Matt.
Rachel, 32, Cincinnati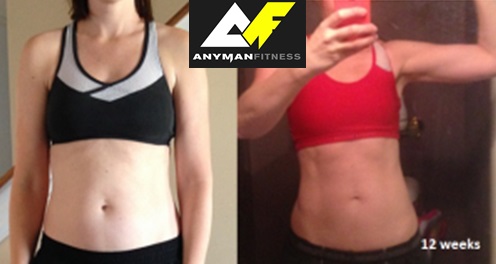 Front view, before and after, 3 months.
Total weight lost:  11 pounds
Stomach measurement change: -5.5 inches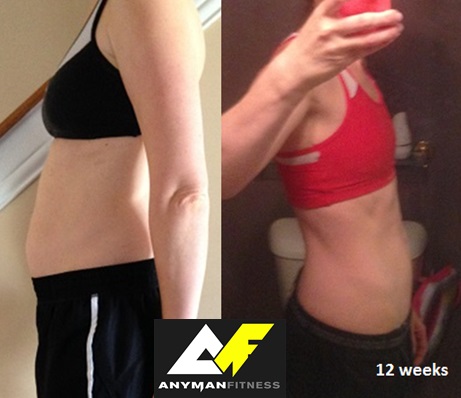 A quick word about Rachel.  Take a very close look at three things:  Her weight loss, her stomach measurement, and her pictures.  This is a prime example of the power of full muscular retention, weight training, eating properly, and taking it easy on the cardio routines.
Her weight loss was decent (11 lbs.), but her stomach measurement was astonishing – losing a full 5.5″, measured at the button, in 12 weeks' time.
Here's what Rachel had to say about the experience.
Before I hired Jason, I was an avid runner and after my 3rd baby couldn't wait to go back to the gym, run, and lose my baby weight.

Well…it wasn't happening.  I ran 4-5 miles every day, but my weight didn't budge.

I hired Jason and after only a month, there were visible results.

After I learned what macros were and how to count them, the food prep was simple.  Jason answered all my questions (which were plentiful) very quickly and explained everything to me!

I can visibly see the difference in my body, I love my stomach, and my arms have more definition than they ever have.  Thank you Jason for changing my perspective on weight lifting and being so supportive!
Fantastic job, Rachel.  Absolutely amazing!
Susie, Brighton, MI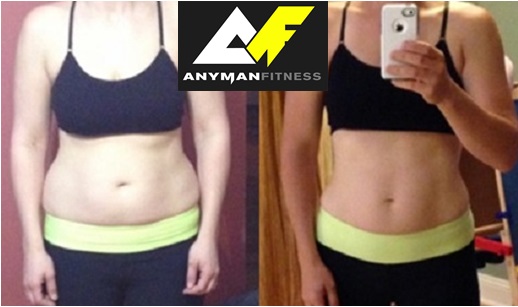 Before and after, 12 weeks.
Total weight lost:  22 pounds
Stomach measurement change:  -4.5 inches
Extremely impressive, Susie!  Way to go!
Super job, Nate!  Well done.
Before and after, 12 weeks.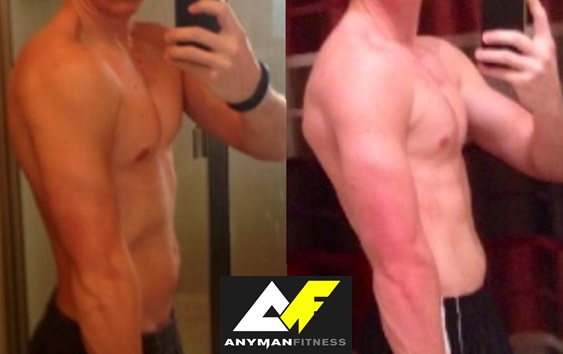 Mike's lifting stats improved as well:
Deadlift:  300 x 12 —>  345 x 7
Overhead Press:   95 x 10 —> 125 x 7
Bench Press:  165 x 9 —>  185 x 7
Squat:   185 x 16 —-> 230 x 4
Total weight lost:  5 pounds
Stomach measurement change:  -1.5 inches
Here is Mike's testimonial:
Thank you again for everything.

I truly appreciate how open you were about the whole process. I learned a lot because you were willing to teach me how to be self sufficient and help fill the gaps in my knowledge instead of leaving me ignorant and dependent.

So thank you for showing me your process so that I could replicate it in the future.

And with the lifts, thank you for showing me a completely new style of lifting. I've enjoyed it and I'm sure that it will become a staple in my future programming.
Well done, Mike, keep us updated!
Dustin, 23, Ferndale, MI 

First pic is before; the other two are after.  12 weeks.
Here's what Dustin had to say about his experience:
I am much leaner and stronger.

I didn't think I was out of shape until I saw the transformation.

I can still go out to dinner and eat what I choose, which is awesome!

Our grocery shopping now consists of mostly whole foods.  What a difference!

I want to continue to challenge myself.

I feel great about myself and what I have accomplished, but I want to keep going.

This is a lifestyle, not a 12-week plan.

Thanks for giving me the opportunity to change my lifestyle!

I can't wait for swimsuit season!

 
Nice work, Dustin!  Keep us posted.
Ken, 33, Ferndale, MI
Ken sent us this testimonial after his experience:
12 weeks ago, I was a 33 year old man that weighed 213 pounds, had high blood pressure, high cholesterol and chronic kidney disease.

The kidney disease was what was keeping me from, initially, joining your program. Those with kidney disease are told to avoid a high intake of protein so I was a little nervous about starting a high protein regimen.

I have attempted every diet known to man! I have tried every diet supplement possible. Nothing really seemed to work.

I would lose weight but once I stop the diet or pills the weight comes back fast.

I eventually had to stop taking the pills when they gave me a mild heart attack and sent me to the hospital. .

I am happy to report that today I am, still 33, I weigh 192 pounds and have lost 3 1/2" off my waist line.

My high blood pressure is no longer high and I am expecting to be removed from my medication shortly.

I no longer have high cholesterol and will be weaned off of my medication for that as well.

Recent blood work has indicated that my kidneys had no issue with handling the increase in protein.

After 12 weeks I am much healthier and, most importantly, a much more confident man.

However, my journey isn't ending after 12 weeks; in fact it's just beginning.

This is not a "diet" or a "workout", it is a lifestyle.

 
Well done, Ken.
Shelby, 22, Livonia, MI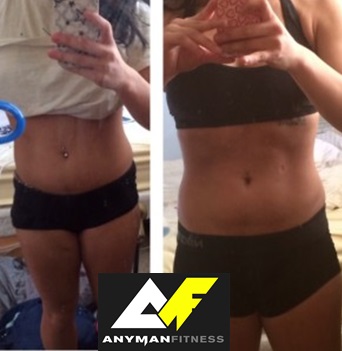 Before and after.  12 weeks.  Front view.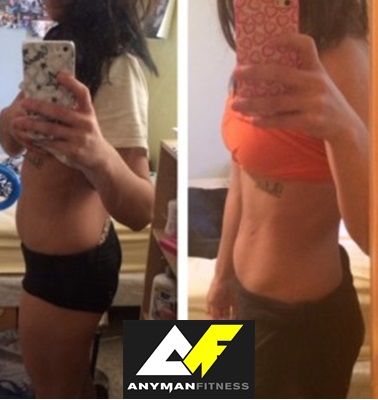 Side view.  This shows the differences
in stomach measurements quite clearly.

Total weight lost:  5 pounds
Stomach measurement change:  -4.5 inches

Keep up the awesome work, Shelby!
Nicole, 23, Michigan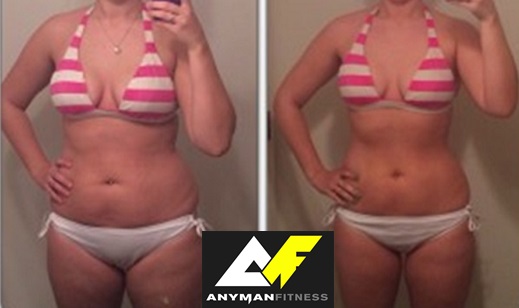 Before and After, 12 weeks.
Total weight lost:  12 pounds
Stomach measurement change:  -4.5 inches
Super job, Nicole!
Lindsay, 29, Cincinnati, OH


Lindsay's new physique –
she lost 2 inches off her stomach
and 10 pounds with us.
This is her testimonial:
I had been a devotee of running for about 7 years and had just signed up to train for my 3rd marathon when I started reading Jason's blog last spring. I was hoping to reach a certain goal time, but I had also used running as a way to manage my weight. Jason's blog totally debunked much of the fitness and nutrition information I thought to be true. Throughout my training, I kept reading the blog, and I as my weekly mileage and time commitment increased, my outlook started to shift. Three months' worth of intense running left me tired and worn, and I knew that after my marathon, I wanted to try something different.

Hiring Jason appealed to me for many reasons. I liked that I would be spending less than 2½ hours a week in the gym as opposed to around 5-6 hours a week running. As a teacher and a mother of a 2½ -year-old and a 10-month-old, my days are hectic. Less time working out=more time to manage family life and work. I also wanted to try something that would help me get strong. After years of running, I hadn't noticed much difference in the way my body looked. I felt good about myself, but I kept thinking, "For the amount of time I'm investing, I should look better than this!"

Jason helped me in both regards. I couldn't believe how much time the workouts saved me and how quickly my body changed. Within the first month, my clothes started fitting differently, and I began receiving compliments from friends and family. I thought that getting used to the nutritional aspect of the program would be difficult (I was constantly eating while training for different races), but once I began keeping track of my macros, it became more natural. And after seeing results so quickly, I became more motivated to meet my macros and build strength.

Jason has been an awesome coach. When you are one of his clients, you definitely get your money's worth. He answered all of my questions within a day (usually sooner), and he did a great job explaining the science and reasoning behind his methods. Even though he says it's not magic, it really feels like it is. Jason has given me the tools to continue on my fitness journey. I am so glad I decided to make a change; I have never felt and looked better!
Amazing job, Lindsay!  Very impressive!
Hannah, 39, St. Claire Shores, MI
Hannah is a mother of four.
She came to us to find a reasonable,
sustainable way to improve her health
and well being.
This is her testimonial:
Jason taught me that caloric intake is the bottom line in losing weight and that nearly all of the so-called diet plans out there are bogus.  His program makes losing weight possible long-term without uncomfortable hunger, ridiculous meal plans, or cardio workouts (my absolute favorite part of the program!).  His enthusiasm and excitement for me on the threshold of this fitness journey was real and catching.  He taught me realistic expectations regarding losing weight, and kept me focused on big picture results.  Any man can master this mountain…and so can any (wo)man!
Total weight lost:  10 pounds
Super progress, Hannah!  Well done!
Sarah, 30, Columbus, OH
Sarah came to us to figure out
how to stay lean and fit without
the treadmill and her jogging shoes.
This is her testimonial:
It was amazing how quickly my body transformed.  The knowledge of a new, more effective way to eat and workout while getting better results is unbelievably exciting.   Working with Jason allowed me to be  able to have someone to guide me that has had proven results.   The last time I was this size I was working out 5 days a week, spending most of my weekend at the gym and eating a lot less.   Now, I never "do cardio", and I spend no more than two hours in the gym per week. The biggest problem I currently have is that I can't update my wardrobe fast enough to fit my new size. When I first saw the lifting plan I thought there had to be more exercises and cardio but there's not and it works. The lifts are rewarding, make me feel better and are possible with any schedule. I had trouble in the beginning figuring out the nutrition but Jason answered all of my questions and helped me to customize it to myself.  This is the easiest and quickest way to change your body. I recommend it to everyone.  It just has to be one of the most effective programs out there.
Impressive results, Sarah!  Awesome job!
Chuck, 31, Cincinnati, OH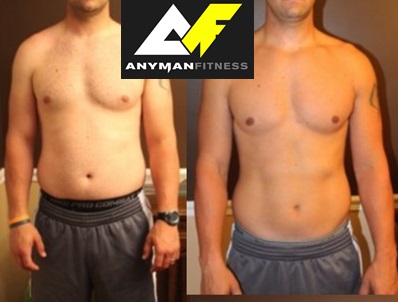 Before and after.  12 weeks.
Total weight lost:  9 pounds
Stomach measurement change:  -4 inches
This is Chuck's testimonial:
I have been involved with fitness and weight training for quite awhile.  One thing I have always struggled with is the nutrition piece with weight training.  With Jason's program, he made it easy for me to break down my meals in order to accomplish my goals.   Jason's attention to detail and enthusiasm for the program has inspired me to complete the 12 week program and continue to live by the Anyman Fitness program.
Fantastic job, Chuck.  Keep up the awesome work!
Lindsey, 31, Cincinnati, OH
Lindsey is a new mother
who was looking for a better way
to train than the old "pound the pavement" routine.
This is her testimonial:
Jason allowed me to think outside the box with dieting.  Initially when reading the program, I was skeptical.  Many of key concepts are the opposite of what you think of, when thinking of weight loss.  I have tried a couple different diets that never found sustained results.  I have lost about 12-13 lbs and multiple inches from my legs, chest, and stomach.  I am still not yet where I want to be, but am on the right path and plan to continue utilizing the Anyman Fitness program.  After figuring out the in's and out's of the program it was really pretty easy to stick to.  It was not difficult to stop eating breakfast.  The hardest part was trying to get in all of the protein at lunch and dinner….as it is a lot more food than I would have typically eaten.
Fantastic work, Lindsey!  Well done.
Rick, 37, Ypsilanti, MI
Rick came to us looking to
lean out and get healthy.
This is his testimonial:
I've tried many approaches over the years, from low fat diets, to Weight Watchers, to straight up starving myself and I hated every minute of every one of those diets.  This is the first time that I was able to change my diet to something that I feel is sustainable.  I rarely feel hungry and the results were evident just two weeks into the program.  Jason gave me tangible, easy to manage ways to view my diet in a different, and SIMPLE way, and it only gets better and easier as time goes by.
Well done, Rick!