Subscribe to the NWA Newsletter Here
---
Couldn't tell ya much about the fam, dawg,
I just showed up for the yams, dawg…
– Ty Dolla $ign (actually)
If you wish, you can grab the N.W.A. Newsletter Playlist on Spotify here, all of the songs that have been featured in the newsletter are on the playlist.
​
---
Happy Friday, Coach J here from Anyman Fitness – and welcome to the latest edition of The N.W.A. Newsletter.
​
Each week with the N.W.A. Newsletter, I give you the best Nutrition, Weightlifting, and/or Attitude advice for you to start to use in your life today.
​
Tens of thousands of people have used this exact newsletter to gain muscle, lose fat, and become a better version of themselves…
​
Without any further ado, let's get started..
​
​
N.W.A. Crazy Good Holiday Dessert Of The Season
​
Yessir, it's that time of the year.
The Holiday Season officially begins next Thursday on Thanksgiving.
​
Here's a stat that may surprise you.
The average person gains 8 pounds between Thanksgiving and New Year's.
Okay, maybe that doesn't surprise you… but how about this…
​
The weight gain trends of our population in America have been studied.
Not only does the average person gain 8 pounds during the holidays, but they spend the next 11 months trying to lose those 8 pounds (on average, of course).
They succeed in losing 6 of the 8 pounds.
For a net gain each year of 2 pounds.
​
Which means that, on average, we gain 2 pounds per year.
Or 20 pounds for every 10 years.
​
Ok. Now THAT'S a wild statistic…
​
This doesn't mean you shouldn't enjoy your holidays.
This doesn't mean you shouldn't indulge in some treats.
This doesn't mean you should take your chicken and broccoli Tupperware containers to your family parties.
​
But this does mean you should have a gameplan.
​
My gameplan for clients is simple.
On "The Big 5", have some fun.
Don't binge, but enjoy yourself and have some treats.
​
And turn the page immediately the next day.
​
The "Big 5" are:
Thanksgiving
Christmas Eve
Christmas
New Year's Eve
New Year's Day
​
Those are the 5, actual holidays during the holiday season.
​
Nobody gained 8 pounds from enjoying themselves in 5 days out of 40.
But you need to be careful on all the other days.
​
Avoid the non-stop cookies and candies in your break room at work.
Be careful on the weekends where you don't feel like cooking so you go out to eat.
​
You're likely to have a half dozen holiday parties on top of "The Big 5".
You end up drinking more alcohol than normal.
And you're also likely to have leftovers and treats that will last for days, adding unwanted calories to your diet.
​
Resist this.
Throw away the leftovers.
Turn the page, move on, and hit the gym – smash those weights and turn the food into some gains.
​
And you'll breeze into the New Year without doing much damage at all.
​
Which leads me to the next message… if you want to be known as the "Dessert God Of The Holidays", I have a recipe for you – My Infamous Pumpkin Pie Crunch.
​
My first year teaching, one of the Room Moms made the teachers this recipe.
I had never had something like this before.
I took one bite, and my knees buckled it was so good (seriously).
​
I immediately emailed the Mom who made it and demanded the recipe.
And now… I will give the recipe to YOU…
​
Coach J's Infamous Pumpkin Pie Crunch
First, blend together:
3 cups brown sugar
1 can of full fat evaporated milk
3 eggs
1 large can of pumpkin (NOT "pumpkin pie filling" – actual pumpkin)
1/2 teaspoon of salt
4 teaspoons pumpkin pie spice
​
Pour the mixture into a greased, 9 x 13 cake pan.
Over the mixture, sprinkle an entire box of yellow cake mix evenly.
Next, melt 2 sticks of full fat butter over the top of the cake mix, attempting to saturate all the mix (if it's not perfect, it's all good).
​
Add crushed nuts if you wish.
Bake at 350 for an hour.
Allow to cool; put in a fridge overnight – it's best served with Cool Whip and/or vanilla ice cream.
​
And that's it!
Fair warning: With great power comes great responsibility.
​
If you make this, your family and friends will BEG you to make it every year.
So be sure you're confident in your new responsibility!
Loads of AF clients make this every year; it's become something of a tradition in our community.
If you make it, be sure you post about it on social and tag me!
​
And of course, this isn't healthy.
Not in the least.
It's LOADED with calories, sugar, and fat.
With almost zero protein (LOL).
​
But it's the holidays!
You should enjoy yourself and have some fun.
Just be sure to turn the page the next day, and get back to business and you'll be just fine.
​
Enjoy!​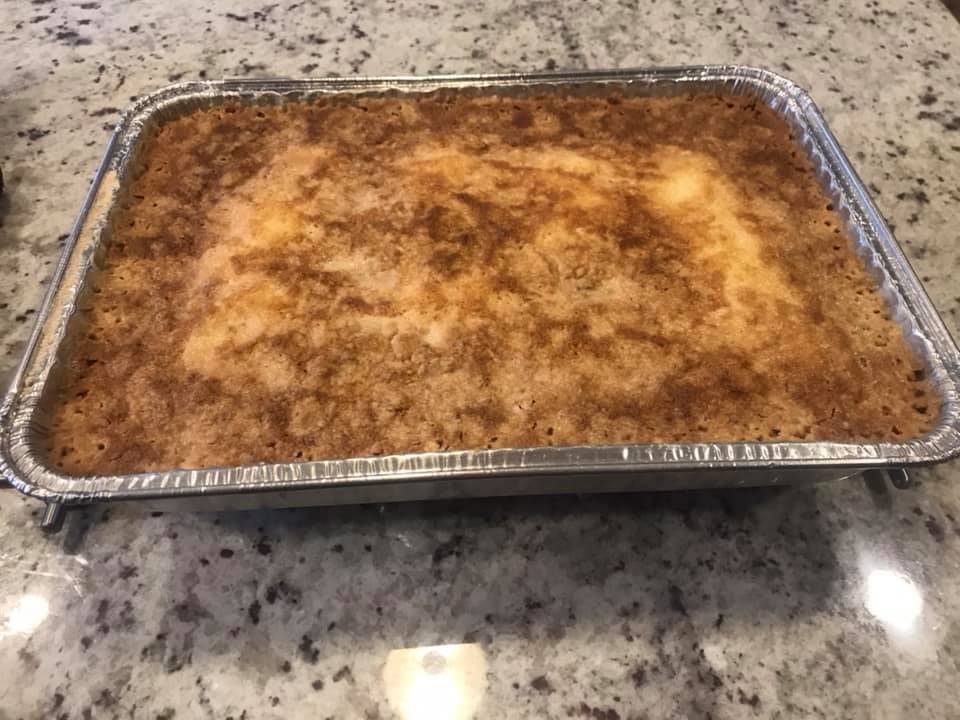 ​
Our Favorite Piece of AF Social Media Content:
​Working out is for improving your performance and increasing your muscle mass.
Nutrition is for fat loss.
There are no "fat loss workouts", exercises, or specific time frame for workouts that leads to fat loss – because it's done with your DIET, not what you do in the gym.
​
​
---
​
I hope you enjoyed this edition of the Anyman Fitness N.W.A. Newsletter.
I'll be back next week.
Hope you have a wonderful weekend.
Best,
Coach J
Anyman Fitness
​Read the N.W.A. Newsletter Archives​
​Client Testimonials and Results​
​
I think Kanye was still salty about whoever stole his laptop… (NSFW – language)