Subscribe to the NWA Newsletter Here
---

I'm the fitness man,
y'all don't get it, do ya?
Makin' gains errrrybody actin' like they knew ya…
-Drake (probably)
---
Friday, Coach J here from Anyman Fitness – and welcome to the latest edition of The N.W.A. Newsletter.
Each Friday's N.W.A. Newsletter will have 3 parts:
A Nutritional Tip to help make your diet healthier and easier to stick to.
A Workout Tip to help make your training sessions more effective and fun.
An Attitude/Mindset tip to help you strengthen your greatest asset – your mental toughness.
.
I will also give you my single favorite piece of social media content from AF over the past week and link to it on either Instagram or Twitter.
Without any further ado… let's get started, shall we?
N.W.A. Nutrition Tip Of The Week:
Trying to eat healthy, whole foods is always an excellent idea.
For many, simply eating whole foods, not snacking between meals, and not drinking calories is more than enough to help them lose weight.
If this describes you, consider yourself lucky.
I most *definitely* am not in this category… I'm a big, tall, active guy, and as such, I tend to get hungry easily.
For people like me (and perhaps you), I have a suggestion for you to help with your hunger when dieting.
The first step is to make sure you're eating whole foods, no doubt.
But if that's not enough, looking at the Satiety Index is a great way to start eating more filling foods, which will naturally lower your calorie intake and help you shred more fat.
"Satiety" is a fancy way of saying "how filling a food is".
It's a simple concept to understand – a 20 ounce bottle of soda has roughly the same calories as a large apple.
Clearly the apple is a better dietary choice – the fiber, vitamins, minerals, and perhaps most importantly *volume of the food* make it a much better option if you're watching your waistline.
This is what makes foods like veggies so important to eat when dieting.
Yes, there is good stuff in there that will keep you regular.
But the true value is in simply filling your stomach and keeping hunger at bay!
Hunger is your enemy when dieting. Anything you can do to reduce hunger is a net positive during your fat loss phases.
On Monday, No Cardio Fat Shredding will begin (enrollment ends Sunday night at midnight, EST).
NCFS is an aggressive fat loss protocol.
Members routinely lose 20+ pounds in 6 weeks while barely working out (2 hours per week of training in total).
Each week has 4, low-carb, low-calorie days and 3 *BIG* carb re-feed days.
While the high carb days are super fun, and many clients tell us they can barely finish their meals, the lower calorie/carb days can be a bit tougher.
Those are the days we need to be sure to optimize our satiety so we can make it through properly.
Have a look at these foods and where they rank on the Satiety Index.
Keep in mind a piece of white bread is considered "100%" on the Satiety Index for your own reference (meaning, if the % is over 100, that means calorie-for-calorie, the food is "more filling" than white bread. And vice versa for the numbers under 100).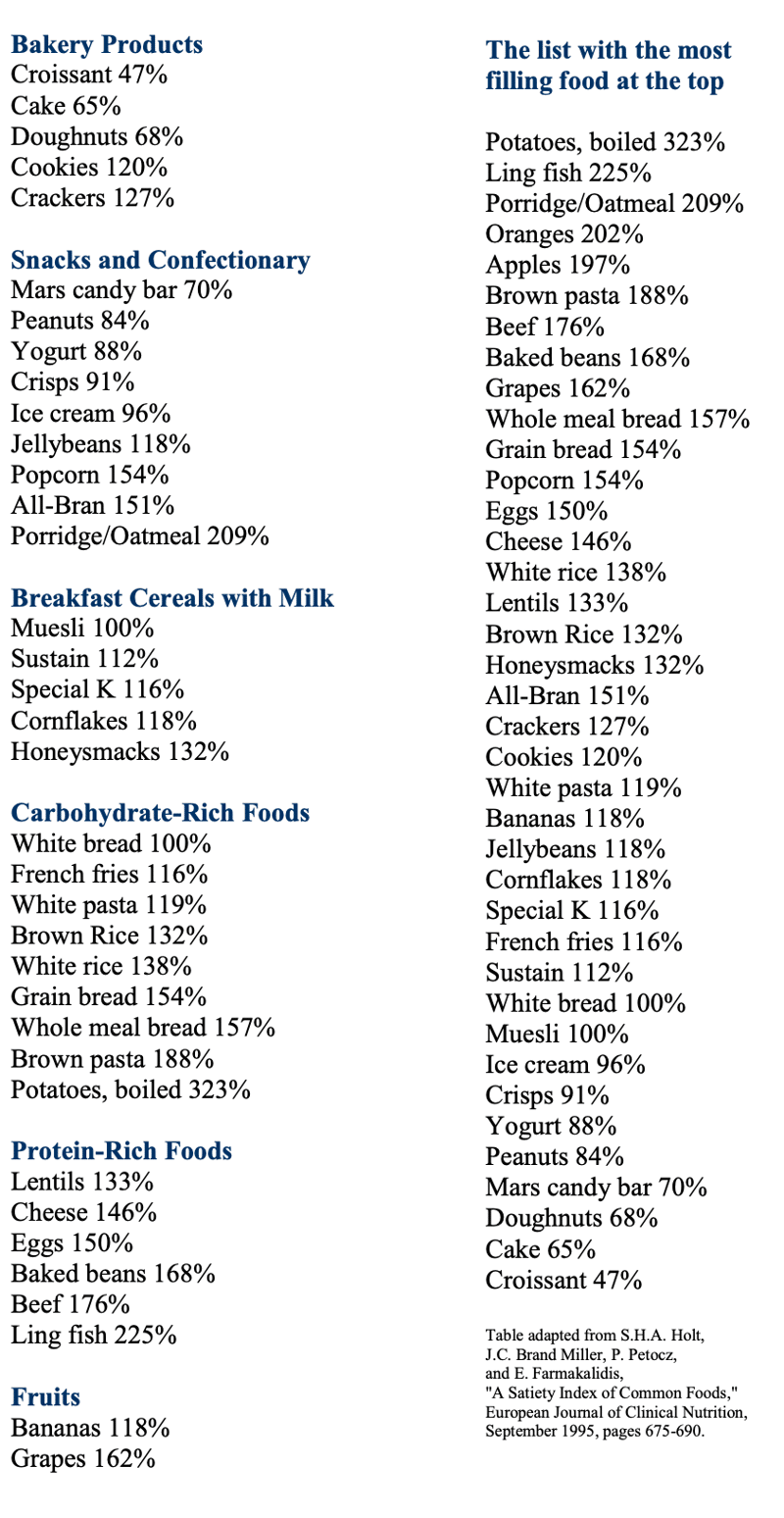 You can see how unfilling certain foods are.
Candies, cakes, and donuts are dismal from a satiety standpoint.
I specifically like the list on the right.
Maaaaaaan, check out how much potatoes fill you up!
What a huge cheat code for dieting! If you're ever needing to get solid carbs into your stomach without a crash later, potatoes are your go-to, no doubt.
Interestingly, I don't see chicken on this list… apparently they forgot every bro's favorite food… 😉
If you're struggling with hunger on your diet, be smart and strategic.
Purposefully eating filling foods is a dieting hack, no doubt.
If you can find a way to reduce hunger intelligently, it's going to increase your compliance and results like you wouldn't believe.
Start using the Satiety Index to guide your dietary decisions.
It will take you much further than simply opening up your fridge and randomly picking something to eat.
N.W.A. Training Tip Of The Week:
It takes approximately 7 hours of steady-state, medium intensity exercise per week in order to lose 1 pound of body fat.
It takes approximately 5 minutes of work to set up your diet to do the same thing without needing cardio.
Clearly, one of these is more efficient than the other…
When it comes to training, there are ways to make your sessions more efficient as well.
One of the best ways you can get a killer workout in without spending tons of time in the gym is to actively work on maximizing your "ROI" in the gym – the return on your time investment.
So, what exercises provide the best ROI for you, fitness wise?
Heavy and intense barbell movements.
Things like barbell deadlifts, barbell squats, barbell shoulder presses, barbell rows, etc.
Those movements don't require much volume to be extremely effective.
They're total body movements that require your attention and effort at all times, hence allowing you to build muscle and strength quickly and effectively with them.'
You're not going to build your glutes doing kickbacks on a stairmaster.
You're going to need to do some heavy squatting and get stronger in order to build your glutes.
You're not going to build your chest effectively doing push-ups in your bedroom.
You're going to need to do some serious pressing and get stronger in order to build your chest.
You're not going to build your back doing one-arm rows with 10 pound dumbbells.
You're going to need to do some serious pull-downs and rows and get stronger in order to build your back.
But there's good news here…
Once you begin maximizing your ROI in the gym, you don't have to work out for a long time.
In fact, the most drastic part of my fitness transformation came from barely training – about 40 minutes, 3 times per week.
I only did 8 total sets per session as well. I took long rest periods – 3-4 minutes between each set.
There were no circuits, no supersets, no cardio, no HIIT, and 4, full rest days per week.
I went from 30%+ body fat to 7.3% body fat (confirmed via DEXA scan), and ended up deadlifting 500 and squatting 325 pounds.
It's important to build a proper habit before you go "all in".
Once you've built the proper habit, you'll learn to enjoy things like short rest periods and tons of sweat.
But I'll be real – the 2012 version of me *hated* working out.
I needed to start small, and build up my wins.
I needed to focus on my diet first and foremost – as that's the most effective way to lose fat.
I needed my workouts to be short and sweet – as that's all the time I had available.
And I needed to stay away from constant cardio – I hated cardio with a passion; big guys like me and cardio don't often mix.
If you need to maximize your own ROI and optimize your fitness, check out our No Cardio Fat Shredding course.
You can lose up to 25 pounds and 5 inches off your waistline in 6, short weeks.
With zero forbidden foods, 3 short workouts per week, and 3 massive carb-refeed days per week.
Enrollment ends on Sunday evening at midnight, EST.
See you on the inside!
N.W.A. Attitude/Mindset Tip Of The Week:
Food guilt is often a huge roadblock to success.
When I say "food guilt" I mean "feeling guilty over saying no" when offered food.
I know this strange guilt myself, and I used to feel badly for refusing food in a social situation.
Food equals love for many of us.
Our family events are filled with everyone's favorite, tasty treats, whipped up by a loving family member who wants nothing more than for you to taste (and enjoy) the food they've prepared.
I know this well.
As a big, huge dude, people feel as if they must keep me well fed and offer me foods whenever they invite me to their houses.
My in-laws used to make 2 trays of lasagna when my wife and I would come over for Sunday dinners – one tray for me, and one tray for the 4 members of their family… seriously…
Whenever I'm at a party, it's always, "Hey, J, try this" and "Hey, J, let me grab you a beer"…
It took a long time for me to get used to the fact that I would need to develop the skill of saying no without guilt.
If you think about it logically, does not wanting to eat something mean you don't like another person?
No, of course not! That would be totally illogical… right?
Then why do we feel so badly when we turn down Aunt Bertha's famous fruit cake?
It's a strange thing we do to ourselves… and if we're not careful, it could sabotage things for you.
If not eating a certain food when offered is considered rude or impolite due to culture standards, there's nothing wrong with having a small taste, commenting on its deliciousness, and then claiming you're too full to eat the rest.
A little, white lie won't hurt anyone – and it will spare the feelings of the person who made the food.
But if that's not the case, it may be time to start developing a thicker skin.
It's silly that we feel badly by not eating.
We are always in control of our choices – it's our call what we put into our bodies and no one else's.
A simple "No thanks, I'm not hungry" tends to go a long way once you get used to saying it.
Of course, if it's still too difficult and you need an "out", I got you.
Just join No Cardio Fat Shredding, and when you're offered food, blame it on me!
Tell 'em, "Nope, sorry, can't eat that – Coach J will make me do 100 burpees on Monday!"
Now, of course, I won't do that… that's not my style…
In fact, all you'll have to do is a short, 30 minute workout, and then you get to smash carbs all night long (Mondays are high-carb refeed days on NCFS).
And after you have 4, full off days per week (and barely train on your workout days), you, too will be convinced No Cardio Fat Shredding is "magic" after you see the logic-defying results.
One Favorite Social Media Post Of The Week:
1973: We're fat. Nutritional labels will fix this.
1985: We're fat. Eating less fat will fix this.
2010: We're fat. Eating like a caveman will fix this.
2015: We're fat. Eating no carbs will fix this.
2021: We're fat. Eating only meat will fix this.
Wonder what's next…
Share this on Twitter | Share this on Instagram
I hope you enjoyed this edition of the Anyman Fitness N.W.A. Newsletter.
I'll be back next week.
Hope you have a wonderful weekend.
Best,
Drake-Coach-J
Anyman Fitness
Read the N.W.A. Newsletter Archives

---
One of the most impressive things I've ever seen in the world of hip-hop is the beatboxing skills of Rahzel.
Rahzel was popular in the early 2000's when I was in college.
Watching him sing and do the beat simulatneously to "If Your Mother Only Knew" is the stuff of legend.
Fast forward to 3:45 on this video to hear it – and remember… there are no instruments or second vocals.
That's all Rahzel, baby.