I ain't sayin' she's a gains digga…
But she ain't messin' with no scrawny brotha…
-Kanye West (probably) 
---
Happy Friday, Coach J here from Anyman Fitness – and welcome to the latest edition of The N.W.A. Newsletter.
Each Friday's N.W.A. Newsletter will have 3 parts:
A Nutritional Tip to help make your diet healthier and easier to stick to.
A Workout Tip to help make your training sessions more effective and fun.
An Attitude/Mindset tip to help you strengthen your greatest asset – your mental toughness.
.
I will also give you my single favorite piece of social media content from AF over the past week and link to it on either Instagram or Twitter.
Without any further ado… let's get started, shall we?
N.W.A. Nutrition Tip Of The Week:
Today's nutrition tip is a simple one:
Always pay for convenience when it comes to health food, assuming you can afford it.
It's no secret eating healthy is more difficult than not.
Fast food, carry out food, restaurants, and junk food is in our faces 24/7/365.
The healthier stuff, not so much.
It's rare to see fruit baskets, protein shakes, and salads in corporate breakrooms.
Donuts, bagels, cakes, and candy dishes are all the norm.
As such, preparing your own meals and taking them to work is an excellent idea.
There's only one problem with that: It takes time and energy to pack your own foods – and time and energy are in short supply in 2021.
Paying a bit extra for some convenience is a great way to save some time and make healthy living easier.
Here are a few ways I pay for convenience in my own diet:
On the weekends, I grab a few pounds of cocktail shrimp to snack on – it's pure protein and one of my favorite foods to eat.
I often purchase containers of pre-cut veggies for my stir fries and side dishes.
Nearly all of my 'weekday' meals contain a steamed vegetable side dish from single-serving frozen packages.
I opt for lunchmeat (usually ham) instead of needing to cook/prep all my protein on the weekends.
I often purchase pre-cut fruit.
A few times per week, our family will order a ready-to-cook, calorie controlled/healthy meal from a delivery service (cooking the meals is also a great way for my wife and I to hang out together and do something fun).
I highly suggest if you're struggling to reign in your diet, ponying up a few extra bucks in order to make your life easier is always a win-win if you can afford it.
Stress makes life a million times more difficult; any time you can pay for a small stress reduction is a huge win in my book.
What are some ways you pay for convenience with your diet?
N.W.A. Training Tip Of The Week:
Elbow problems are one of the most common injuries in weight lifting.
This makes sense; many lifts we perform have our elbows and forearms at an unnatural angle.
Consider the barbell row.
With the barbell row, you grip the barbell with a double overhand grip (technically, it's called a 'pronated' grip):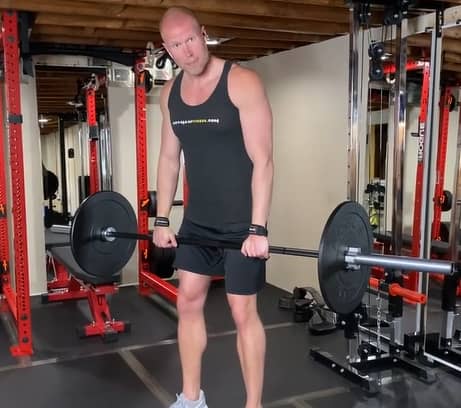 This sort of a grip is standard on most barbell moves.
While this sort of a grip is used for most rows, deadlifts, and presses, the wrist and elbow angle can cause wear and tear over time, making lifting painful.
This sort of a grip isn't natural to your body's contours, which is why it tends to cause issues for most lifters eventually.
A small tip I gave to my clients a few weeks ago: Always use a neutral grip if possible.
A neutral grip looks like this, with your palms facing each other:
This grip is much easier on all of your joints – your wrists, your elbows, and even your shoulders.
Consider all the times we use a barbell to push or pull the weight away or towards us… and it's easy to see why so many people have pain in their elbows and shoulders.
Consider using this grip for all possible exercises.
You can find neutral grip handles for pull down machines and cable seated rows.
You can perform your dumbbell bench presses and shoulder presses with a neutral grip as well (it provides a *wicked* pump, too!).
Barbell bench presses and rows may be tricky to use a neutral grip for.
But even for those, there are workarounds.
For barbell rows, consider using a hexbar if you have one.
A hexbar is a barbell with a hexagonal shape in the middle of it that you step into before performing your exercise.
There are handles on both sides for you to grip – grab those handles with your hands in the neutral position when you perform your rows: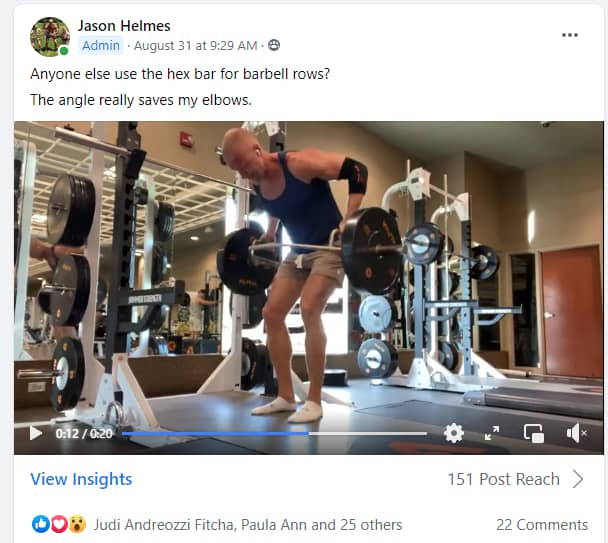 I doubt you'll have access to one of these bad boys, but I'm *begging* my gym to pick up a Swiss Bar.
A Swiss Bar is a barbell with all the different grips you'd ever need – it's perfect for keeping your hands in a neutral position at all times:
I'm so jelly of anyone who has one of those… WANT!
Whenever possible, begin using neutral grips today to improve your workouts, stay injury free, and keep your gains coming for years to come.
N.W.A. Attitude/Mindset Tip Of The Week:
To make your life easier, go harder.
I'm serious.
Go all-in, baby, go HAM, give it all you've got – at every opportunity.
In everything you do.
Crush your workouts.
Pour your focus into your career/work.
Spend high quality time with those you love with zero distractions.
Allow yourself to meditate and/or relax deeply.
Invest your money aggressively.
Go hard.
Wait, scratch that, go even harder than that.
When I say go hard, I mean go HARD!
Why should you go as hard as you can?
For a simple reason: Your daily tasks get much easier when you try as hard as you possibly can.
When you push yourself out of your comfort zone, your body becomes accustomed to your new threshold tolerance.
Assuming you keep the intensity up, what you now think is *hard* will eventually become *easy*.
Your future workouts will get easier.
Your work/career will become more rewarding and lucrative.
Your relationships with your loved ones will improve immensely.
Your ability to relax and clear your mind will pay off in spades.
Go hard – at everything.
Train hard.
Diet hard.
Work hard.
Relax hard.
Meditate hard.
Vacation hard.
Go hard.
Anything worth doing is worth doing with maximum focus and effort.
Your best is all anyone can ask of you as well.
If you go as hard as you can, you'll never have any regrets.
Nobody can do more than *the best they can do*, which is a comforting feeling after you've given a project every ounce of energy you have.
One Favorite Social Media Post Of The Week:
Go hard.
Everything gets easier when you go hard.
Fitness
Money
Finance
Relationships
Meditating
Relaxing
Whatever you're doing, do it as best you possibly can.
That's the only way to make it easier.
I hope you enjoyed this edition of the Anyman Fitness N.W.A. Newsletter.
I'll be back next week.
Hope you have a wonderful weekend.
Best,
Ye-Coach-J
Anyman Fitness
Read the N.W.A. Newsletter Archives

---
Rap beefs have always been a part of hip hop culture.
As Eazy-E famously said, "All publicity is good publicity', and rap beefs are *usually* fabricated to make album sales for both artists.
My favorite all time rap beef was when 50 Cent bought 200 front row tickets to a Ja Rule concert… just so Ja Rule wouldn't have anyone in the front rows to perform to.
I don't care who you are – that's clever – and funny as hell!