Time for the newest edition of "Gainz Of The Week" – the premier spot for the best information to improve your fitness levels – and your life.
Each week, we bring you:
New news in the world of Anyman Fitness.
A recap of the week's featured article.
A kick-ass update from one of our online training clients.
Thoughts regarding a common fitness question.
The best fitness articles on the interwebzzzzzzz.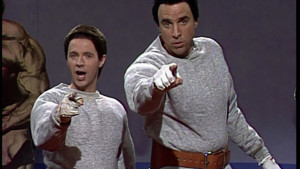 Happy Halloween Hangover…………
So, exactly how many Reese's Peanut Butter Cups did you eat?
I've got the over/under set at 4.5 over here.
Keeping with the spooky tradition, there are limits to the costume choices a self-respecting, weight lifting male can choose from.
In random order, here are the possible selections:
1. Arnold Schwarzenegger in Total Recall.
2. Rocky Balboa.
2. Arnold in Conan The Barbarian.
3. The Russian from Rocky IV.
4. Arnold in Terminator 2.
5. Hans and Franz.
6. Arnold in Predator.
7. Hulk Hogan.
8. Arnold in Twins. (Still jacked.)
9. Apollo Creed. (For the brothers out there. I got you covered.)
10. Arnold in Kindergarten Cop. (Kind of lame – this one is for you white, nerdy suburbanites.)

Hopefully you chose from these last night. If you didn't, there's always next year.
If you were a vampire, please unsubscribe from my email list.
K and thank you.  🙂
Reading Gainz By Jason
This week's article on the site was for 100% pure entertainment purposes.
I knew I would likely make a few people upset.
Believe it or not, it wasn't the first time my over-the-top sense of humor and sarcasm has annoyed a few people.
Although a few had their feathers ruffled, most understood what the piece was.
Just a guy (me) having a bit of fun writing a blog post – nothing more.
Click to read "How To Be Like Everyone Else:  Normal, Comfortable, and Ordinary" ===> [LINK]
Client Gainz Of The Week
Today's Client Gainz come from client Zell.
Zell started working with us just a little bit ago.
He's been lifting hard, crushing his macros, and living healthier.
In four short weeks, Zell has some visible results which he sent my way.
Here's his new look – down inches and feeling great in a small amount of time.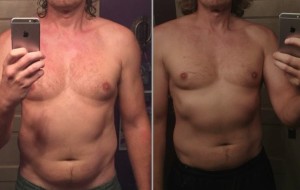 Excellent job, Zell! Keep doing work, my man!
Thought Gainz Of The Week
This week's Thought Gainz come from client Jason.
Jason recently received a program from us and he had an issue about his prescribed meal frequency.
His exact question:
Hey, Jason,

The plan you made for me uses intermittent fasting (IF).

I hate to say it, but fasting isn't working for me.

I'm constantly hungry, and even when I eat, I'm not satisfied.

I keep thinking I'm going to crack and binge due to the overwhelming hunger.

What can we do?

Is fasting necessary for fat loss? Will my rate of fat loss slow down if I move to a more normal approach?

Thanks, man.  -Jason
An excellent question, Jason.
Here's my answer:

Reading Gainz Of The Week
Here is the best of the internet this week when it comes to self-improvement:
Lean Habits: 12 Tips to Help You Achieve And Maintain A Lean Physique Various (including me!) via Jorden Pagel Fitness
5 Ways We Sabotage Success With Cognitive Biases by Tanner Baze via Strengtheory
Habit Creep: The Proven, Reasonable, and Totally Unsexy Way To Be More Successful by James Clear
Is Training To Failure Worth It by Eric Bach
On Focus, Taking Risks, and Living Your Life To The Fullest by Slyvon Blanco
Best to you as you chase those gainz this week!
-Jason