"Once you pop, you can't stop."
-Pringles commercial, circa 1990's.
You know you loved that ad.
You likely also made the "Pringles duck face" and ate them by the stack. Sometimes, you ate them one-by-one, but it was more fun to pretend like you were some strange karate instructor who had been challenged to eat a massive stack of 30 Pringles at once.
I don't think I ever met a bag – er, can – of Pringles that lasted more than one, single session.
DID YOU KNOW THERE ARE SIX SERVINGS IN ONE CAN OF PRINGLES?
I know, right? I had no clue until I started counting my own macros and coaching others. 
Six? What a joke! Two, MAYBE, but as I stated – these were single-serving containers………….
There's a reason why processed food tastes amazing – it's been engineered, tested, re-engineered, re-tested, and fine tuned until it's perfect.
And in the case of Pringles, perfect is exactly how they taste…….at least the Cheddar flavor.
But processed foods aren't the only foods that cause you to overeat.
Here are 9 of the biggest offenders – foods which are nearly impossible to eat only one serving.
For fun, I gave you a split-shot of each food.
One side: One serving size, the measure, and the calories.
The other side: How much I generally eat of that food, the measure, and the calories.
Let's do this…….let's have some fun!
9 Foods You Eat Too Much Of:
Chips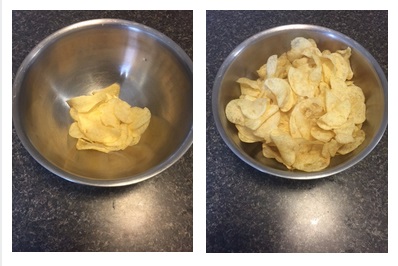 Since Pringles were already discussed, chips had to make an appearance on this list. I don't buy potato chips in my house whether I'm dieting, bulking, or maintaining. There is zero chance I will open a bag of potato chips and eat one serving size – that measly little pile on the left.
Chips are generally highly processed and contain a wicked combination of fat and carbohydrates – sugar and oil. Unless you have the self-control of a Tibetan monk, it's best to pass on the potato chips unless it's a rare treat.
I haven't eaten a Cheddar and Sour Cream Ruffle in 10 years – a night with them as a 20-something left my fingers orange for weeks and I hated myself in the morning.
Best to steer clear.
Nuts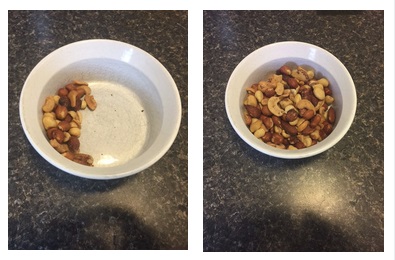 In the mid-2000's, nuts became the poster child for healthy eating.
Hey, remember when eating nuts made us all really skinny because of the proper fat ratios?
Neither did I.
Short in protein, high in fat, and sky-high in addicting properties, nuts make our pants tight. Pun intended.
As if it weren't an unfair game to begin with, you can get your nuts roasted, flavored, and glazed with various flavors and seasonings.
I actually saw a can of mixed nuts coupled with a pair of adjustable waist sweatpants at Costco – sort of like a "value pack".
Seems legit to me.
Ice Cream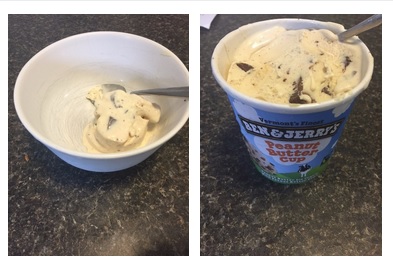 Remember that guy on Instagram who ate lots of Ben and Jerry's and he's totally jacked?
Remember when you tried to eat lots of Ben and Jerry's and get jacked, too?
How did that work out for you?
If you want to be lean and jacked AND eat Ben and Jerry's every other morsel of food other than the Ben and Jerry's needs to be accounted for.
You know what tastes better than Ben and Jerry's?
Seriously – that's not rhetorical. Do you know ANYTHING that is better than Ben and Jerry's? I mean, holy shit, I needed an insulin shot just smelling this stuff.
If you need any proof that this could be the most difficult item on earth to eat only one serving of………….I threw this pint away after taking the picture!
I didn't even take one bite. I knew it would be game over and I would down the whole damn thing.
Bread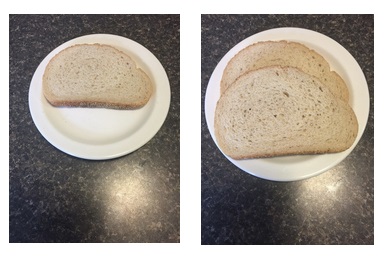 This isn't much of a calorie bomb, but it's still downright silly and needed to be included.
Did you know the serving size for bread is ONE SLICE?
Isn't that the dumbest thing you've ever heard?
So, guess what – we all need to start eating half-sandwiches or we are eating multiple servings of bread.
This is stupid. Not quite as stupid as when we were told that 12 ounce pop cans were multiple servings, but still stupid nonetheless.
Peanut Butter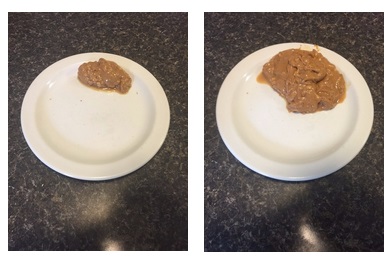 I am sorry about this picture. It looks like doo-doo.
Tastes damn good, though.
I eat peanut butter by the spoonful. I dump salt (or honey) over the top of it and munch away.
I love peanut butter and everything about it. I feel terrible for my daughter, Brooklyn – who is allergic. Everyone deserves to enjoy the smooth, creamy taste of peanut butter.
There's a BOATLOAD of calories in it, though. And its deliciousness is pretty much unparalleled. Except maybe by almond butter. Perhaps cashew butter.
Okay, all nut butters are in this category – you get the idea.
Ranch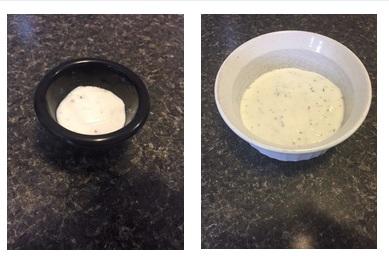 When I was in college, I tried my first pizza with ranch dressing as the sauce.
It was utterly disgusting.
Ranch needs to be cool, not warm. Hence the term "cool ranch".
When it's warm, it just makes you think of………………how warm it is. Which is, again, disgusting.
Now, on the flip side, if you take a warm slice of PIZZA and dip it in ranch, now we're talking.
I have a challenge for you: Make an enormous salad, take ONE TABLESPOON OF RANCH (one serving), pour it over the top and eat your salad.
Count your bites. Tell me what percentage of your bites have ranch on them.
If you get over 10%, I would like to know how you did it. I've tried it before and it's like my ranch gets absorbed instantly by my salad and I'm stuck eating flavorless rabbit food.
Trail Mix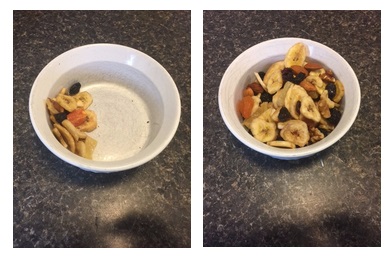 How did we decide what we really needed on a trail is dried food, lots of sugar, fatty nut clusters, and chocolate all mixed together?
And then let's make that microscopic amount one serving?
The brand I chose had dried pineapple in it and it was amazing.
Thank God I had switched to bulking before I bought this, or I would have had to "cheat meal" that shit and down the bag.
***Editor's note:  Two days later I did, in fact, down the bag. What? I'm bulking, leave me alone. 
Cereal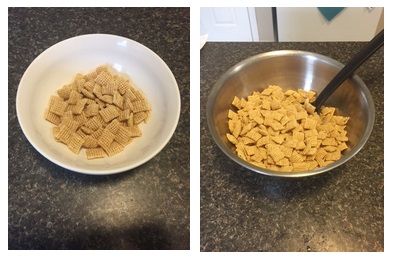 Remember that time when you ate one serving of cereal?
Neither did we.
That shit doesn't happen.
Cereal is sometimes single-serving, depending on the box size.
One serving of certain cereals is 3/4 of a cup.
Not pictured: The entire gallon of milk used to eat this puts the calories over 1,000. Bonus points if you mix protein powder to nab a few extra gains.
Pasta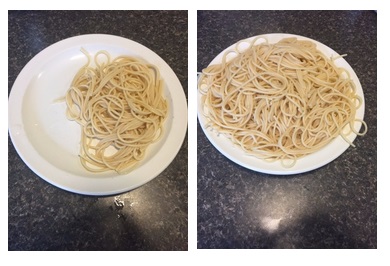 This one might be just me.
Pasta is my weakness – and 2 ounces of pasta is a joke to me.
I can polish off a full, one-pound container no problem.
There was a pizzeria next to my house growing up that had "All You Can Eat Pasta Night". My old man and I would hit that place up and polish off 2-3 full plates full brimming with sauce and meatballs.
Surprised we didn't die with all that gluten.
We must have superior genes.
Looking for a dietary plan that sheds fat instead of builds fat?
Hit me up here and tell me about it.
Yours in staying trim and avoiding the binges,
Jason