Can you check these macros for me?
The above is a question any fitness professional has had to answer a countless number of times. 
Once it became clear that macronutrient recommendations were an important factor of your health and your physique, "macro numbers" became a rabid obsession.
Although not as important as overall calories, the amount of protein, carbohydrates, and fat you consume can have a profound impact on your fat loss rate.
The answer to the question, "Are these macros okay?" is almost always, "Try 'em out and find out."
Nothing will trump empirical evidence.
We all respond differently to different protocols. Some thrive on a ketogenic diet, others do best on a low fat, high carbohydrate intake.
It will likely take years of self-experimentation to find how you respond best.
Our extensive online coaching clientele have allowed us to realize the best macronutrient starting recommendations for men based on their body fat percentages.
Which begs the question,
What's my body fat percentage?
Before that gets answered, let's address the idea of body fat percentage first.
We do not recommend tracking body fat percentage closely.
The methods of tracking are highly flawed. Even DEXA scans, the "gold standard" of body fat analysis, have statistically significant variations.
Attempting to spend all your time to get to "under 10%" isn't the best plan for success.
The scale isn't the only number people obsess over.
If you are trying your best, don't allow a silly, little number to validate or discredit your progress.
The best way to estimate your body fat percentage is through pictures.
Rather than reinvent the wheel, below I have included pictures of clients we have had who are in the estimated body fat percentages discussed.
Men, take a cell phone shot of yourself, shirtless, and match yourself up.
It will be good enough for our purposes.
After you find what range you are in, buckle your seatbelt and grab a paper and pen.
Let's talk about what you should be putting in your mouth.
Men's Fat Loss Macronutrient Recommendations Based On Body Fat Percentage:
Body Fat Percentage:  Above 30%
Recommendation:  No macronutrient counting – whole food diet with habit based parameters.
Client examples: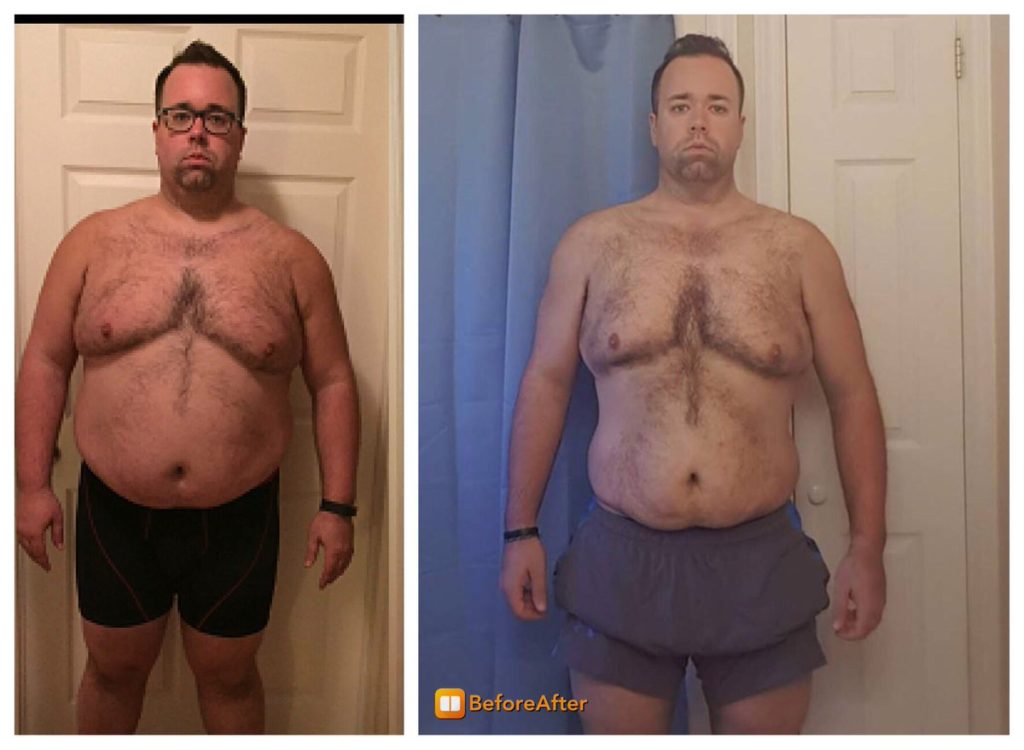 Ches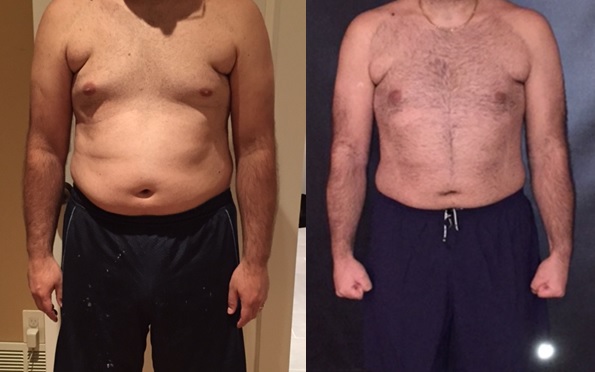 Tony
Rationale:
Too often we make life more difficult than we need to be.
If you are beginning on a fat loss journey, you may find yourself above 30% body fat.
First off, being over 30% body fat is nothing to be embarrassed about. It may seem "high" or perhaps "startling", but this body fat percentage isn't uncommon in today's society at all.
Make sure you own your reality. It's often difficult to look at ourselves in the mirror and face the facts.
The good news is that your future is not determined by your past. Even if you allowed yourself to gain a substantial amount of fat, you can certainly lose that fat over time.
For those with more than 30% body fat, macronutrient counting usually isn't necessary.
Now, it does work, of course, since counting macronutrients is an indirect method of counting calories. And calories count when it comes to fat loss.
If you are over 30% body fat, the best diet for you is likely the simplest.
We recommend a habit-based, non-macronutrient counting diet.
A diet that covers the "basics" will do you well.
A few characteristics of a proposed set up:
A set meal frequency – 2-3 meals per day works best.
Either scheduled or eliminated snacking.

If scheduled snacking, parameters on the snack (piece of fruit, palm full of mixed nuts, etc.)

Reduced calorie or zero calorie beverages.
Vegetables with every meal.
Protein at every meal.

"Fat parameters" on the protein – aka "one fatty protein source per day and the rest lean", etc.

Whole food carbohydrate choices only.
No added fats/oils.
The actual dietary set up can vary from person to person to fit your preferences.
But actually weighing food, counting calories/macronutrients, etc. is likely not needed in order to lose fat at this stage in the game.
With a smart, basic diet and a bit of increased activity, you will probably shed pounds and inches rapidly.
Losing fat quickly at first will likely establish your positive feedback loop. Aiming for the upper limits of possible fat loss (2% of your body weight) will give you ample motivation from fast results.
There are some negatives to starting your journey at over 30% body fat.
You do have a long road ahead of you.
Your body will likely resist the changes you are attempting to make.
Junk food will disappear and "cleaner" foods will take its place.
Visually, it will be difficult to tell a difference for some time.
Take a look at this picture: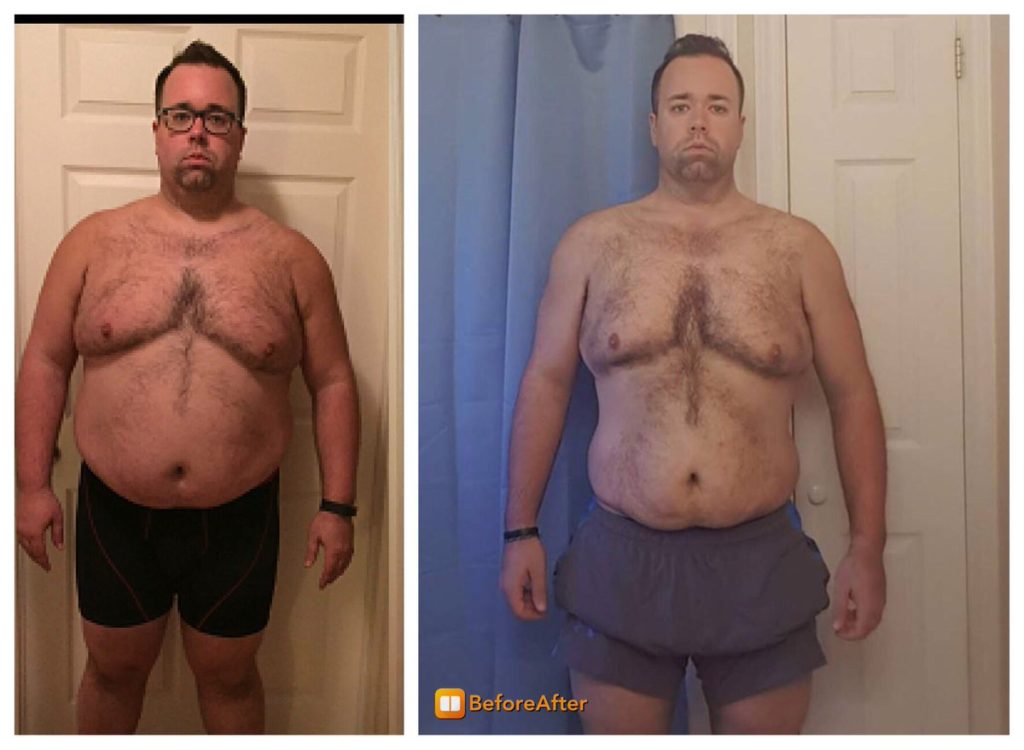 This is Ches.
Although the pictures don't look drastically different, there is a full, 12-inch difference in his waistline, and Ches is 75 pounds lighter in the second photograph.
With clothes on, it may be difficult to see changes in Ches, even though he's done an insanely impressive job here.
Be sure you're tracking your fat loss with body measurements and fighting hard to create positive habits in this stage of the game.
Work at it like your life depends on it.
Because it does.
Body Fat Percentage:  20-30%
Recommendation:  Lower carbohydrate, higher fat intake.  Protein (40%), Carbohydrates (20%), Fats (40%).
Sample macros for a 2,000 calorie diet:  200 p / 100 c / 90 f
***Will need to adjust these numbers to fit your daily, dieting calorie requirements.
Client Examples: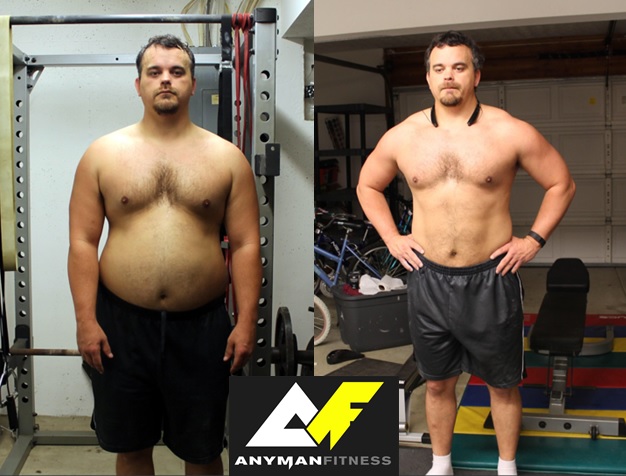 Bo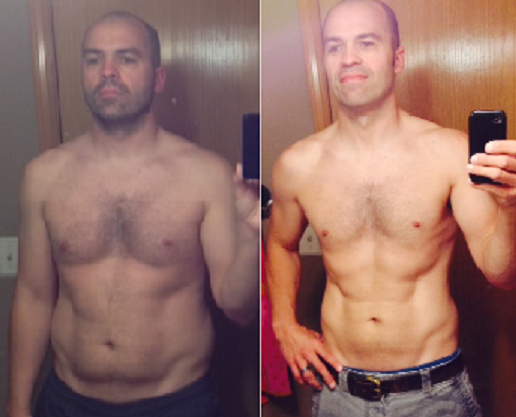 Matt
Rationale:
When your body fat gets into the 20-30% range, there are a few different ways you have "gotten there".
You may have once been on the leaner side, and the hands of time have crept up on you.
You may have fallen into the "above 30%" category, and you are working your way back to health.
There's also a chance you've been in the 20-30% body fat range for quite some time, as staying permanently in this range is something many of us do naturally.
This percentage is often considered "normal" by society's standards. Think permanent "Dad Bod".
For men who fall into this range, we recommend low(er) carbohydrate dieting.
We keep our protein and our fat intake rather high – often 40% of our total intake for both of those macronutrients, and we keep our carbohydrates lower, at around 20%.
It could likely be argued that macronutrient counting still isn't necessary at this stage in the game. However, once you dip below the 20% mark, the pounds aren't going to come off of you as easily.
It makes sense to keep carbohydrates lower due to their effect on blood sugar.
Although having insulin resistance will not cause fat to magically be stored via the "insulin fairy", having blood sugar which is unregulated will cause mood swings, irritability, and excessive hunger.
With the thermal effect of protein clocking in at 25% of protein's total calories, consuming adequate amounts of it simply makes sense from a dieting standpoint.
You will be able to create some damn tasty meals if you fall into this category. Chunks of (sometimes fatty) meat, veggies, enough carbs to not go crazy, etc.
The fat and protein will fill you up nicely, and you will likely find yourself being able to keep your energy high throughout your entire journey through your "20's".
A motivating characteristic of this stage in dieting is that visual changes start to occur.
Depending on your training history, a muscled 20% body fat can be aesthetically appealing.
Take a look at this picture: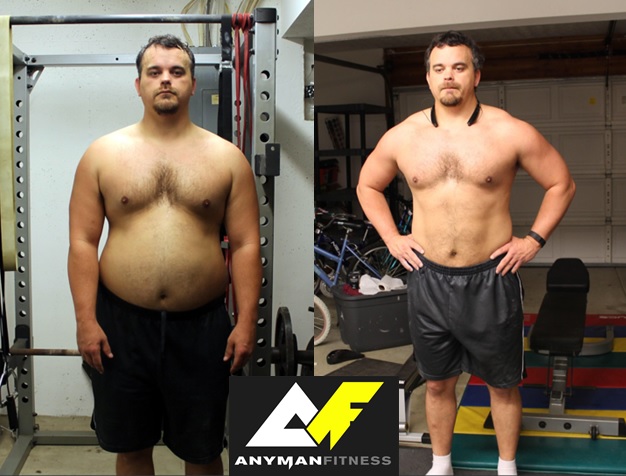 This is Bo
Bo is as strong as an ox due to years of heavy lifting.
He came to us for a fat loss consultation.
After shedding 20 pounds and 4-5 inches off his waist, he ended up right around 20% body fat (our estimation).
Given his extensive training experience, Bo looks athletic and muscled at roughly 20% body fat.
There are a few drawbacks by having your body fat dropping into the teens.
Hunger starts to get a bit more profound, especially if you've been at it for a good amount of time.
You may find that you need to "tighten up" your diet a bit, as the lower you go, the more focused your approach must be.
You also may start to enjoy what you're seeing in the mirror. While this is inherently a good thing, you might start to wonder when your abs are going to show up.
The sad truth is you have quite a ways to go, as abdominal definition on most males won't be visible until at least 12-14% body fat is reached.
Body Fat Percentage:  10-20%
Recommendation:  Moderate macronutrient consumption.  Protein (40%), Carbohydrates (30%), Fats (30%).
Sample macros for a 2,000 calorie diet:  200 p / 150 c / 70 f
***Will need to adjust these numbers to fit your daily, dieting calorie requirements.
Client Examples: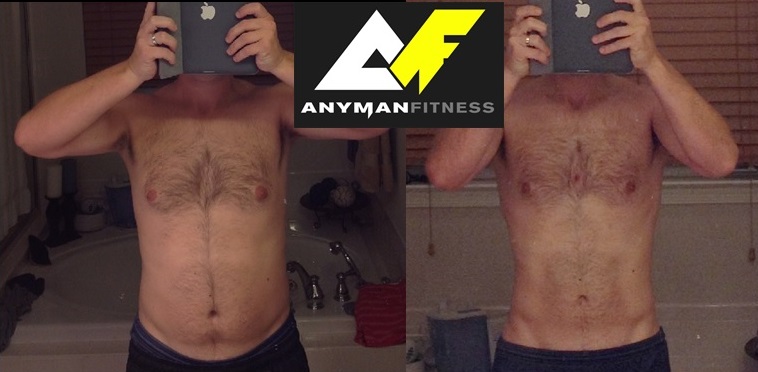 Scott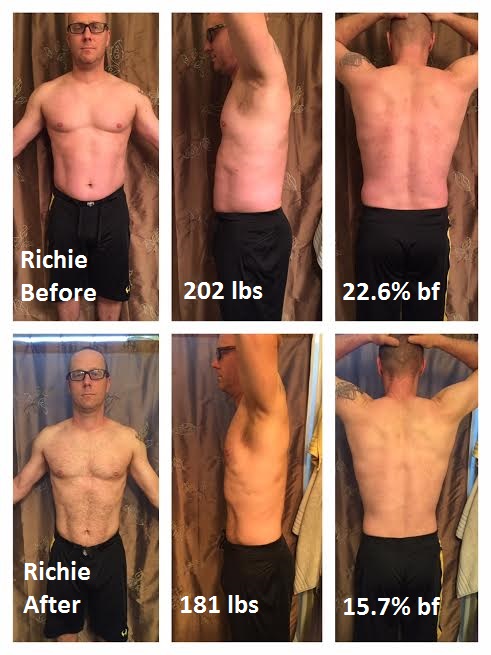 Richie
Rationale:
If you're in the 10-20% body fat range, you are already "healthy" by most standards.
Odds are good that you either find it relatively easy to stay on the leaner side, you have dieted to get yourself to this point, or you have been blessed with good genetics. Either way, a tip of the hat to you, consider yourself lucky.
In this stage of the game, if your habits are in gear and taken care of, you should be able to effectively manage your weight – and your health – without too much trouble.
Those who have mastered staying in this range can take care of the "big rocks" without too much trouble.
They generally:
Train regularly.
Eat at designated meal times and reduce snacking.
Stay away from most liquid calories.
Eat mainly whole foods.
Use "treats" like "treats".
If you have dieted down to this level, you will likely find that fat loss starts to get more difficult the closer to 10% you get.
What used to work doesn't work any longer.
If you wish to continue your fat loss, you will probably need a specific plan to get you there.
At this stage in the game, you should be sensitive to insulin.
This is a good thing. This means when you eat carbohydrates and your blood sugar rises, your body should be efficient at releasing insulin, and your body should also respond nicely by bringing your blood sugar back to normal levels in a reasonable amount of time.
This is a fancy way of saying you can handle eating more carbohydrates.
We recommend you get around 30% of your total calories from carbohydrates if you fall into this range.
The fats can be reigned in a bit to compensate.
Calories are still important, so be sure not to neglect overall consumption.
It's also important to continue to make most of your carbohydrates whole food choices. You'll need them for your training purposes.
It's really a bit of a catch-22. When you're overweight, you can't handle the carbs, so you eat less of them. When you're at a healthy level, you can handle the carbs, so you eat more of them.
Eating more carbohydrates won't negatively effect your fat loss progress, assuming calories are accounted for.
You'll find the extra carbohydrates will give you extra energy and make your training sessions more productive.
The downside to getting any leaner than this is the constant battle you will be fighting with your body's own physiology.
Your body will not want to shed any more fat. If you do continue to lose fat, you will be going against homeostasis, and forcing your body to adapt in ways it won't be comfortable with.
The flip side of this is that you may just find yourself happy with your condition and think it's "good enough".
Take a look at Richie: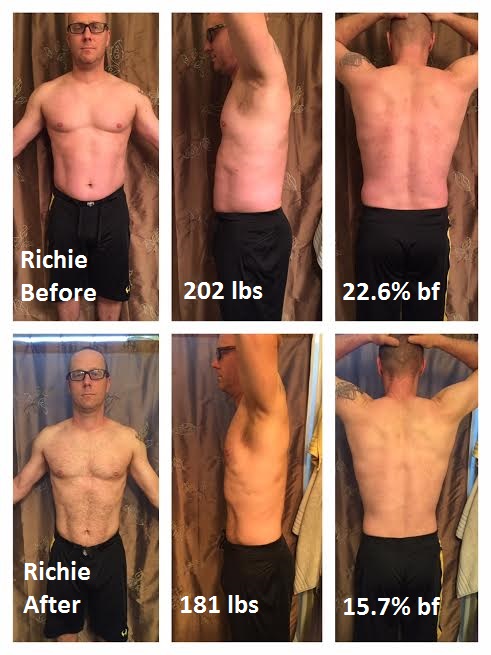 Richie is a firefighter and a Crossfit junkie from Cincinnati, Ohio.
Fed up with training so hard without shedding the fat like he wished, he became an online client of ours.
Even though Richie was slightly over the 20% threshold (22.6% body fat, by his measurement), he still had a relatively lean appearance.
After he was finished with his cut, he ended up with visible side abdominals, and a nice v-taper.
Loads of individuals would look at Richie's after picture and be 100% satisfied with staying in his condition permanently.
It's certainly possible to go lower, though, as many have an "itch" (to get to ultra-low body fat numbers) which must be scratched.
Body Fat Percentage:  < 10%
Recommendation:  Higher percentage of carbohydrates relative to fat.  Protein (40%), Carbohydrates (40%), Fats (30%).
Sample macros for a 2,000 calorie diet:  200 p / 200 c / 45 f
***Will need to adjust these numbers to fit your daily, dieting calorie requirements.
 Client Examples: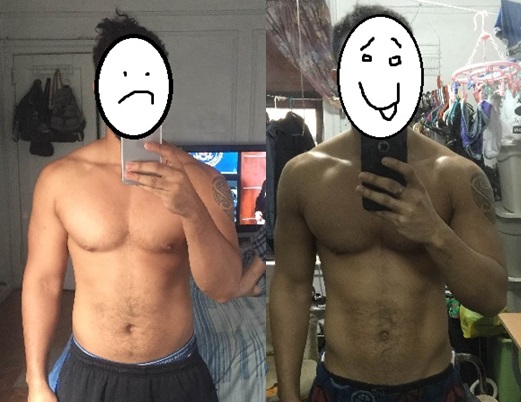 Nathan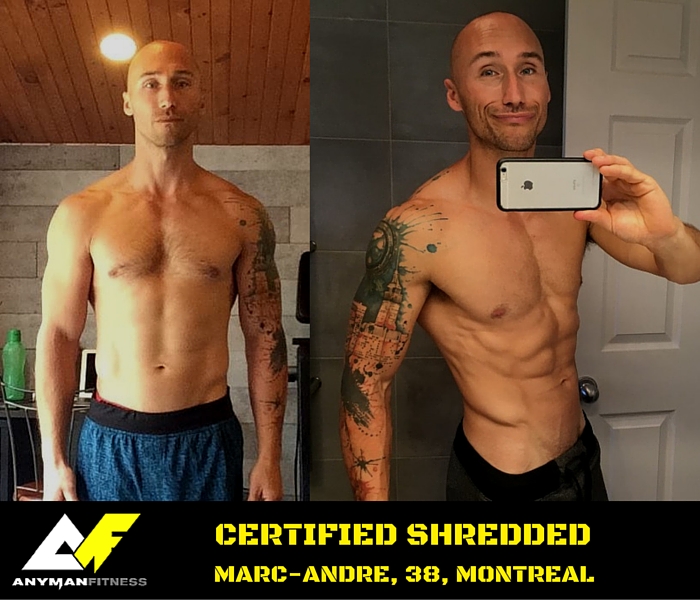 Marc-Andre
Rationale:
If you've made it this far, or you've been blessed with superior genetics, you should be smiling.
It takes a large amount of consistent dedication, or winning the gene-pool lottery, to be able to get to a sub-10% body fat level.
If you're continuing to lose fat at this level, understand that it's purely for aesthetics.
This isn't a bad thing in and of itself, but you are fighting your body's natural tendencies.
We aren't talking about improving blood glucose levels or getting off of blood pressure medication at this point. We are talking about aiming for a full, defined 6-pack and trying to see veins in your abdomen.
Side note:  It's fun to get a 6-pack and see ab veins, so if that's your goal, it's all good.
Losing fat at this stage of the game becomes really challenging.
You will be hungry at nearly all points of the day. Perhaps the loud growl will turn into a small rumble, but the hunger will always be present.
You'll need to have the discipline to not listen to the hunger if you wish to lose more fat.
If you can handle the intense psychological struggle, you will be rewarded nicely. At this stage in the game, every pound brings about new and exciting changes.
Those changes could mean a sharpening of your "ab lines". An extra vein in your bicep. Or slimmer armpits. Yes, I'm serious – when you get to a certain point, your armpits lean out and become more defined.
Weird.
There are some negative aspects of having body fat this low, that's for sure.
You'll likely be cold all the time, even when it's the middle of the summer time.
If you don't have substantial body mass, you won't look "jacked", you'll simply look thin.
Your face will become gaunt and your eyes may appear sunken in.
You might find yourself with low energy, low libido, or a temporarily low testosterone count.
These negative effects should disappear once you introduce more calories into your diet.
Having a body fat percentage this low shouldn't be your goal year-round.
Get lean in the summer and enjoy that nice, aesthetic look, though. There is no better confidence builder than having some abs for the pool.
Take a look at Nathan: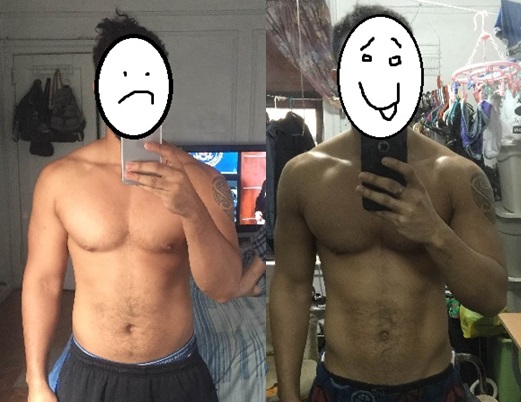 Nathan did some excellent work with us during his consultation.
He wanted to lose the fluff and get his abs rocking for the summer time.
Nathan had a decent amount of training experience before he came to us.
After he shed about 20 pounds, he had the classic "beach body appearance". Nice ab lines, a v-taper, and an aesthetic upper body.
By my estimation, he was around 14% in the first picture and 8-9% in the second picture.
Nathan can get leaner if he wishes, but he needs to ask himself if the daily struggle (both physical and mental) is worth the "squeeze".
With his physique, he would look fantastic anywhere. He would have a flatter midsection and a better appearance than pretty much everyone.
The only reason to keep it going would be that proverbial "itch" that was previously mentioned.
He may just feel like scratching it.
At this stage in the game, we recommend eating about 40% of your calories from whole food carbohydrate sources.
In order to make room for this many carbs, your fat will need to be lowered to 20% of your total calories.
This means you will be making lean protein and low-fat dairy your go-tos.
You should be chowing down on rice, potatoes, pasta, fruit, and bread. Just keep away from those oils.
Your body will be able to handle the carbohydrates easily – in fact, your body may be starving for extra glycogen for energy.
You can certainly handle those carbs, as your blood glucose levels should be optimal at this point.
Use that to your advantage.
Body Fat Percentage:  < 4%
Recommendation:  Call a morgue. You're dead. RIP.
Can You Go "All The Way"? (From > 30% to < 10%?)
Time to discuss the "big picture".
So, you have your recommendations at each step of the game.
The big question is, can you go "all the way"? Can you go from over 30% body fat to 10% body fat – or less?
The short answer, of course, is "yes".
But what does it take? What sort of a mindset do you need to have? What can take you to the promised land of "abs"?
Let's find out from a few clients who have done it.
Kierran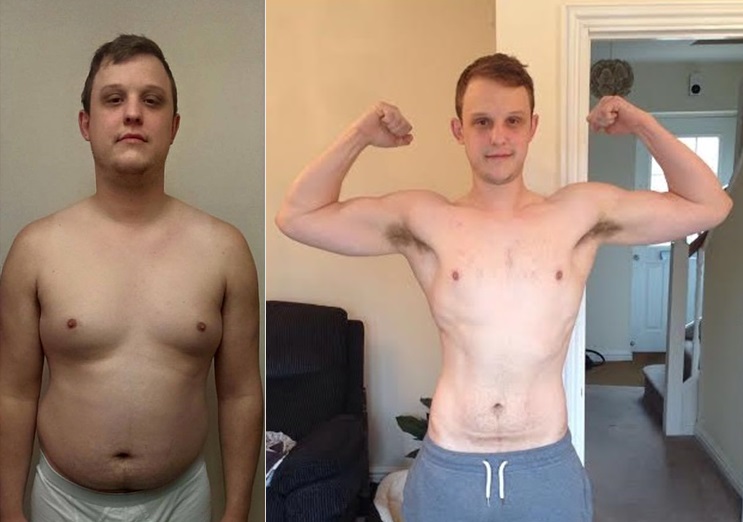 Kierran's amazing transformation took about two years.
From the pictures, you can see the incredible change in his body.
Kierran easily went from 40% or so all the way down to 10% or so, by our estimations.
Now that the fat is completely off, Kierran's focus will change to gaining weight properly, and adding muscle to his frame.
How did such a mind-blowing change occur?
Kierran fills us in on some details:
Keeping meals simple and easy is a huge factor.

Nobody will be a gourmet chef long-term, especially if you're busy with work and life.

Staying away from pre-packaged food is a smart choice, too, as fresh foods generally have less calories and are easier to diet on.

Consistency beats all else. If you are successful 90% of the time, you can do anything. That means 10% of the time, you will fail, though.

Failing is a part of learning. You need to accept it, be okay with it, and learn from it. Too many people quit after they fail. You're not a "failure", you just "failed" at this one thing. That's a huge mental shift.

My life hasn't "changed" now that I'm lean, but it has improved massively.

I'm not self-conscious about my weight and I can take off my shirt whenever I wish.

I'm more self-confident.

I've even coached others and I may continue to do s o in the future.

Losing this weight has taught me that I can learn and do anything in life if I don't quit.
Mike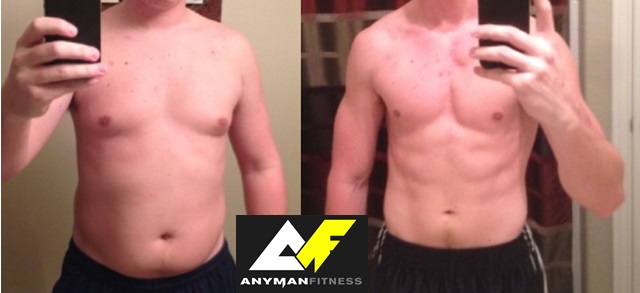 Mike was one of my first clients.
An incredibly hard worker, Mike made this transformation in a bit under a year.
He switched from cardio to the barbell, and reigned in his diet.
We worked together for 3 months to get him down to "abs lean".
Mike's advice:
The biggest factor to going all-in is to "want" it.

That may sound stupid, but you have to want it for yourself.

Lots of people want to get in shape, but that's not enough.

You have to want it more than your cravings, or the comfort of skipping the gym for the couch.

No one will tell you anything that will make you "want it". You have to know your why.

A lot of people change because they hate themselves and what they see in the mirror. This describes me, for sure.

Getting lean taught me I can do anything I want in life.

Nothing is off limits.

I realized if you want to do something, you create your plan, and you execute for a year, you can do it.

I no longer make "resolutions". I pick a new skill I want to master, and I get started.

Since then, I've started two businesses, I've learned how to paint, I've failed miserably at playing the guitar, and I'm trying to learn more each day.

You can do anything you want to in this life with the internet at your fingertips. 
Brian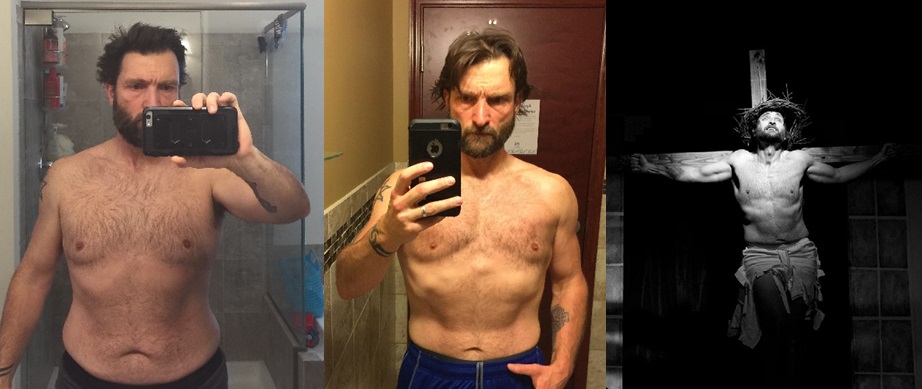 Brian made his transformation in just under a year as well.
He originally came to us for a fat loss consultation. After we accomplished that goal, he bulked for a bit of time, adding muscle and a bit of fat in the process.
Then Brian got some awesome news:  He was going to play Jesus in the stage production of Jesus Christ, Superstar!
Brian had his motivation to get really lean. He then made some stellar progress on a rapid fat loss protocol.
Brian's takeaways from his experience:
Easily the biggest factor to success is the mental game – it MUST be mind over matter.

Thinking "Oh, I'm not hungry" won't work, as you're just lying to yourself.

Finding ways to accept the hunger and work through a calorie deficit make all the difference.

I was tired of being over 200 pounds, and I had a goal in mind.

I kept trying to play "beat the log", both with the tape measure and in the gym.

I had real motivation – I didn't want to be the "fat Jesus". It kept me motivated and able to accept the pain, as there will always be pain.

Pretending like it doesn't hurt won't work, but pushing through the pain and accepting it is a huge thing.

It's freaking awesome to walk by a mirror and see my body now.

My confidence is higher than ever, and I feel happy about my accomplishments.

There's nothing more mind-blowing than putting on a pair of jeans that have a 32″ waist when I used to have a 42″ waist! 
If you're still with us, hopefully these clients and their experiences will help you in your journey.
Take comfort in the fact that it can be done, but it starts with you.
It will take time, persistence, consistency, and focus.
But it will all be worth it in the end.
Jason